Lejan Lewthwaite – the golfer from Benoni with major drive
Investec-sponsored golfer, Lejan Lewthwaite says 2022 was a challenging year for her. But this year she is relishing in her new found energy and drive and is determined to get back to her good playing form.
Goals for 2022
Get a full card on the Ladies European Tour
Finish top 10 on the Sunshine Order of Merit 
Get at least 5 top 10's on the LET
Finish top 60 in Europe
Current ranking
133rd in European Ladies Tour
If not professional golf, then which other career would you pursue?
What is your proudest moment in 2022?
Winning the Vodacom Origins of Golf 
Most challenging moment in 2022?
Working hard and not getting the results I had wanted.  
What did 2022 teach you?
That resilience gives you growth and strength! 
How old were you when you started playing golf and what drew you to the sport?
I first picked up a club at nine years old. However, I only took golf up seriously at the age of 17 because I was always so busy with my other sports, namely hockey, tennis and sailing.
How has your golf career progress?
My golf career has progressed from playing three years on the South African amateur circuit to going to America, on a golf scholarship and playing college golf in the NCAA Division 1. (NCAA Division I is the highest level of intercollegiate athletics sanctioned by the National Collegiate Athletic Association in the United States.) I then turned professional in 2016 and earned my full playing rights for the Ladies European Tour in 2018. My breakthrough professional win came on the men's IGT tour at the end of 2018, making history by becoming the first female to win on a South African Professional Men's Tour. She followed that up with another win on the men's tour a month later. She has since won 3 times on the Sunshine Ladies Tour. 
Do you enjoy all the travel that golf affords you and what's your favourite country to visit?
I feel truly blessed to be able to travel and see the world whilst I pursue my golf career. I don't really have a favourite as yet. When you travel so much, being back home in South Africa with family and friends is my favourite!
If you could go back and speak to your 12-year-old self, what advice would you give her?
I probably would have told myself to focus on one sport and that I wouldn't have been too old to pursue a career in tennis once I had finished school. Saying this, I don't regret a thing.     
Where do you see yourself ten years from now?
I see myself with a couple of LPGA tour wins and hoping to win a major! 
Best book
"You have it in you" - Sheryl Brady
With whom would you like to play your final round of golf?
What advice would you give young women who want to make a profession of playing golf?
Keep working hard and don't let anybody tell you that you are not good enough!
What do you believe can be achieved in the South African women's golfing fraternity through Investec's sponsorship of the South African Women's Open?
I believe that a lot has already been achieved. For example, Investec's title sponsorship is a flagship event on the South African Women's Professional golf circuit which I am sure will become one of Europe's flagship events as well. We are talking about international coverage as well as the new exciting aspect of the tournament being televised live, right here on SuperSport. 
The addition of the Homegrown Award just shows how much it means to have a South African grow, succeed, and be recognised in their profession. This also bodes well for women equality not just in golf, but in sport and the workplace. Investec's sponsorship also helps younger golfers to keep dreaming and to believe that they too, can become professionals on an international scale.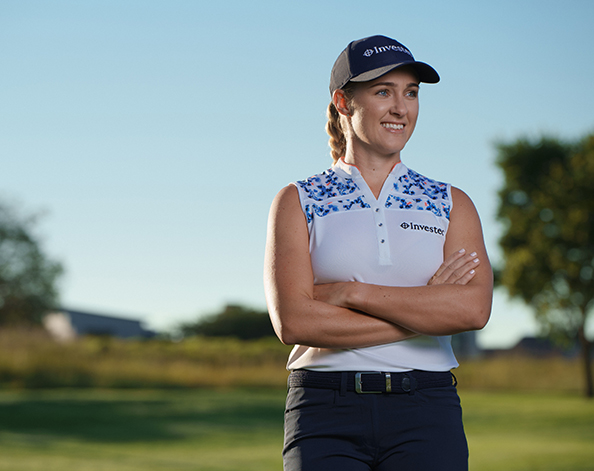 Lejan Lewthwaite, Investec sponsored golfer
Tough times don't last, tough people, do. I know what I have in me and I won't stop until my true talent shines through!
What are the greatest challenges of being a professional golfer?
I think that two of the biggest challenges are travel, golf can be a lonely profession and secondly, to attain the backing whilst making it onto the international professional circuit. This being said, I am one of the lucky few that has amazing support from such an incredible brand such as Investec.
How do you keep a healthy balance between your personal life and your career?
I make sure that I work when it's work time, full commitment and make use of my valuable family time after hours when I am back home.
What's the one improvement or change that you would like to make to the game of golf?
Besides some of the rules that punish a golfer for not intentionally cheating, I would say the disparity in prize funds between men and women.