Investec Real Estate ("Investec"), a leading provider of residential and commercial finance to corporate, institutional and private clients, announces that it has agreed to provide a newly formed Joint Venture (the "JV") between leading purpose built student accommodation ("PBSA") investors CA Ventures and Harrison Street, with four-year facilities that will fund the development of PBSA schemes in prime London, Edinburgh, Leicester and Belfast locations.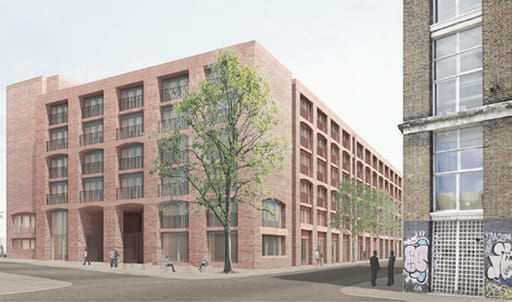 On completion of the transaction, approximately a third of the funding was sold down to Leumi UK, the London-based subsidiary of one of Israel's largest banks, demonstrating Investec's ability to syndicate deals both domestically and internationally for the benefit of its global client base.

The facilities will fund the development of 935 student beds across four properties, incorporating the latest in sustainable building design and featuring state-of-the-art amenities including fitness centres, cinema rooms, outdoor courtyards, games rooms and study lounges. The Edinburgh, Leicester and Belfast schemes are expected to complete for the start of the 2022/23 academic year, with the London property completing 12 months later.
This transaction cements Investec's position as one of the leading providers of development finance in the UK PBSA space. Since 2015, Investec has committed over £820 million of finance, funding a mix of domestic and international borrowers and the development of 19,500 beds across 53 schemes, in 24 university cities. It also represents the third time Investec has partnered with Harrison Street and the second time with CA Ventures, the first of which represented the European debut by what is the third largest student housing developer in the US.
Tom Griffiths, Investec, commented: "The UK PBSA sector remains one of Investec's conviction calls, despite the near term challenges presented by Covid-19, and is one we anticipate rebounding quickly. This belief reflects a number of favourable underlying structural trends, including an expected increase in the number of students entering higher education and the ongoing appeal of UK universities on the global stage. Harrison Street and CA Ventures are two increasingly prominent players in the UK PBSA space and we're excited to be partnering with them again as our loan origination in the sector closes in on £1 billion."

Mark Bladon, Head of Real Estate Lending at Investec added: "A strategic focus in 2021 for Investec is further expanding its distribution capabilities to allow us to write larger ticket loans. By matching our established living platform with a diverse pool of sophisticated global capital looking for exposure to UK real estate, in particular the high growth BTR and PBSA sectors, we believe we can offer both existing and new clients an enhanced service level and continue to differentiate ourselves from the peer group."

Richard Martin, Relationship Manager, Property Finance at Leumi UK commented: "Financing purpose built student accommodation in prime city locations is a key focus for Leumi UK's real estate lending activity moving forward. Drawing on a long lasting track record of success in this sector, a syndicated deal such as this fits well with our growth strategy. We were delighted to partner with Investec's capable team once again to get behind CA Ventures and Harrison Street's promising new developments."
About Leumi UK and Leumi Group
Leumi UK is a UK-regulated bank offering a wide range of corporate and commercial banking services to both UK based and international clients. An integral part of the Leumi Group founded in London in 1902, the Bank operates through its Head Office in London and its award-winning Asset Based Lender subsidiary, Leumi ABL in Brighton. Activities include commercial finance, trade finance, with a particular expertise in financing cross border trading, property finance and hotel finance. The bank serves its clients with deposit accounts, hedging and foreign exchange capabilities and a full treasury offering.
Leumi UK is a subsidiary of the Leumi Group, one of Israel's largest banking groups and a reputable global banking institution. The Group operates over 220 branches across Israel, alongside offices in key financial centres worldwide. The Group offers a comprehensive range of specialised financial services.
Bank Leumi (UK) plc is authorised by the Prudential Regulation Authority and regulated by the Financial Conduct Authority and the Prudential Regulation Authority.