Episode 1 | At our latest In conversation event, titled, Sustainable living – Empowering solutions, Chris Yelland (energy expert), Prof Anthony Turton (water expert), Maya Fisher-French (award-winning financial journalist) and Pierre Lundberg (water expert) shared their thoughts on our current water and energy situation.
Energy and water – where we stand now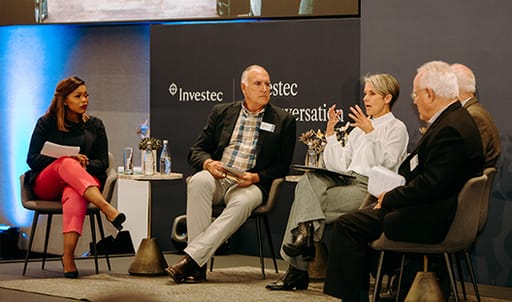 Water expert, Prof Turton says that the National Water Source Strategy study indicated that SA had allocated 98% of all the water available nationally. In other words, there was only 2% of the water left for existing lawful uses. "The simple reality is that we don't actually have any water left to allocate and we have to start doing things better."
He mentions that it is important to understand Green Drop, Blue Drop and the No Drop Report.
"In SA, because we have a fundamentally, water constrained economy, the engineering philosophy that has underpinned all the design has been an indirect reuse model. This means that all the water coming through the economy must be treated to a high standard. That's the Green Drop Report. Where it comes out of a pipe, at the end of the process, it goes back into the river and then it flows into a water treatment plant for making drinking water. That's the Blue Drop Report."
He says that the last report showed that only 3% of our water coming out of the wastewater works is compliant, so 97% is non-compliant in some form or other.
"In addition, roughly 30% to 50% all the water we put into our pipes gets lost. This is a big number. The simple reality is that our infrastructure is old and tired and must be replaced. So, if we're going to be digging up our roads and putting in new pipes, then, let's put two pipes in. One for drinking quality water and the other for water that you can water your garden with. We need water of different quality, at different price, for different purposes, at different times, in different places. And this is where we're going to, that sort of, what I call a dual stream reticulation economy."
Energy expert, Yelland starts by explaining that if you're looking at the state of electricity, you should look at Eskom and the state of municipalities, because, together, they form the electricity supply industry.
"Eskom is divided into generation, transmission and distribution and we don't have enough available generation capacity. We have enough capacity, but it's not always available, because of maintenance and breakdowns. Transmission is not performing too badly. The power is getting from the sources of generation, through the grid, to the various cities and places. But it's been underinvested for more than a decade."
He adds that access to the grid, by new generation capacity, is becoming difficult. There are also constraints on the backbone of the grid and some of the areas need upgrading and investment.
"Eskom does distribution and it's not so different from the municipal distribution. About half of the power outages you probably experience, are not due to generation capacity constraints, not due to grid constraints, but are due to problems on the distribution network."
Electricity theft is also overloading the system, cable theft is causing outages, there are steel theft, copper theft, an ageing infrastructure and poor maintenance.
"I just want to say, we do not have an energy crisis, we have management problems, financial problems, skills problems. A kind of a management crisis of getting the electricity from the point of generation to where it's needed."
Why talk about water and energy in tandem?
Yelland states that electricity and water are intertwined. You need electricity to pump water from rivers and dams to a purification work. You need electricity to run the purification work. You need electricity to pump the water from the purification work to the reservoirs, all around the country.
"It's not too bad if you have stage one and two loadshedding, because there is water storage. When you have stage four or five and six, it's starting to show. And when you're having that four hour stretches a couple of times a day, you will have water shortages. There is a direct connection between water in your home, and electricity."
Prof Turton says that every drop of water in Gauteng, is pumped over the Drakensberg Mountain, from the Tugela River, using surplus energy on the national grid. "That's what the Sterkfontein Pump Storage Scheme was designed for - to take the surplus energy, store it as a battery on top of the mountain. When they released on the other side, they recovered two thirds of the energy they'd invested in, to getting it up the mountain, in the first place."
 
Investec Sustainable Solutions can help you with practical solutions and sustainability finance to make it easier to live, work and thrive in South Africa. For more information, please contact your Private Banker.
GET MORE INSIGHTS FROM INVESTEC FOCUS
Get Focus insights straight to your inbox