"The world might be a scary place, but for investors, that's a good thing, because it means there are opportunities to identify growth companies that can become sustainable leaders in their field. As long as change remains a constant, investment opportunities will always arise."
This is according to Sunil Thakor, MD at Sands Capital Management and one of the world's top-performing fund managers. Sunil is one of 18 global investment leaders whose funds are included in Investec's World Axis Fund of Funds.
In this absorbing presentation at the recent Investec Wealth Forum, hosted by Investec Wealth & Investment in Cape Town and Johannesburg, Sunil takes us on a whirlwind tour of opportunities across the globe: from the two-wheeler industry in India to convenience stores in Thailand and e-commerce in China.
He uses these examples to illustrate some of the keys to finding growth in diverse industries and markets, including:
Investing on the right side of change
Only buying a few companies, but always buying the leaders
Seeking businesses that are driving their industry, not being driven by it
Assessing the sustainability of a company's competitive advantage
Identifying tech companies that own key enabling technologies
Watch the video of his presentation here
"Change is the root of opportunity for growth investors. Change at its core is a human characteristic... and because it's a human condition, it's also a constant condition."
Sunil Thakor
Jump to the topics that interest you using the time codes below
00:08: Ryan Friedman, Head: Multi-Manager Investments, Investec Wealth & Investment SA, explains how the Investec Wealth & Investment World Axis Fund works and how it seeks out the world's best fund managers, like Sunil Thakor
01:03: Investment opportunity is driven by change – Sunil Thakor
01:56: Cable TV subscriptions declining in US and Europe as consumers move to streaming
02:14: The world's largest e-commerce market is in China

02:50: Position yourself on the right side of change
03:00: What Sands Capital (and other growth investors) look for in an investment
03:26: Look for businesses that are doing something that's very difficult to copy
03:50: Why Sands buys few but buys the "very best" when it comes to companies
04:19: Visa example: Own the leader
05:20: Illumina example: personalised medicine and the emerging field of genomics. Own the companies that sit in the middle of the ecosystem and hold the key enabling technologies
06:36: 7-Eleven competitive advantage example: Thailand franchise is bucking declining growth trend in the retail food industry
08:26: Royal Enfield example: India is one of the highest growth economies in the world and is "a great place to invest"
10:26: "All these examples are a result of change and we think change is constant".
Access the world's leading fund managers
Invest in World Axis and tap into the collective wisdom of eighteen of the world's best-performing fund managers.
Key excerpts
On changes in traditional media, like television: "Media consumption's not going away, it's just moving to another format. People are getting it in a different way, like streaming media."

On China: "Every other headline about China talks about slowing growth. Mathematically that's true; the state-owned enterprises, the infrastructure businesses that have driven growth over the last 30 years, they've run their course and that's bringing down the overall growth rate of the economy. [However] under the surface, what you have in China is the world's largest e-commerce market by far."
On what he looks for in investments: "We're always asking ourselves: how big can this company get? As growth investors what we are looking for are businesses that can sustainably grow their earnings over time. The other thing we are looking for are businesses that are doing things that are very difficult to copy."
On the power of a great brand: "A great way to figure out if a brand is truly powerful is to go and assess people's willingness to have that brand tattooed on their body. People will tattoo Harley Davidson onto their body, people will tattoo Royal Enfield onto their body. There's not a lot of brands that are like that."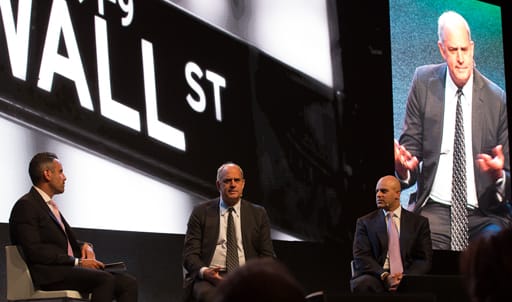 Top global fund managers discuss their investment approach
Investec Wealth Forum: Watch leading global investment managers Sunil Thakor and Dave Iben talk about growth vs value investing and where they see opportunities in a turbulent world.
Receive Focus insights straight to your inbox