2020 Super Rugby Fixtures
Investec has enjoyed a strong partnership with New Zealand Rugby for a decade. This has resulted in us having a platform – as title sponsor of Investec Super Rugby and Investec Rugby Championship games played in New Zealand – from which to be enablers of international rugby. We are pleased to be celebrating the rivalries that raise the standard of the modern game.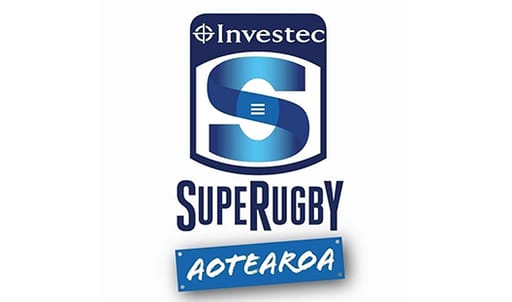 New Zealand is now on level one restrictions, allowing the Investec Super Rugby Aorearoa competition to kick-off mid-June, in a new five team, 10-week competition.
South Africa's Super Rugby teams will not be participating. 

Please see the schedule of Investec Super Rugby Aotearoa below.

SuperSport to broadcast new-look New Zealand Aotearoa tournament LIVE
WEEK ONE: INVESTEC SUPER RUGBY AOTEAROA
DATE
GAME
VENUE
TIME (SA)
13-Jun
Highlanders v Chiefs
Dunedin
09:05am
14-Jun
Blues v Hurricanes
Auckland
05:35am
Bye: Crusaders
DATE
GAME
VENUE
TIME (SA)
13-Jun
Highlanders v Chiefs
Dunedin
09:05am
14-Jun
Blues v Hurricanes
Auckland
05:35am
Bye: Crusaders
WEEK TWO: INVESTEC SUPER RUGBY AOTEAROA
DATE
GAME
VENUE
TIME (SA)
20-Jun
Chiefs v Blues
Hamilton
09:05am
21-Jun
Hurricanes v Crusaders
Wellington
05:35am
Bye: Highlanders
DATE
GAME
VENUE
TIME (SA)
20-Jun
Chiefs v Blues
Hamilton
09:05am
21-Jun
Hurricanes v Crusaders
Wellington
05:35am
Bye: Highlanders
WEEK THREE: INVESTEC SUPER RUGBY AOTEAROA
| | | | |
| --- | --- | --- | --- |
| DATE | GAME | VENUE | TIME (SA) |
| 27-Jun | Blues v Highlanders | Auckland | 09:05am |
| 28-Jun | Crusaders v Chiefs | Christchurch | 05:35am |
| | | | |
| --- | --- | --- | --- |
| DATE | GAME | VENUE | TIME (SA) |
| 27-Jun | Blues v Highlanders | Auckland | 09:05am |
| 28-Jun | Crusaders v Chiefs | Christchurch | 05:35am |
WEEK FOUR: INVESTEC SUPER RUGBY AOTEAROA
DATE
GAME
VENUE
TIME (SA)
4-Jul
Highlanders v Crusaders
Dunedin
09:05am
5-Jul
Chiefs v Hurricanes
Hamilton
05:35am
Bye: Blues
DATE
GAME
VENUE
TIME (SA)
4-Jul
Highlanders v Crusaders
Dunedin
09:05am
5-Jul
Chiefs v Hurricanes
Hamilton
05:35am
Bye: Blues
WEEK FIVE: INVESTEC SUPER RUGBY AOTEAROA
DATE
GAME
VENUE
TIME (SA)
11-Jul
Crusaders v Blues
Christchurch
09:05am
12-Jul
Hurricanes v Highlanders
Wellington
05:35am
Bye: Chiefs
DATE
GAME
VENUE
TIME (SA)
11-Jul
Crusaders v Blues
Christchurch
09:05am
12-Jul
Hurricanes v Highlanders
Wellington
05:35am
Bye: Chiefs
WEEK SIX: INVESTEC SUPER RUGBY AOTEAROA
DATE
GAME
VENUE
TIME (SA)
18-Jul
Hurricanes v Blues
Wellington
09:05am
19-Jul
Chiefs v Highlanders
Hamilton
05:35am
Bye: Crusaders
DATE
GAME
VENUE
TIME (SA)
18-Jul
Hurricanes v Blues
Wellington
09:05am
19-Jul
Chiefs v Highlanders
Hamilton
05:35am
Bye: Crusaders
WEEK SEVEN: INVESTEC SUPER RUGBY AOTEAROA
DATE
GAME
VENUE
TIME (SA)
25-Jul
Crusaders v Hurricanes
Christchurch
09:05am
26-Jul
Blues v Chiefs
Auckland
05:35am
Bye: Highlanders
DATE
GAME
VENUE
TIME (SA)
25-Jul
Crusaders v Hurricanes
Christchurch
09:05am
26-Jul
Blues v Chiefs
Auckland
05:35am
Bye: Highlanders
WEEK EIGHT: INVESTEC SUPER RUGBY AOTEAROA
DATE
GAME
VENUE
TIME (SA)
1-Aug
Chiefs v Crusaders
Hamilton
09:05am
2-Aug
Highlanders v Blues
Dunedin
05:35am
Bye: Hurricanes
DATE
GAME
VENUE
TIME (SA)
1-Aug
Chiefs v Crusaders
Hamilton
09:05am
2-Aug
Highlanders v Blues
Dunedin
05:35am
Bye: Hurricanes
WEEK NINE: INVESTEC SUPER RUGBY AOTEAROA
DATE
GAME
VENUE
TIME (SA)
8-Aug
Hurricanes v Chiefs
Wellington
09:05am
9-Aug
Crusaders v Highlanders
Christchurch
05:35am
Bye: Blues
DATE
GAME
VENUE
TIME (SA)
8-Aug
Hurricanes v Chiefs
Wellington
09:05am
9-Aug
Crusaders v Highlanders
Christchurch
05:35am
Bye: Blues
WEEK TEN: INVESTEC SUPER RUGBY AOTEAROA
DATE
GAME
VENUE
TIME (SA)
15-Aug
Highlanders v Hurricanes
Dunedin
09:05am
16-Aug
Blues v Crusaders
Auckland
05:35am
Bye: Chiefs
DATE
GAME
VENUE
TIME (SA)
15-Aug
Highlanders v Hurricanes
Dunedin
09:05am
16-Aug
Blues v Crusaders
Auckland
05:35am
Bye: Chiefs