Investec Rugby Championship: A breeding ground for world-beating rugby style
The Investec Rugby Championship is the southern hemisphere's premier rugby tournament. It showcases some the world's best talent, and it's been pivotal in cementing southern hemisphere dominance within global rugby. 
 
It annually pits three of the greatest rugby-playing nations (South Africa, Australia and New Zealand) in history against each other, while Argentina can largely attribute their rise as a major force in global rugby to their inclusion in the competition.

IRB Rugby World Cup titles won to date
The three dominant nations in the Investec Rugby Championship collectively account for seven of the eight
IRB Rugby World Cup
titles won to date - New Zealand and South Africa hold three, and Australia two. No other international tournament can boast that pedigree outside of the IRB's global showpiece.    
While Australia, New Zealand and South Africa became world champions before the tournament's predecessor, the Tri Nations began, the Investec Rugby Championship has created a platform where the southern hemisphere's brand of physical yet expansive rugby has been allowed to flourish.

Rugby World Cup Winning Teams
| | |
| --- | --- |
| Rugby team | How many times have they won the world cup |
| New Zealand (All Blacks) | 3 (1987, 2011, 2015) |
| Australia | 2 (1991, 1999) |
| South Africa (Springboks) | 3 (1995, 2007, 2019) |
| England | 1 (2003) |
| | |
| --- | --- |
| Rugby team | How many times have they won the world cup |
| New Zealand (All Blacks) | 3 (1987, 2011, 2015) |
| Australia | 2 (1991, 1999) |
| South Africa (Springboks) | 3 (1995, 2007, 2019) |
| England | 1 (2003) |
The evolution of the Rugby Championship: From Tri-Nations to Five Nations and then six 
When did the Tri-Nations start?
The Tri-Nations was launched in 1996 and ushered in the professional era after the 1995 World Cup in South Africa. More importantly, it finally offered southern hemisphere teams a formalised platform for regular competition outside of conventional test series.
 
This was important to rival the experience and traditions of the Five Nations, a tournament originally played between England, Wales, Ireland, Scotland and France, but was later expanded to include Italy as part the Six Nations.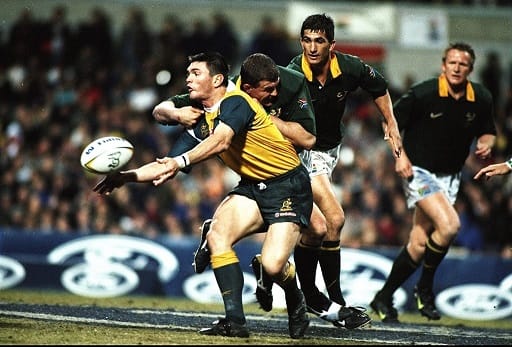 Who won the inaugural Tri-Nations?
New Zealand won the inaugural Tri-Nations competition in resounding fashion and remained undefeated in the first two tournaments.

When was the first time SA won the Tri-Nations?
The All Blacks' dominance was finally broken in 1998 when South Africa won the title, over the Tri-Nations 16-year history the world's most successful team amassed a record 10 titles.  South Africa and Australia shared the remaining accolades with three titles each.


Southern hemisphere gameplay given space to flourish
But the tournament did more than merely fill trophy cabinets. It allowed the expansive brand of rugby that characterises southern hemisphere gameplay to flourish, where physicality upfront is complemented by mobile loose forwards and backline players who offload in contact to maintain a high tempo throughout the game, which is conducive to creativity out wide that can unlock defenses. 


And nowhere is this more evident than in Argentina's gameplay. Following their breakthrough IRB World Cup campaign in 2007, where they finished third after beating hosts France while still a tier 1 amateur union, the Argentine Rugby Union (UAR) faced a pivotal decision that would influence the trajectory of Argentine rugby for the next decade, while also transforming the complexion of southern hemisphere rugby.
 

 
With a number of Argentine players already contracted to sides in England and France due to a lack of a professional structure on home soil, joining the Six Nations seemed like a logical choice. The Argentine pack was also big and burly, which lent itself to the tight five-dominated brand of European rugby.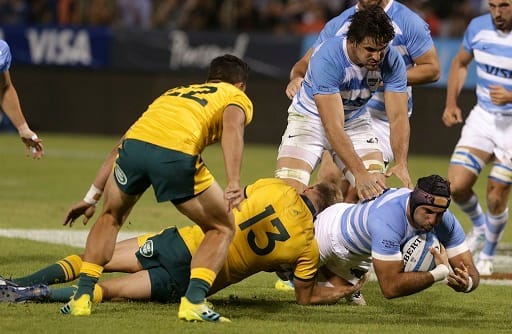 However, the Six Nations quickly put pay to any notion of an expended tournament that included "Los Pumas". Instead, Argentina's opportunity to advance their game came following a deal with SANZAR at an IRB conference in 2007 to admit Argentina to the Tri-Nations tournament. 
 
The agreement was formalised in 2009, which ensured that Argentina's best players, most of whom plied their trade in Europe, would be available to play in the newly formed four-nation Rugby Championship.

When did Argentina join the Rugby Championship?
Argentina officially joined the Rugby Championship at a meeting held in Buenos Aires on November 23, 2011, and the new tournament format was subsequently launched in 2012 under the expanded SANZAAR federation, giving more southern hemisphere players an opportunity to gain international experience. 



Highest calibre rugby in the world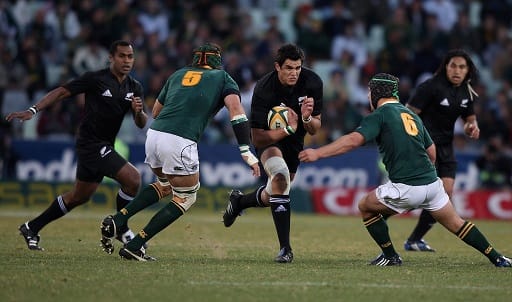 Today, the Investec Rugby Championship gives all four nations exposure to the highest calibre rugby in the world. While New Zealand once again dominated the competition, winning six of the seven tournaments held to date, the tempo and skills inherent in the gameplay are unrivalled anywhere else in the world outside of the IRB World Cup. 

These hallmarks were unmistakeable in Argentina's 2015 IRB World Cup performances, where their open and exciting style of play helped them reach the semi-finals, along with their regular Investec Rugby Championship opponents, South Africa, New Zealand and Australia. And it is this style of play that continues to deliver the competitive edge that has entrenched southern hemisphere dominance on the world rugby stage.