Going the Extra Mile for World Rhino Day
This year, Investec Rhino Lifeline is the sponsor of The Extra Mile, a trail run through the Bushbuckridge Community bordering the Sabi Sands and greater Kruger National Park area. The event aims to raise awareness of the communities' needs for basic services and the importance of nature conservation.
By covering all event costs, Investec ensures all funds raised will go directly to the community. 
Who benefits?
The More Community Trust (MCT) Water Project will bring water to this rural community.
The Good Work Foundation (GWF) will provide more access to digital education in local schools
The Endangered Wildlife Trust (EWT) can continue their good work in reducing human-wildlife conflict and protecting animals that stray onto community land.

Why should Investec care?
Investec acknowledges that rhino conservation is not possible without the buy-in and support of the communities who live adjacent to our iconic wildlife heritage. It is vital that impoverished communities are included in the revenue and benefits of wildlife tourism. To that end, we support our partners in creating an inclusive tourism industry - one that draws the rural communities in through educating, training and creating employment opportunities.
Good Work Foundation reaches nearly 5,000 grade 4-7 children with their Open Learning programme, improving their English and Maths through digital learning. It teaches more than 2000 grade 5 learners about wildlife through Coaching for Conservation's fun-filled outdoor soccer programme. Investec Rhino Lifeline sponsors both these programmes.
Through the SA Wildlife College, Investec Rhino Lifeline will be taking Coaching for Conservation to another 600 children in the Hoedspruit community living alongside one of our rescue partners Hoedspruit Endangered Species Centre
Wild dog are the most endangered carnivores in the world. Investec has sponsored Endangered Wildlife Trust's wild dog programme since 2013. The focus is to empower key communities on the western boundary of the Kruger Park to promote the co-existence of wild dogs and humans living in close proximity.
Through the Sabi Sands Pfunanani Trust and Care for Wild, Investec employed about 330 youth as part of the Youth Employment Service (YES) programme. They worked in critical conservation areas, learning skills that will enable them to participate in local employment opportunities in conservation and tourism. 
Investec has collaborated with the Entrepreneurship Development Trust and Innovation Africa to provide solar-powered clean water systems to nine communities in the Bushbuckridge area.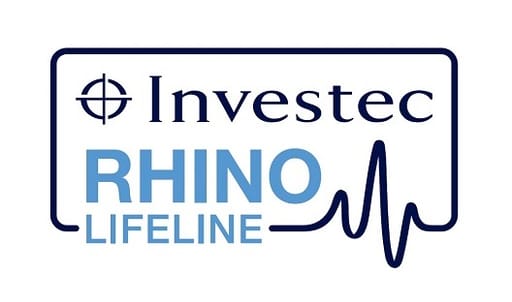 What is Investec Rhino Lifeline's role in The Extra Mile?
 
They are the title sponsors of the race in recognition of the significant work all our partners are doing in the Bushbuckridge community.

Why did Investec Rhino Lifeline sponsor The Extra Mile?
It aligns with our objective of raising awareness and this community is critical to protecting rhino, wild dog and other endangered wildlife. Investec Rhino Lifeline already partners with Good Work Foundation as well as EWT who are both benefactors of The Extra Mile and SSPT are part sponsors, so there was good synergy across all partnerships. 
Interested in donating or learning more about our work with rhino?