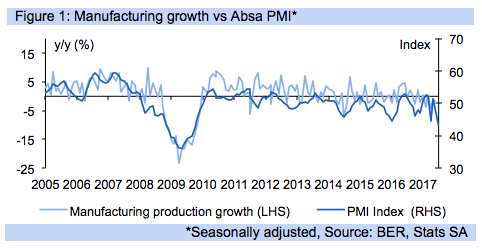 Although production contracted in each of the three months in Q2.17, on a seasonally adjusted basis production increased by 1.5% q/q, compared to a decline of 0.7% quarter on quarter seasonally adjusted in Q1.17. This measure is used to estimate the sector's contribution to GDP and it therefore suggests a positive contribution following three consecutive quarters of negative contributions.  
In Q2.17, six of the ten manufacturing divisions registered positive growth on a seasonally adjusted basis. The food and motor vehicle manufacturing divisions yielded the largest positive contributions of 1.0% and 0.2% derived from growth of 4.1% qqsa and 3.7% qqsa respectively.  
Based on advance indications provided by the July manufacturing PMI, the improved momentum in Q2.17 may have not been sustained into Q3.17. Specifically, the July PMI fell to levels last seen during the recessionary conditions of 2008/09 (see figure 1).
Weak domestic demand has weighed on activity in the manufacturing sector. In particular, the PMI survey report assessed that "the recovery in the agricultural sector seems to be outweighed by the general consumer weakness. Furthermore, renewed regulatory uncertainty suggests that demand from the mining sector may also be kept under wraps for the time being."
Export orientated manufacturers should derive some support from foreign demand. Recent high-frequency global indicators have reinforced the firming global growth narrative and the improvement in international trade flows (see figures 3 and 4).