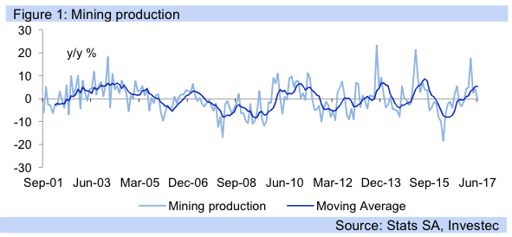 However, on a quarterly basis, mining production rose by 0.6% seasonally adjusted in Q2.17. 
This quarterly increase was chiefly underpinned by the growth in manganese ore production, of 18.5% quarter on quarter seasonally adjusted (qqsa) in Q2.17.
Based on its 3.09% weighing, this mineral group made a contribution of 1.1% to the headline quarterly seasonally adjusted mining production outcome in Q2.17. 

The other key contributors were the diamonds and coal mineral groups that increased by 17.2% qqsa and 2.1% qqsa respectively in Q2.17, with a combined positive contribution of 1.1%. 

Platinum group metals (PGMs) made the largest negative contribution of 1.7%, as production contracted by 8.1% qqsa. 

As the quarterly seasonally adjusted mining production measure is used to calculate the sector's contribution to GDP, it suggests that its contribution to Q2.17 GDP was positive. 

The magnitude of the rebound in commodity prices seen in H2.16 has faded somewhat, whilst operating cost pressures for mining producers remain elevated. This will likely temper the extent of recovery in mining sector production this year from a 4.3% decline in 2016. 

The challenging broader economic growth backdrop coupled with persistent regulatory and policy uncertainty, linked to the revised Mining Charter, will continue to dampen business sentiment in the mining industry and so both fixed capital expenditure and employment growth in the sector.