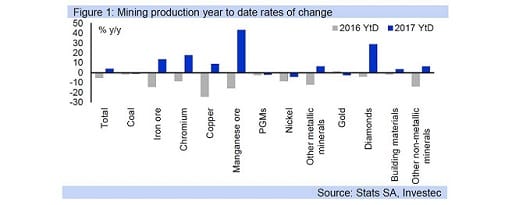 Mining production increased by 6.9% y/y in August following a rise of 1.9% y/y in July (revised from 0.9% y/y previously).
The mining indices published in the August report reflect changes related to rebasing and reweighting (see figures 3 and 4). Changes related to the revision affect the historical data from January 2015.
In August the largest contributions, of a cumulative 3.6%, to the increase in headline mining production stemmed from iron ore, diamonds and gold production.
In the first eight months of the year mining production rose by 4.0% y/y compared to a decline of 5.5% y/y in the same period last year. The improved performance so far in 2017 is attributable to higher production in iron ore, chromium ore, copper, manganese ore and diamonds (see figure 1).
Growth has been aided by higher commodity prices. Globally, metals prices have risen this year and although iron prices have declined by 16% in the year so far, they remain firmly above 2015 and 2016 prices.
Commodity prices are broadly expected to strengthen this year and next year, from 2016 levels, on the assumption of stronger demand from China and the continued pick up in global growth.
The recovery in commodity prices from decade lows reached in 2016, has contributed to the improvement in South Africa's terms of trade and the reduction of the current account deficit.
However, the extent of recovery in mining production is likely being restricted by elevated operating cost pressures and persistent regulatory and policy uncertainty, linked to the revised Mining Charter; the Minerals and Petroleum Resource Development Bill; policy pertaining to section 54 safety stoppages and the carbon tax.
The perceived uncertainty has been linked to the contraction in mining sector investment and the absence of meaningful job creation. It has also contributed to the decline of South Africa's investment attractiveness rankings in the Fraser Institute's Survey of Mining Companies. On policy perception in particular, SA ranks the third worst in Africa, followed by South Sudan and Zimbabwe.