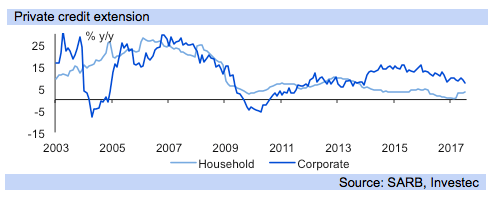 Slower growth in the corporate credit resulted mainly from a further moderation in the growth of general loans and advances, which comprise nearly 50% of total corporate credit, to 7.9% y/y from a prior 10.3% y/y and from 13.8% y/y in 2016. According to the SARB, this credit category comprises "terms loans and structured loan funding to non-financial companies, and to financial companies involved in, among other things, securities trading, life insurance, fund management and vehicle financing."
Mortgage advances which is the other sizeable (22%) component of corporate credit, lifted to 8.8% y/y in July from 7.6% y/y in June but has moderated from double digit growth in 2016.  This has been linked to a slowdown in commercial property development.
Within the household credit category, growth in mortgage advances, which makes up 60% of household credit, remained pedestrian in the vicinity of the 3.0% y/y mark. Unsecured credit, which comprises 23% of household credit, eased to 4.1% y/y from a prior 4.2% y/y.
Household instalment credit and leasing finance, which represent vehicle financing, increased by 3.5% y/y in July after having mostly contracted in the past year. This corroborates with the improvement in passenger vehicle sales in July.
Credit conditions are expected to remain relatively subdued in view of the weak economic growth backdrop and depressed business and consumer confidence.
The recent interest rate reduction, and possibility for a further cut, may not necessarily translate to meaningfully higher demand for credit given that retail banks tightened credit criteria for both households and corporates.
Moreover, households could take advantage of the lower interest rate environment to reduce levels of indebtedness. This has already been taking place as evidenced by the decline in the household debt to disposable income ratio, to 73.2% in Q1.17 from levels closer to 80% in 2013. Moreover, data from the National Credit Regulator for Q1.17 reflected a decrease in the number of credit applications to the lowest level since Q1.12.