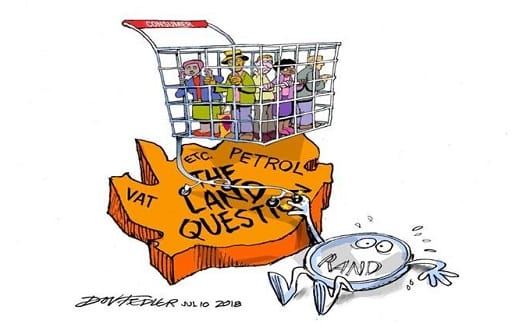 The consumer in South Africa is severely strained, given recent price hikes in petrol, VAT and everything in between. It's ironic that the president has asked government to look at ways to alleviate this pressure on the consumer, when the same government has been a large contributor to consumer stress through direct and indirect tax hikes.
The land question is also getting very complicated now, and it's clear that the solution is going to be a rather difficult one. We'll continue watching this with interest. Domestic bonds are looking much better, trading roughly 50bp lower than their recent worst levels.
However, we should not get too comfortable, ZA inc. still faces multiple challenges and the next bout of 'risk off' in global markets, when it arrives, will see the rand under renewed pressure.  The rand continued its roller coaster ride yesterday, trading briefly above 13.5000 and all the way down to 13.2600 after hours. This morning equity markets came under renewed pressure in Asia and DOW futures were down more than 200 points, and so the ZAR was back at 13.4300 this morning. The recent trend for ZAR shows serious resistance now coming in at around 13.4500. Watch equities – any further pressure will provide confidence to EM bears.
Sadly my team is gone – I really do need to start picking winning football teams to support.