Anticipated reshuffle
The much-anticipated cabinet reshuffle has come and gone and here are some of my thoughts
The appointment of Nhlanhla Nene is a positive move, and is well received by the markets; however, as I've said a few times before, it's going to take a very long time to fix the country's ailing finances.
Pravin Gordhan as SOE minister is also a positive move as this is the very sector that created the grave problems in respect of state finances. Expect a few board changes quite quickly. This area is key as the country can't afford any more bailouts. PG has his work cut out for him.
It's disappointing that we have the same size cabinet, but the President alluded to the fact that this will be addressed in due course.
There are of course many compromise appointments in this cabinet, but that's politics for you – you win some, you lose some.
Concrete steps now needed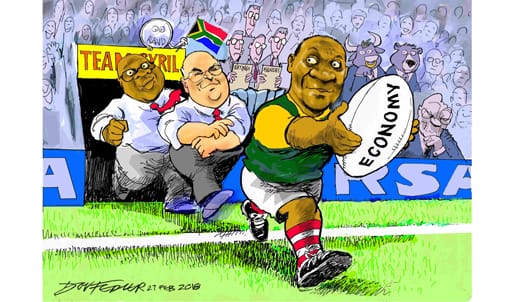 Since the President was appointed a little more than a week ago, a lot has happened. There's an argument to suggest that all the 'good' news is now out and therefore everything is now priced into bonds and the local currency. 
Now we need to see concrete steps to fix the ailing economy.  
We may just have escaped a credit downgrade from Moody's and my best guess is that we remain in the recent range of 11.5000-11.8000 for the foreseeable future. The land expropriation without compensation issue is now a massive question for South Africa: how do we address this issue without affecting food security and the broader economy. It's a very complex issue and will need the collective wisdom of South Africa's finest minds and a healthy dose of goodwill to put into place. 
Strap yourself in tightly folks 
It's going to be a very interesting period in South Africa. Expect some very difficult deliberations and decisions. Volatility is a given – but at least in the short term, the country is in a better space. Growth should pick up marginally, theft and graft should be arrested (at least at SOE level), inflation is under control and there's a vision for the future – let's knuckle down and get the work done.
All the best.