Chris Vassilopoulos grew up in South Africa within an entrepreneurial family. A recent move to the United Kingdom inspired a new family venture, Kiklo Spaces and a chance to indulge a family passion for cars. Here, he shares the vision for the future of the business and his aim to connect with other enthusiasts.
You're from an entrepreneurial family who was focused on property but have launched a new venture in the car space. Can you tell us about Kiklo Spaces and what it aims to offer clients?
Kiklo Spaces is a new, purpose-built car care facility in Hampshire, with state of the art climate control, security and fire suppression systems. We designed the space so that it feels more like a residential home than a conventional storage facility. We take a considered approach to how vehicles are presented, in a similar way to how art would be displayed in a gallery.
We don't see Kiklo Spaces as somewhere you just drop off and collect your car. We've worked hard to offer enthusiasts a special experience. As well as two floors of car and parts storage, the space also includes a gallery, lounge area and meeting room, as well as an archive room and offices.
We operate on a tariff structure, with a set charge per vehicle per month, and we currently have capacity to store around 25 client vehicles. This gives us the ability to be very hands-on with each and every one of the cars placed in our care, something that is so important to us.
Where did your original idea for the business come from?
My family and I are so passionate about cars. Over the years we've assembled a small collection based here in England. When we visited from abroad, we began to realise there was a gap in the market to offer a type of storage for classic and collectible cars that is unique and sophisticated – this is how Kiklo Spaces was born. It's a great way of sharing a passion and bringing together likeminded people.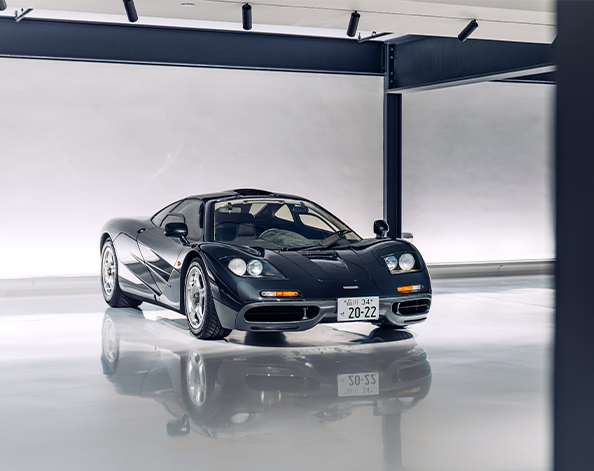 Chris Vassilopoulos,

founder of Kiklo Spaces
Motoring will become far more of a multifaceted experience; as well as driving them, enthusiasts love to look at, listen to and talk about cars.

Looking to the future, how do you think the motoring industry will evolve?
The future is going to be interesting for car enthusiasts. On a practical level, classic cars typically travel a short distance every year. However as a society we need to be more conscious of carbon emissions generated by transport. With this in mind, I think motoring pursuits will move towards events, competitions and 'cars as art'. Motoring will become far more of a multifaceted experience; as well as driving them, enthusiasts love to look at, listen to and talk about cars.
How do you see that change shaping your business?
We're hoping to develop the community element of Kiklo Spaces. We'd like to offer complimentary services from advisory to potentially sales on a discrete basis. We're also open to collaborations – our space lends itself well to events so it would be great to explore putting on regular small gatherings.
How has Investec supported your business journey so far?
As individuals, and as a business, we're very much relationship-driven. Having a financial partner who shares those values has been enormously beneficial. Investec supports us as people – rather than just another anonymous client – and we've been able to start a new venture based on trust and understanding.   
We share a common interest in cars with our private banking team, which of course is very helpful too.
Disclaimer
Investec Bank plc ("Investec") works with a number of trusted advisors through its client network. Investec does not recommend or endorse any network member or service. Clients will need to assess the suitability of a network member's services for their own needs and conduct their own due diligence. Members of Investec's network may have their own eligibility criteria, service fees and terms and conditions that Investec does not provide. Engagement with a network member is at a client's own risk and Investec does not accept any liability or responsibility directly or indirectly for any losses that may be incurred. Investec does not earn or pay any fees through the network.
Other Beyond Wealth insights from Investec