As one of the UK's most successful tennis players, Sue Barker CBE is known for reaching a career-high singles ranking of world no. 3, as well as her work as a television sports presenter.
Having started her professional tennis career in 1974 at the age of 17, she went on to win 15 WTA Tour singles titles, as well as a Grand Slam singles title at the French Open in 1976. Since retiring from professional tennis in 1984, Barker has led the BBC's coverage of Wimbledon for over 25 years, and previously hosted the broadcaster's flagship quiz show 'A Question of Sport' alongside Phil Tuffnel and Matt Dawson.
Now, having confirmed that this year will be her last time hosting the coverage, Barker joined former British no.1 tennis player Andrew Castle and Investec clients to share her learnings from a life in sport. Below are some of the key highlights from a discussion about high performance, resilience and diversity, as well as Sue's predictions for this year's competition.
Sometimes you just have to make it work
Having started playing tennis at the age of six, Barker's older siblings took her to their local courts from a young age. It was here that her love of the sport grew; she recounts stories of playing against her garage wall and imagining herself on centre court at Wimbledon meeting her idol, Billie Jean King.
"She changed my life," says Barker. "I remember when I was 13 or 14, it was about the time of the 'Battle of the Sexes' match. I didn't realise it then, but that match was huge for my future. If Billie Jean won the match against Bobby Riggs, as she did, then that would mean I could leave Devon, live in America, follow my dreams and travel the world."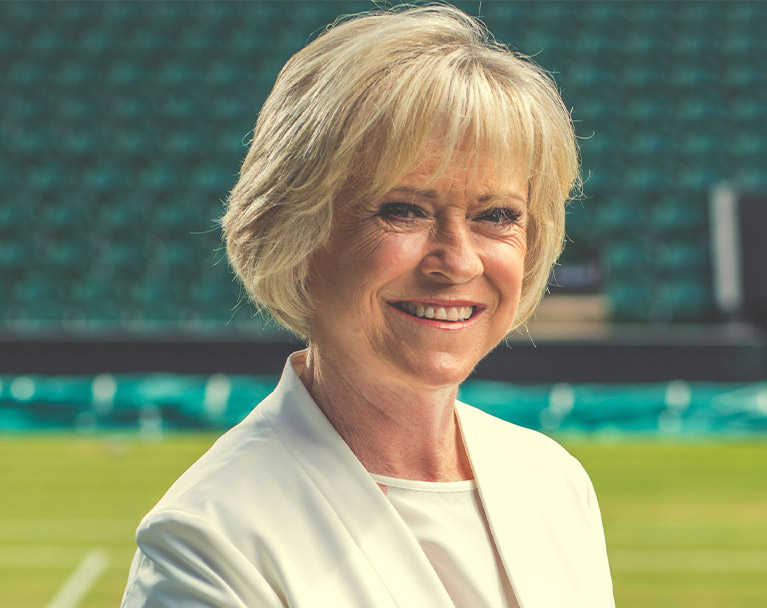 Sue Barker CBE,

former Grand Slam winner and broadcaster
We were very much aware that women's tennis was just starting, and that we had to make it work.
Never be frightened to succeed
Having signed a contract with talent agency IMG, Barker was soon travelling the globe participating in world-famous tennis tournaments such as the US Open, Australian Open, Wimbledon and the French Open, where she achieved her first Grand Slam singles title.
However, with the pressure of expectation building, she recognised her potential as a player came with the challenge of accepting defeat. When she was aged 17, she had made a deal with her parents that if she was not ranked in the top 20 players in her first 12 months, she would have to return home from the tour.
Crucial to overcoming self-doubt was the advice she received from her coach Arthur Roberts, which has stayed with her throughout her career. "My coach Arthur Roberts taught me everything I know about tennis, but he also taught me about life, and gave me the tools to go forward in a life I never thought I'd have. He always said 'never be frightened to try something. Never be frightened to fail. Never be frightened to succeed'. And that was the best advice I've taken through my tennis and my broadcasting."

The expectations that matter are your own
After reflecting on the challenges faced throughout her own career, Barker acknowledges the pressure faced by Emma Raducanu, who rose to fame last year following her successes at the US Open and Wimbledon.
"I don't think the criticism she's getting is fair. You go back a year, she was taking her A-levels," Barker comments. "She has been hit with a tsunami of expectation. I think she's overtraining now because she's desperate to win matches and trying to protect her sponsors, and she doesn't want to let them down. In another three years, I expect she'll come back and do really well."
Go on your journey with others
However, Barker notes it's not just the players on the court making success happen, but the people supporting behind the scenes.
"It's obviously very different from my era to how it is now. But I mean, if you listen to the players now they talk about 'a team', they are just part of the team. For me, back then we were helping each other. We were there for each other because we felt that we were starting out on this adventure together to make women's tennis."
There may not be a right time to make a change
Covering the Wimbledon tournament for BBC has enabled her to stay immersed in the sport and leaving this summer is a sad prospect. "I'm bitterly disappointed and I'm incredibly emotional about it," she admits. "I've had 30 glorious years. I joined in 1993 working alongside Harry Carpenter, however, you can't go on forever. I always feel, does anyone really know when the right time to go is? But for me, I'd rather leave too early than too late."
Other Beyond Wealth insights from Investec