Bolstered by a handful of megadeals, it was the Netherlands that stole the crown, a total of €23.5bn of Dutch private equity deals have been completed over the past 12 months. The UK reached a total of just €21.4bn - still one of the country's top-five all-time years - but down significantly on its post-crisis record of €31.3bn, secured in 2017.
The UK continues to dominate the European buyout industry by volume. But the number of UK deals completed also slipped from 196 to 187, the lowest annual volume recorded since the global financial crisis in 2009. And the Netherlands is not the only Continental market that is nipping at the UK's heels.
France saw its total deal value soar by 25% to €20bn putting it only narrowly behind the UK for a close run third place. 
Germany, meanwhile, also secured a record year for deal volumes, which have been climbing steadily since the global crisis. Deal values however, fell by over 60% €7bn from a blockbuster 2017.
Total value of private equity-backed acquisitions by country (Euros)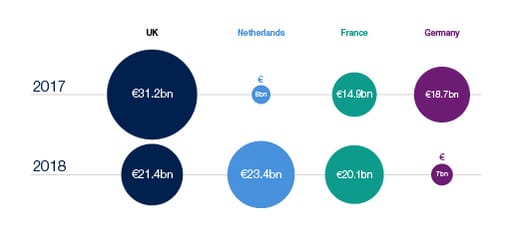 Brexit uncertainty and the political turmoil that has accompanied it are clearly weighing heavily on the UK market with deal value decreasing by c1/3 on last year to £21.4bn. Similarly to the hiatus following the original referendum in 2016 (total value of c£15bn), buyers and sellers are slowing down investments into the country until there is greater clarity on the UK's future relationship with Europe.
It is interesting to note that the regional divide, widely credited with influencing the Brexit result, is apparent in the CMBOR research data as well. London and the South East reported increases in deal making, in terms of both value and volume, in contrast to declines in both measures in almost every other UK region.
A swift and decisive resolution on Brexit will be key to the UK regaining the top spot in 2019
The UK saw only a smattering of mega deals (valued at > £1bn) and only recorded one of the top 10 deals by size in Silverlake's take private of Zoopla for £2.5bn, the UK's mid-market remained relatively resilient. Deal values in the sub-£250m range held up at c£6bn, while deal volume was identical year on year, holding steady at 171.
A swift and decisive resolution on Brexit will be the key to the UK regaining top spot in 2019, both in terms of larger companies committing to sales processes and giving international buyers confidence to return to the markets. There remains significant sums of dry powder to be deployed in the region, quality businesses to back and strong availability of debt financing to oil the wheels of what has always been a core private equity region.

UK deal breakdown by region
The Netherlands had its strongest year since 2006, with a total deal value of €23.5bn putting it into the number one spot across Europe. To provide further context, this is close to 4x the €6bn achieved in 2017 which was the previous post-crisis record.
The Netherlands accounted for almost a quarter of total European deal value and this was driven by a series of mega deals with the region seeing four of the ten largest buyouts: Carlyle's €10.1bn acquisition of AzkoNobel Speciality Chemicals, KKR's €6.8bn acquisition of Unilever's spreads division, CVC's acquisition of TMF Group for €1.8bn and PAI's take private of Refresco Group for €1.6bn. The first two deals alone were worth €16.9bn. 
Nonetheless, even without these mega-deals, the Netherlands is an active region for the private equity industry and has registered 50+ deals per annum for the past five years across the mid-market size spectrum.
"The Netherlands has had a stellar year and despite the key driver of total deal value in 2018 being huge one-off deals, the region constantly sees strong volumes across the mid-market," commented Investec's Alexandre Neiss.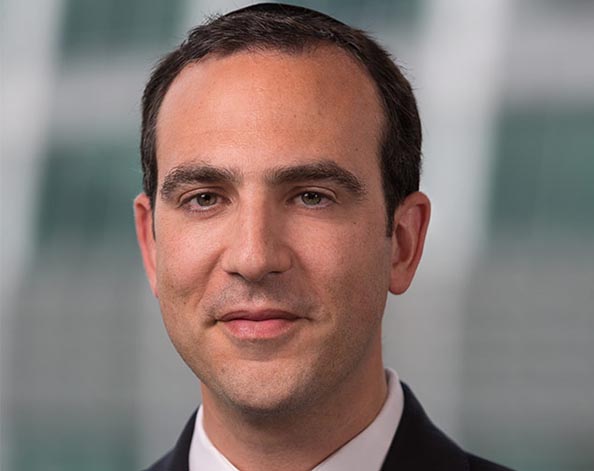 Alexandre Neiss, Investec Corporate Lending
The Netherlands has had a stellar year and despite the key driver of total deal value in 2018 being huge one-off deals, the region constantly sees strong volumes across the mid-market
Germany saw its highest volume of deals completed post-crisis, with 119 buyouts recorded, putting it in second place behind the UK for the second year in a row. Deal value collapsed from a record €18.7bn to just €6.8bn as the country's mega deal bonanza of 2017 failed to be repeated this year.
The high number of German mid-market companies that are suppliers to the major OEMs caught up in the diesel emissions scandal has also contributed to transactions that have failed to get over the line. But rumours circulating around Carlyle and Bain Capital's interest in the take-private of €4.9bn lighting manufacturer Osram Licht could help propel Germany up the rankings next year and the company's famed Mittelstand continues to be active.
"The German market from 2012 to 2015 was generally described as 'promising but under-delivering'," said Investec's Kai Stengel. "Since then, performance has improved, and although value is down, deal volume has steadily increased for each of the last five years."
"This is due to a number of factors: Germany's benign economic environment has allowed companies to grow ahead of expectations, making them more attractive for sale. There's also a significant pool of long-term private equity capital all over Europe that needs to find a home," he added. "The supply is driving valuation multiples up, making exits even more attractive."

Please note: unless stated, all statistics have been taken from the recent CMBOR data, correct as of December 2018. 

Related articles on business growth