Investec is supporting food banks in various ways during the coronavirus crisis. We currently fund and stock 18 food banks across our local communities in the UK, in addition to our work worldwide. And our people have been quick to volunteer on the ground too.
When we first looked to help those in need, Meg Hillier – MP for Hackney South and Shoreditch – told us that food banks were seeing increased demand and needed resources, as well as financial donations. In some areas, use of food banks is up 89%. So we mobilised our network.
We've been able to safeguard food deliveries through our partnerships with suppliers such as Aldi and Creed. We're providing more than 33,400 items to each food bank every week, where our people are giving their time in person. Their lessons from this time can inspire us all.
1. You can always make time to help others
"I've learned that when you really want to help with something that you care about, you can make the time to get it done," says Paul Kerr, a member of our financial planning team in Belfast. In addition to organising a supplier relationship with Lidl, Paul is in daily contact with his local food bank to check it's receiving the supplies it needs. He visits every Thursday and helps with deliveries too.
"I think I've been guilty in the past of wanting to do more for others, but never finding the time to actually do it. As soon as I saw the email for this, I knew I'd love to be a part of it and replied straight away to ask to be involved."
Even a small commitment can help others, adds Dan Haustead, who works in investment management in Bristol. "It's often very easy to fall into the mind-set that the problems that society faces are too big for any of us individually to have an impact, but I've seen that small changes can make a great difference to someone living in poverty."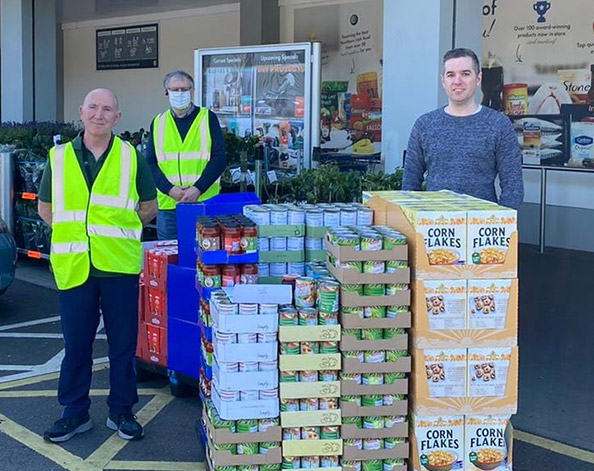 Paul Kerr, Belfast food bank volunteer and paraplanner
Knowing how many people need help… puts any personal problems into perspective.
2. Social vulnerability is greater than you know
One in five families in the UK live in poverty and the situation is exacerbated by illness and unemployment. The leading driver for food bank use is poor mental health and almost all users have reported that the uncertainty created by the coronavirus crisis has had a negative impact on their wellbeing.
The sheer number of people affected by adversity will stay with our volunteers. "Seeing all of the parcels and bags of groceries lined up and ready to be distributed is very moving," says Paul.
Dan agrees: "I think it's so easy to live in a city like Bristol, or even anywhere in the UK, and not realise the vast levels of poverty that are so common in our communities. Food bank use has increased by 216% from pre-COVID levels and the work that they do to ensure that people do not go hungry is amazing."
3. Collaborate to survive
More than 18,000kg of food are sent to each food bank each week and this impacts the lives of hundreds of families. That means they have to be a "well-oiled machine," says Paul Kerr. "From how they store their food, to organising food parcels, to getting those parcels delivered takes a huge amount of co-ordination."
Two thirds of recent food bank use has been driven by the coronavirus crisis and in Belfast food banks are collaborating with neighbouring services to meet the demand. "The SW Belfast food bank has seen the biggest increase in use since the crisis began so the centres communicate with each other and share supplies where they can."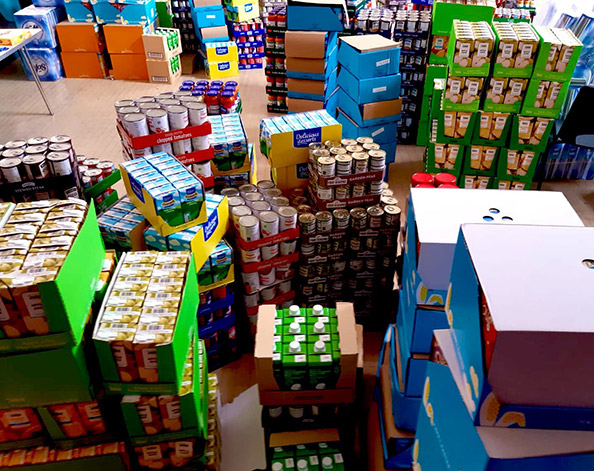 Dan Haustead, Bristol food bank volunteer and trainee investment manager
People are making sacrifices that go beyond what anyone should have to give up… situations can change so quickly.
4. Kindness begins at home
It's understandable that volunteering boosts compassion for others, but our volunteers reported a direct impact on how they treated their own friends and family.  
"This has already made me call and email my colleagues more often to see just how they are. I think this will make me a more caring person," says Carole Anderson who works in our Edinburgh investment management team and schedules volunteering days for Investec employees at Fresh Start Housing. The charity has been providing emergency food packages during the pandemic. 
Jay Ham of sustainability has seen more caring behaviour in others too. He describes the response from his colleagues as "rapid" and "meaningful". 
5. You could need a food bank too
Volunteering to support vulnerable people undoubtedly cultivates gratitude. "I think that knowing how many people need help just to get basic essentials each week puts any personal problems into perspective and has made me more grateful for what I have," says Paul.
However, it's become clearer that any of us could find ourselves in desperate circumstances in the future.
"In lockdown all of us have inevitably had to make some sacrifices from our usual way of living. But so many people are making sacrifices that go beyond what anyone should have to give up," says Dan. "Situations can change so quickly," he adds. "We've heard stories from families who were well-placed before this crisis and then experienced job loss that led them to the food banks."
"Losing a job, redundancy or splitting from a partner can all lead to poverty and it is very hard to get out of that situation and when you have nothing," agrees Carole Anderson.
"This is where volunteers can help. If we can, we must."
Investec's UK food bank initiative:
33,400+
number of food items delivered each week per food bank
216%
estimated increase in the number of people using a Bristol food bank during the coronavirus crisis
18
the number of food banks supported by Investec in the UK