Read the transcript

Aidan O'Brien: The Derby is tough, it can't be much tougher. The best colts turn out and you mightn't know the best colt going into it but you'll definitely know the best colts coming out so that's the exciting thing about the day.
It's a very demanding track. It's up down left right, switch back it is the ultimate test of a thoroughbred. The surface is always brilliant but the track itself tests every muscle and sinew in a horse's body really and they race back into the crowd so it tests them mentally as well.
Joseph O'Brien: [At the start], it rises 40m, so that's a severe test, so if you run too freely the first three, four furlongs you can leave your race there also.
You need a well-balanced horse because you have to go down the hill and they have to take Tattenham Corner and if you don't have speed you lose your position down the hill and into the straight and if you don't stay you won't get home because there are straight climbs all the way up to the line so you really do need everything, all the boxes have to be ticked in the racehorse in order to win the Investec Derby.
On Galileo
Aidan O'Brien: He was an amazing horse, he won his maiden by 12 or 14 lengths. It takes a unique horse to win the Derby, we weren't under any illusion about that. The ultimate thing is you have to have the horse with the pedigree and the physique.
When it happened on the day it was unbelievable really.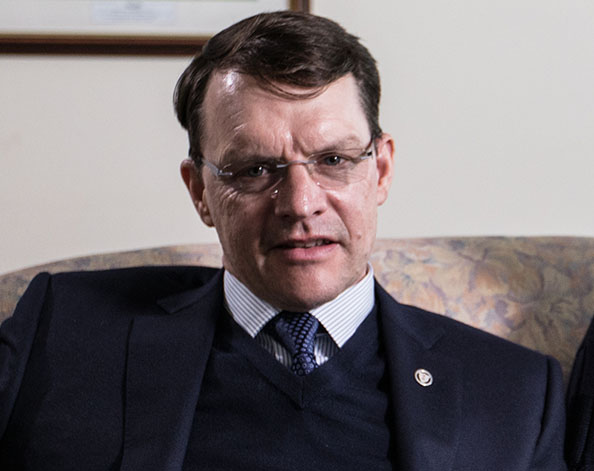 Aidan O'Brien, six-time Investec Derby winning trainer
The Investec Derby is what the thoroughbred breed is built on
On Camelot

Aidan O'Brien: Camelot had won the Guineas, won the Racing Post, but that was something that we were really looking forward to. Joseph was very young, he was only 19 at the time. It was one of those days that we'll never forget. 
Joseph O'Brien: He was a horse you could race a little bit free and he was obviously by Montjeu, so you're always worried that there is a little streak in him but he was a very talented horse, he had an awful lot of class and an awful lot of speed.
On Australia
Aidan O'Brien: He had a great a great mind, physically he was very good, but lovely and relaxed but responsive at the same time only when you wanted him really. 
It was very important obviously when you're riding them in races like Joseph was you have to be very adaptable and to adapt to what the horse needed and what he wanted really I suppose. 
The Investec Derby every year is one of those very special races if not the most special race of all for a three year old. 
On each other
Joseph O'Brien: Dad keeps things very simple and sees every little detail and plans meticulously every little detail and so far as preparing every horse for every race.
Aidan O'Brien: There was an awful lot of people with a lot of opinions and Joseph was very young. I was riding him in one big race after another. He'd always have his own opinion but he'd still want to know your opinion.
The horses that are not good enough, it's tough on them. Some of them find it very hard and some of them never really get back to that peak, but that's the way it is in this, it has to be. If they're good enough they have to be able to perform, the Investec Derby's what the thoroughbred breed is built on in this part of the world really.

Winners run a different race