Lady Colleen Glaeser: using tech for good
When Lady Colleen Glaeser says she believes "nothing is possible without confidence", there is more than a hint of substance behind the slogan.
Glaeser started her own business in 2000, when she was just 22. Having left school at 16, she'd worked for electronics giants Siemens and Panasonic, only to discover that she was paid less than male counterparts. So Glaeser took matters into her own hands.
"I decided 'that's not for me' and set out to start my own company, which was a big risk. I was told by everyone that it was never going to work, that people weren't going to buy from me, that I didn't even have a CV. But you have to start somewhere. I'm a very positive person, and you're either going to walk my journey with me or you're gonna fall off the bus."
A Johannesburg native, she founded CG Telecoms & Data in South Africa, setting her on a path that has culminated in ownership of three businesses in the telecoms, security and hospitality sectors. It was in 2016 that she joined Russia-based software company AxxonSoft's board of international directors – the first woman to be named to the position.
Glaeser is now global marketing director for AxxonSoft, and the connection is proving crucial to two of the most important projects of her life to date.
"I've been in the security and surveillance industry for 25 years, and knew I had to use my expertise to create a safer world through the implementation of proactive – not reactive – software and technology. Success to me is surrounding yourself and working with a good team, striving to reach ambitious goals and making the world a safer place for future generations."
Big Brother's watching out for you
As a South African, a lover of animals and owner of Karkloof Safari Villas & Spa, a luxury safari lodge about 80km from Durban, Glaeser saw the impact of poaching firsthand, with poachers targeting the rhinos that roamed the reserve in which Karkloof is located.
"The protection of wildlife is very close to my heart, and the destruction poaching has imposed on my country and the African continent is devastating."
Using AxxonSoft's Deep Learning surveillance technology, a pioneering security system on the reserve can detect the difference between humans and animals, says Glaeser. "With this new technology, as soon as there's a human breach of the game reserve, our surveillance centre is immediately notified. Cameras identify where the breach has occurred and the anti-poaching unit is dispatched."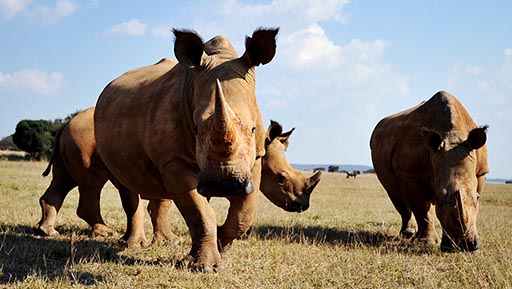 Glaeser used AxxonSoft's Deep Learning surveillance technology to help protect rhinos from poachers
Now the same technology is being used in the fight against human trafficking. Cameras in public spaces – train stations, airports, parks, stadiums and shopping centres – use facial recognition, forensic search technology and machine learning techniques to identify suspect behaviour and potential threats.
"Human and child trafficking is devastating for the people affected. It's incredibly hard to track – and to prevent – so drastic measures need to be implemented. I want safer cities, safer countries and a safer world for my children to grow up in."
The war against poaching and human trafficking are clear examples, Glaeser argues, where society benefits from the surveillance industry – and she is on a mission to prove that Big Brother isn't so much watching you as watching out for you.
"I want to make sure every person knows that surveillance is not all doom and gloom – it can offer you a good customer experience: you can monitor your stock and manage customers if there is a queue that's too long. Have you ever walked into a shop, seen a long queue and walked out? It would be better to have a system that allows supervisors to see this and respond by opening more tills. And if your child goes missing, we can locate them pretty quickly."
"We know what we gotta do, let's be passionate about it and the money will follow."
Having blazed a trail for South African women in industry, Glaeser says that her generation of female leaders has laid the foundations for their successors. "Our voices are being heard, we're being taken seriously in the workplace and we are seeing more and more successful women on company boards or as CEOs of impressive companies.
"It's great for children, too, when they can actually see their mum in such a position – it gives them more confidence. I take my daughter to all my public-speaking events so she can see her mum standing up in front of all these people."
She's also found a leadership style that works for her.
"I run my business along the lines of, 'We know what we gotta do, let's be passionate about it and the money will follow.' I see my company as a family – it's very important to make sure all your staff know you, understand you and know that they're important to you. I set goals and award little prizes for my staff, and I think my excitement rubs off on them.
"I have an open-door policy so they can come and see me any time. And I don't care who it is – if the tea lady feels she has a problem in her world because the teacups are chipped, and she doesn't want to serve them, I need to take time and say, 'We'll definitely get that fixed for you'."
So what advice does Glaeser have for anyone currently trying to navigate the sometimes rollercoaster ride of entrepreneurship? "Keep it real, take the risks and remain positive – because you tell your own story."
Read more from Investec Private Bank