Ten years ago, Formula 1 produced one of its most unlikely and dramatic stories when Jenson Button was crowned world champion. The team behind Button's success was Brawn GP, which was born out of the 2008 financial crisis and represented a multi-million-pound gamble by its owners, Ross Brawn and Nick Fry.
Survive. Drive. Win. is Fry's fascinating insider account of the events that led to Brawn GP's success – Button was rated an 80-1 shot to win the title before the season started. Fry would go on to become chief executive of the Mercedes F1 team and has worked with two of the sports all-time greats – Michael Schumacher and Lewis Hamilton. He shares with us the lessons learned from those experiences, what makes a great driver, how to keep your head in a crisis and his latest venture in Esports...
I had the offer of selling soap powder or frozen food goods, or going to Ford to pursue my dream of working in cars. For a new graduate, there are huge benefits in working at a large corporation, for at least part of their career. They've got the breadth to allow you to look at a whole number of disciplines from financial to manufacturing, marketing, sales and purchasing.
F1 is the ultimate in high-level engineering and fast innovation and development. The UK produces great engineers who are also able to innovate – that is unique. Unless you improve your performance in F1 by around 12 per cent each year, you will go backwards. You always need new ideas.
I'm a strong proponent of what I call the 'red-face test'. When you're making a decision of significant magnitude, can you stand in front of a TV camera or a journalist without going crimson with embarrassment?
We ended up in a dreadful perfect storm when the financial crisis came along in 2008. Our F1 team was owned in its entirety by the Honda motor company which fell into significant problems, as did most of the industry that year. All in one go, the order book went, dealers were refusing to take cars into stock…
Honda understandably felt they couldn't continue to support an F1 team that, frankly, hadn't been successful. They wanted out at very short notice.
It wasn't the best time to look for new investors in F1 – at least not reputable ones! We ran into a number of people who saw the advantages, for various reasons, of owning an F1 team but they weren't necessarily of the blue-chip background that Honda expected.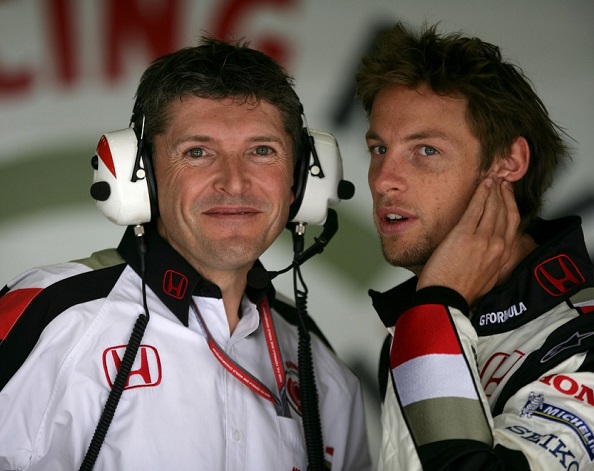 Nick Fry, Brawn GP CEO.
I'm someone who thrives on newness and new challenges. If you've had a life where you've been on the go all the time the difficulty can be in slowing down rather than maintaining the speed.
In business and sport you have to hold your nerve. As a matter of last resort, Ross (the team's head engineer) and I ended up owning Brawn GP – there was nobody else willing to take it on. That was a huge undertaking. We had 720 employees initially. We had a salary bill of several million pounds a month. But the other option was to shut down the team and leave several hundred families without an income.
You can't get too carried away by the good times or get too down-hearted by the bad times. I think Mrs Fry and Mrs Brawn fully expected that we were going to end up homeless and in a caravan for the rest of our lives based on what, on the face of it, was extreme folly. But we decided to give it a go.
One of our first tasks as team owners was to write a cheque for 8m euros for a season's worth of engines. But the Mercedes engine we picked was arguably the best on the grid. We arrived in Australia in March for the first race of the season after only a couple of days testing under our belt. Our cars finished first and second. We won seven of the first eight races, which put us in a very good position to win the World Championship.
Looking back, it was a triumph for perseverance and optimism. We took on the team knowing that unless things went our way we were going to be bust, potentially within a year.
If you look at 20 problems all at once it can feel insurmountable. In everyday life, this is a useful lesson. You have to look at things one at a time and knock them down one by one. If you do that you've got half the problems you started with. Otherwise, you could just give up.
Top drivers are incredibly talented at driving the car but are also great team players who work hard. Michael Schumacher was somebody who not only had great talent but could interact with every single member of the team. He knew how to motivate them.
"I guess my skill is advising how to run a company that is rapidly growing."
From the outside, it can be quite difficult to convey just how hard F1 is. The next level down, GP2, the teams may have 20, 30 or 40 people. In F1 you've got teams of 600-700 or more. When you speak on the radio, you've for 60 or 70 engineers listening. Some people rise to the challenge, Others will fold. We stalked Lewis Hamilton for several years before we managed to sign him for Mercedes. Every step of the way from go-karting upwards, he had achieved at a very high level.
I'm someone who thrives on newness and new challenges. If you've had a life where you've been on the go all the time the difficulty can be in slowing down rather than maintaining the speed.
I'm now the chairman of an esports team called Fntatic which is one of the biggest of European teams. The top players are subject to the same rigours as any other sport. We have a team manager and a coach. They live together, they practice every day and the top players are earning into the millions.
Esports is a huge industry. I really believe that if we have this conversation in 20 years' time, esports will be the thing that most people do. Traditional sports will still exist but might become the minority sports. 
We had teams reach two League of Legends finals, the most recent of which was watched by 35 million people around the world online.
I guess my skill is advising how to run a company that is rapidly growing. Although Fnatic has existed for around 12 years it has only become a global business in the past two to three years. We're assessing investments from private equity companies. I can help them a bit with the stresses and strains of growing a business quickly.
It was 10 years since Jenson won the world title so that acted as a good catalyst for me. Any money that I make from the book is going to Hope Tomorrow – a charity that provides mobile cancer therapy units that can travel to rural parts of the country.
Lysanne Currie writes about business and luxury travel for magazines including Robb Report, Luxury Plus, Glass Magazine and Meet The Leader.
Read how we're redefining success
See more from Investec Private Bank