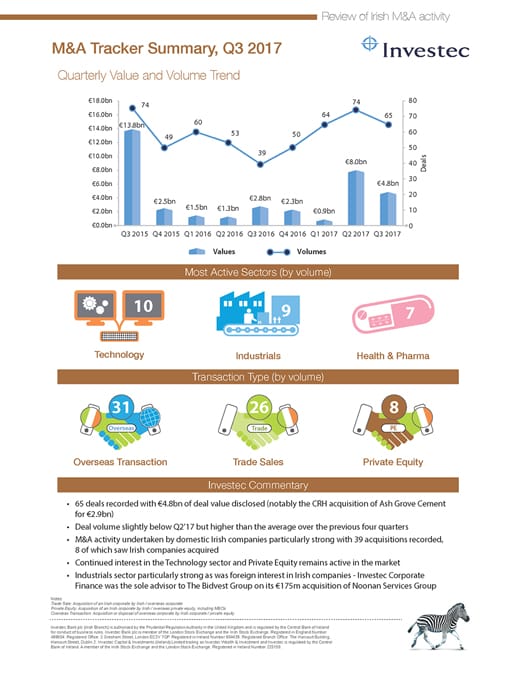 Reported deals in Q3'17 of 65 shows a not surprisingly significant increase of c. 67% year-on-year on the 39 reporteddeals in Q3'16, however the quarter saw a reduction of 9 deals on Q2'17. The significant increase on Q3'16 reflects the Brexit impact last year when activity paused for some serious thought and anecdotally a number of transactions not actually proceeding. The number of deals has also increased consistently since the fall in volume in the lead up to and following the Brexit referendum in June 2016. The strong M&A activity since June 2016 we believe reflects some pent up demand and deal backlog, together with a supportive overall domestic economic backdrop and continued positive trends in those factors which ordinarily are conducive to strong M&A such as availability of funding, good earnings growth and from a vendor perspective strong valuations.Total disclosed deal value increased significantly to c. €4.8bn from c. €2.8bn in Q3'16. However, it should be noted that the past quarter included CRH's €2.9bn acquisition of Ash Grove Cement in the US. Deal value in Q2'17 was c.€7.9bn.
Technology continues to be the most active sector with 10 transactions recorded in the quarter combined with a good spread of transactions evident across a number of other sectors with Industrials and Health & Pharmaceuticals particularly busy. Irish companies were once again active acquirers in the quarter with 39 transactions completed. There was strong acquisitive activity by Irish companies abroad, with 31 acquisitions recorded, highlighting the growing strength of domestic corporates. Notable acquisitions included CRH's acquisitions of Ash Grove Cement in the US and Fels-Werke in Germany, DCC acquiring UK company MTR Group and UDG Plc spending c. €115m on three transactions.There were 8 in-market transactions involving domestic acquisitions by Irish companies including a number of deals involving Irish SMEs.The level of trade sale activity involving international companies acquiring Irish businesses continues to be strong and during the quarter there were a number of significant transactions. These included the Bidvest Group's acquisition of Noonan Services Group for €175m, Heaven Hill Brand's acquisition of T.J Carolan & Sons (the Carolans and Irish Mistbrands) for €142m and the acquisition of Voxpro by Canadian company Telus International. Canadian companies have been increasingly common buyers of Irish companies in recent years.
International private equity funds have also been active with Mayfair acquiring Promise Gluten Free and acquiring a significant stake in SuperAwesome, the Irish digital marketing company. Montagu Private Equity acquired the Irish headquartered international document management company, Oasis Group, for a reported €200m plus valuation.
Irish M&A activity continues to be strong even in the face of uncertainty emerging from negotiations between the EU and UK. However, significant tailwinds are prevalent - the fastest growing economy in Europe for the previous three years, an internationally competitive destination for investment, a growing and dynamic workforce and a continued abundance of inexpensive capital – pointing to a persistent level of strong dealmaking.