Ranking
86th in the Ladies European Tour
12th in SA
34th in Investec Order of Merit
Highlight of 2022 season
Finishing 7th in the Ladies Joburg Open
How do you cope with the nerves?
I use a specific breathing technique and believe that the hours spent practising will hold me in good stead

How has your golf career progressed?
My progress and improvement have become a lot more measured in recent times, all my decisions are based on data and knowledge so that my development and practice has a purpose. This helps shape my results and future strategy to ensure I am getting the best out of myself.
Most challenging moment in 2022?
Dealing with a few off-course challenges and not having my support system abroad travelling with me to help deal with things.
What did 2022 teach you?
2022 has taught me that no matter how hard things get I have the tools and willpower to get through things and there is nothing I can't handle!
If you could go back and speak to your 12-year-old self, what advice would you give her?
I would tell her to be patient with the process and believe more in herself. 
Where do you see yourself ten years from now?
I see myself sitting on the beach sipping cocktails- just kidding! I would like to help out and give back to growing women's golf. I would like to develop kids golf through schools, I think golf should be more available to more kids and I think schools would be a great place to start. It would be great to attract more girls to the game as I feel it's great for personal development. 
What advice would you give young women who want to make a profession of playing golf?
I would say that being a professional sportsman is tough but rewarding. Never give up when things get tough.
What do you believe can be achieved in the South African women's golfing fraternity through Investec's sponsorship of the South African Women's Open?
Investec has given us South African girls a huge opportunity to compete at a high level by enabling exposure to international players. Importantly, we can also earn world ranking points in the Investec South African Open event which is huge! 
With the new Homegrown Award and TV coverage, it promotes women's golf and creates awareness to grow the game. 
Best book
Andre Agassi – because he had a tough upbringing and hated the game, but was so successful.

Motto to live by?
Let go of who you think you're supposed to be and embrace who you are. 
How did your upbringing impact the person you are today?
I started competing at a high level when I was very young. It taught me to be independent and self-sufficient. Because I traveled around the world, I have learned a lot about different cultures and today it shapes me as a woman, my opinions and beliefs.
Why did you decide not to go to university?
In 2006 I won the World amateur event and so I went to the Ladies European Tour school and I said to myself if I get a tour card I will not go to University. I finished 2nd at Tour school and secured my card for the LET for the 2007 season and haven't looked back. I have held my LET card since, so 12 years now!
Who do you rely on when you're not playing at your best?
When things are not going well, I have great family and friends around me as well as a great team that I can confide in and help get things in perspective and get back on track.
Who are your role models?
Growing up I loved watching Pete Sampras, Tiger Woods, and Annika Sorenstam. All of them have been mega-successful in the sport and I just loved watching how they all went about their business, through their attitude, their will to win, their personality, their character and how they dealt with performing under pressure. Watching and learning from these types of role models has certainly help me develop and be more prepared for the situations that I will face in my own journey to the top of the game.
How old were you when you started playing golf and what drew you to the sport?
I was 13 years old and a friend got me into it. I love the challenge and being outdoors. The first course I ever played was on holiday in San Lameer.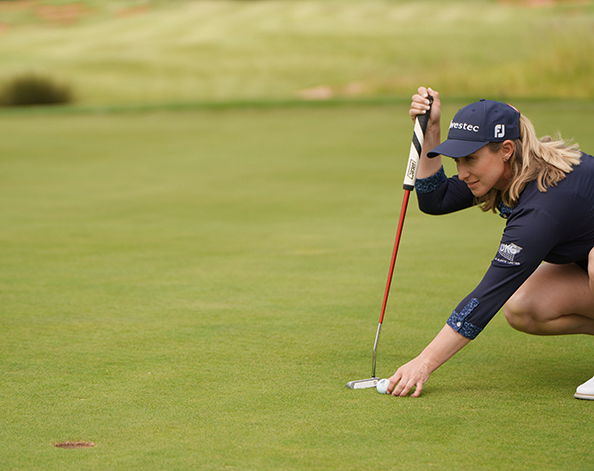 Stacy Bregman, Investec sponsored golfer
The greatest glory in living lies not in never failing, but in rising every time we fall.
What are the greatest challenges of being a professional golfer?
People expect you to perform week in and week out. 
Each week I am playing in a different country, on a different course, different climates, different grasses, in a different time zone and my job is to adapt to these variables as quickly as possible to try and get the best out of myself to perform well. Some weeks this is easier than others and some weeks the golf course just suits your eye and sometimes it doesn't.
What do you love most about being a professional golfer?
The travelling and meeting so many interesting people is amazing as these people come from a vast array of backgrounds and experiences, I find it really interesting to learn more about them, their thoughts successes and knowledge.
If you could play the last round of your life with anyone you choose who would it be and why?
I would choose my Dad because I would love him to start this great game. 
How do you keep a healthy balance between your personal life and your career?
It's really hard but I try to make time every day to keep in contact with friends and family and when I am home we normally go out and spend time together.