Watch the full replay by clicking below:
Prefer to listen to the audio?
Download the full podcast of the conversation and listen on the go. 
This is the latest instalment of Investec's Founders and Family Business Network series, where we explore what helps business leaders shape their decisions and guide their long-term success.
Upside-down success
John is well known for his unique business style – an employee empowerment approach he calls "Upside Down Management" - and has led campaigns to encourage all schools to be aware of the special education needs of looked after children. In 2004 he was awarded a CBE for 'services to the retail sector,' and in 2017 he was knighted for his services to business and fostering.

In the interview, John discusses a range of themes including how the firm navigated its fair share of ups and downs, the importance of sticking to what you are good at, the freedom of family ownership, and creating the right environment for family succession.

John also discusses the deep scars left on the high street by the coronavirus pandemic and how retail must evolve again to survive the challenging path ahead.

Great expectations
From humble beginnings in Oldham Street, Manchester, where John's great grandfather William opened the doors of Timpson's first shoe store, the business has risen to many challenges – from continual industry disruption, recessions, a boardroom family split, and an eventual buy-out. However, Timpson's ability to adapt to evolving trends is the cornerstone for Timpson's success. John along with his son James, CEO of Timpson Group, and 4,500 colleagues have now created a 2000-store retail services empire that has a diversified stable of related businesses from key cutting to photo development.
"Great service by great people" is Timpson's strapline and underpins the philosophy of the brand. John sees it as the firm's great differentiator. He also believes the unique culture that has been created by Timpson would never have flourished had the company been at the mercy of institutional shareholders.
"Family-run businesses tend to be more stable, as it is easier to control the shape of growth. You are also not beholden to the markets in terms of having to please short-term interests with half-year and yearly result statements. You can do things your way," he says.
John explains this means often taking a very different path as a family business. Crucially, he says, it allows businesses to avoid the near-term mindset of most public companies. This means investing in the future and creating a multi-decade, if not multi-century legacy.
Stepping into old shoes
John believes new generations can help revitalise and bring innovation to a family business. But businesses need to align family participation with performance and experience.
"All family members should be given a chance if they would like to pursue a career in the family business. But a critical error is to over-promote someone when there is not the requisite amount of experience and talent. You can't rise from the shop floor to managing director overnight."
Also, when born into a family business, John says apprenticeship often starts long before you ever enter the workplace. It started for him when he did the washing-up with his father.
"He washed and I dried and we talked about the business. I had visited sites and the warehouse and spoke to people involved in the business regularly before I joined."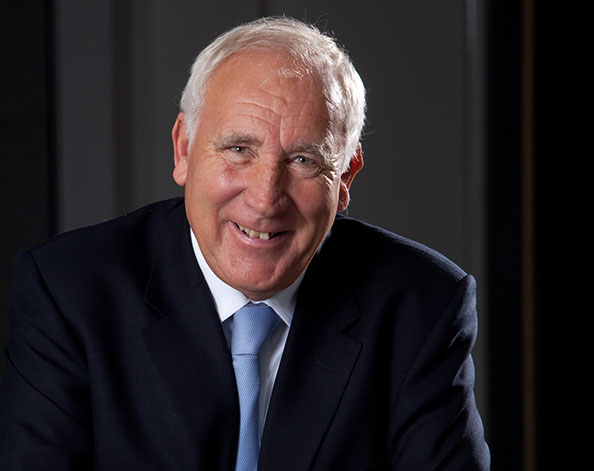 Sir John Timpson CBE, chairman of Timpson Group
I believe real family businesses are run by families. If the family is not at the helm, you don't create that unique atmosphere that is characterised by legacy and culture. I also believe within authentic family businesses, the colleagues feel part of the family and share common values.
Creating healthy succession
John believes the best entry point into the business is via work experience, so that family members can get a taste for the business. This limits potential conflict and a person can weigh up if they have a natural instinct for the business. His three eldest grandchildren all have had spells at Timpson during school and university.
John also explains the benefit of family businesses being overseen by families:
"I believe real family businesses are run by families. If the family is not at the helm, you don't create that unique atmosphere that is characterised by legacy and culture. I also believe within authentic family businesses, the colleagues feel part of the family and share common values."
John says there is always a period when you realise a family member is going to have a big part to play:
"James developed very early. By the time he was 27, I knew he was going to run the business. The challenge was convincing the rest of the business he wasn't too young. Fortunately, I had a trusted non-executive director who helped me navigate the transition."
James has been CEO since 2002 and central to business growth and innovation at a time when the high street has faced stiff headwinds. He has been instrumental in developing the photo, dry cleaning, barbering and locksmith lines, and helped accelerate the expansion of out-of-town locations.
James has also cultivated the legacy of Upside Down Management, a culture based on trust, kindness and shared values. Timpson offers its employees unique benefits such as free holiday homes, a "Dreams Come True scheme" and mental health support.
James also pioneered the recruitment of ex-offenders, to the extent that Timpson now employs over 500 prison leavers (over 10% of the workforce).
 John says he has been lucky with James but believes you need to cultivate the right atmosphere:
"It is about sensing the right moment and not stifling a keen and talented family member from taking the next step. You need to act as a sounding board and a mentor to the next generation. This means stepping down but not disappearing. This allows the next generation to seize their opportunity when you are still around to offer advice."
John says we all have a legacy we want to pass down. His is creating a sound platform for the sixth and seventh generations. It is also about leaving a culture of kindness.
Diversification the right way (and why cobblers cut keys)
When John got involved in Timpson, the business had a chain of high street retail units and was a public listed company making the equivalent today of £15 million to £20 million a year.
The major change in the business was a boardroom split between John's father and his cousin. John's father was voted out as chairman by the rest of the board, prompting John and his father to offer their significant share stake to a possible bidder.
The business became part of a much bigger group called United Drapery Stores. John then took the helm of the business from his cousin which eventually led to a £42 million management buy-out in 1983.
At that point, due to industry headwinds, it was clear to John that shoe retailing was going to be difficult. The price of shoes had reduced dramatically since the 1960s. Leather shoe use was on the wane as cheap synthetic alternatives became available. The market was also crowded with competition. John had the vision to see the writing on the wall.
John sold the shoe businesses and other core services and convinced its prized shoe repair shops to embrace key cutting. This would begin the process of diversification, which would soon encompass engraving and watch-repairs.
In September 1995, John acquired the 120 shop Automagic chain and in April 2003 bought Minit UK which added another 350 shoe repair shops.
In June 2008 the company acquired over 40 Sainsbury concessions, trading as Persil Services, and in December 2008 bought 187 shops branded Klick and Max Spielmann.  They also purchased Snappy Snaps to make them a dominant force in photo printing services. In January 2017 Timpson acquired 198 Johnsons and Jeeves dry cleaning shops. 
"To diversify successfully, you need to understand what your talents are. Just because you run a successful business, doesn't mean you can be successful in an unrelated field. It's prudent to stick to your last and what you are good at."
Retail in the time of coronavirus
Covid-19 is another challenge for Timpson. John says there will be long-term implications and a fundamental shift in the retail landscape.
"We are witnessing something historic. Trends that existed before the pandemic are being accelerated. The high street has seen 10 years change in six months. Unfortunately, we expect to see a further hollowing out of the UK's high streets.
John says the coronavirus has been a tale of winners and losers.
"Key cutting has been down 10%, the photo business has been 30% and the dry cleaning is down 50%. This underlines how much our lives have changed and this is unlikely to be reversed greatly until we have more clarity."
He explains that online sales of non-food goods have gone up between 20-30% and he doesn't see that coming down. Meanwhile, footfall has dropped 30%. 
"Much of the damage is yet to come. The government will have to work with local authorities to revitalise our towns up and down the country. It will require big resources, but also vision and creativity. It will also mean enticing more people into town centres to live, or else we will lose our social hubs," he says.
During the crisis, John's priority has been long-term survival. Sixty-five percent of Timpson's outlets are with supermarkets and this out-of-town presence has helped them navigate the crisis.
"What we are good at is doing services and managing people in lots of different sites. We have recently launched a barbershop concept in supermarkets. I would not be rushing into anything new in the current environment. Our job is to continue doing what we do well. 
Read more business insights