All Together's survey was sent out between September and November 2021 and was filled in by the CEOs, founders and business owners of teams of all sizes.
There has been a clear and widespread transition away from the expectation that employees are almost entirely office. Now, a vast majority (80%) of businesses offer some form of flexibility to their employees.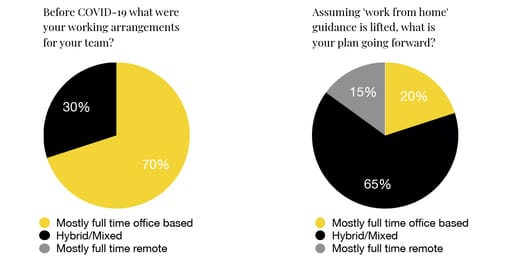 Why are bosses now offering this?
Overwhelmingly, it appears this change in mentality is people motivated, with bosses offering greater flexibility to employees as a means of attracting and retaining them, rather than being motivated by cost reduction or fear of Covid.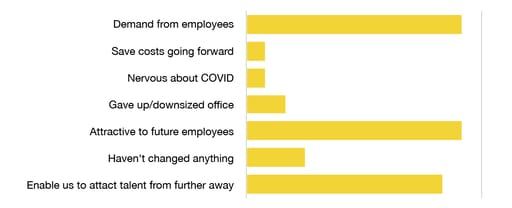 Notably, our research also highlighted that 'demand from employees,' both current and future, seemed to be a more significant driver for larger companies than those with fewer than 25 employees.
It's hard to determine why this might be exactly, but it's possible that todays highly competitive labour market might be playing a part, along with unions and safety concerns among larger groups being more significant.
Interestingly, 95% of respondents indicated that they would still 'allow employees to work in the office full time if they wanted to'. Highlighting further that the move to more remote working has been driven by demand from employees rather than the wishes of employers, and wasn't simply a cost saving exercise.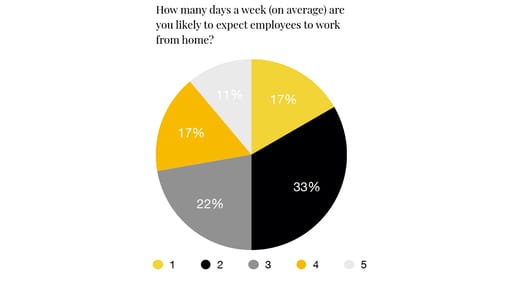 What will remote working look like in 2022?
Unfortunately, respondents indicated a wide variety in approaches to flexible working for 2022, with no clear patterns discernible across all sectors and business sizes. One commonality, however, was the degree of flexibility workers will be afforded with.
Responses suggest a majority of employees will be spending 2 or 3 days a week working remotely, and that smaller companies will afford workers the greatest degree of flexibility in this area.
In terms of office spaces…
It is clear that CEOs are rethinking their offices, with many making significant changes based around group work and collaboration, with the expectation that 'focused work' will be done at home:
More hotdesking.
More social and collaborative areas.
Making the space more reflective of home work environment.
More meeting rooms for online meetings.
Other conclusions:
Around 50% of respondents would let their employees work remotely from abroad if they would like to, although less would allow this to be a long term change due to complications around tax and legality.
Just over half of respondents will insist that all or specific groups of employees are in the office together at least one day per week or month.
60% of respondents are likely to provide expenses to employees to improve their work from home environment, if they haven't already. Examples of improvements were:
Printers & laptops.
Equipment such as keyboards, laptop stands, webcam.
High quality desk furniture (desk, chairs, etc.)
Cover costs of Wifi.
Some CEOs are considering larger, fundamental changes to their company expectations - including a four day week.
This research was conducted by and for All Together Collective Ltd. It is for destruction solely and exclusively by All Together and their permissive partners.
Did you find these insights useful?
Join the Founders & Family Business Network and receive our Monthly Newsletter
Read more insights from Investec: