Receive Focus insights straight to your inbox
Global
Last month we warned that a "Goldilocks mix" underpinned risk appetite, but that "sentiment looks vulnerable to news" on the trade war, fiscal policy or on monetary policy positions. Sentiment has indeed since shifted amidst a breakdown in US-China trade talks and a broader deterioration in US-China relations. That has triggered 3% fall in the S&P 500 so far in May. On the trade war, our base case continues to envisage a settling in the dispute with a US-China agreement eventually reached.
As such our global growth forecasts are held steady at 3.3% for 2019 and 3.5% for 2020, but the balance of risks has clearly tilted to the downside. One factor is that the US and China dispute risks morphing further into the corporate space, with the US targeting Chinese technology companies. The G20 Summit in Japan on 28/29 June will be critical in identifying if US-China relations can be bought back on track. 
United States
The escalation in the US-China trade dispute has led to further questions about the robustness of the US economic outlook, with the yield spread between 10-year Treasury notes and 3-month T-bills seemingly warning of an economic contraction. However we cite reasons to eye this metric with caution (the expanded Federal Reserve balance sheet and bigger fiscal deficits, with a focus on short-term debt to finance these).
Overall, the relatively closed US economy continues to show resilience to the trade war and even sectors (farming) suffering most, cannot lay all the blame at the door of the trade war; returns have been in decline for longer. We now judge that the deterioration in US-China relations will see the Fed remain in a prolonged policy pause and the Fed funds rate held steady at 2.25-2.50% this year and next.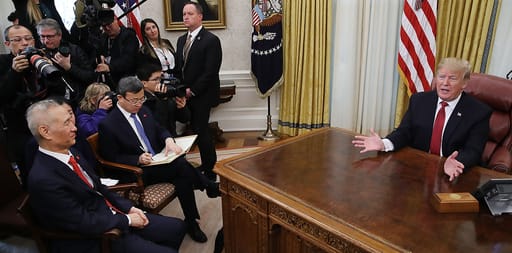 The US-China trade dispute is still throwing up questions about the solidity of the US economic outlook, but still demonstrates resilience despite this.
Eurozone
Euro area GDP growth rebounded in Q1 (+0.4% qoq), supporting our forecast of 1.4% for this year (2020 remains at 1.7% too). However the risks remain skewed squarely to the downside, where we remain concerned over trade developments and that the rebound in Q1 may have been supported by specific one offs.
The latest manufacturing data from Germany also gives us some pause for thought. On ECB policy we continue to forecast an interest rate move in March 2020 and whilst we note that the EONIA forward curve is downward sloping over the next year, we continue to judge that the next ECB rate move is more likely to be up rather than down. But the risk is of a later move. Meanwhile we continue to  envisage a rising euro over the medium term, with forecasts of $1.15 end-2019 and $1.22 end-2020. 
United Kingdom
The PM's Withdrawal Agreement Bill (WAB) has caused uproar among Tory MPs, principally by promising a House of Commons vote on a second EU referendum. At the time of writing, Mrs May remains in office, but she could resign any day soon. This changes a few things. First, while we suspect that the WAB would have struggled to get through the Commons anyway, the spectre of a new PM suggests that a subsequent series of binding votes on Brexit options will not take place, lessening the chances of a prompt resolution and an EU exit on 31 October. Our central case now is that the UK will seek a further delay to its EU departure, perhaps by six months.
Also, we judge that the risks of 'no deal' have risen, as have the chances of an election before 2022. Markets may not just be wary over a Corbyn-led government, but also the Brexit Party wielding influence, given their likely strong showing at the European Parliament elections. Furthermore we have scaled back our expectations of Bank rate rises – we are now forecasting the next move in Q3 2020. Additionally a short term sterling rally looks less likely – our end-2019 target is now $1.27 (previously $1.37) and 90.5p against the euro (previously 84p).
Read more on Brexit and the economy