We are committed to supporting the transition to a clean and energy-efficient world while preserving biodiversity and the well-being of our people and our planet.
Our approach:
Our position on climate change stems from the belief that as a specialist bank and wealth manager, the greatest impact we can have is to partner with our clients to decarbonise their activities and to offer products and services that help accelerate a cleaner, healthier world. Our environmental policy considers the risks and opportunities that climate change presents to the global economy. Our approach is to support the transition to a cleaner, more energy efficient and sustainable global economy that is conscious of its use of limited natural resources. We will approach this transition in a just and equitable way.
We recognise the complexity and urgency of climate change and therefore:
We support the transition to a zero-carbon economy while realising that this might take time due to socio-economic constraints

We embrace our responsibility to understand and manage our own carbon footprint and maintain carbon neutrality within our direct operations

We support the Paris Agreement's aim of holding the increase in the global average temperature to well below 2°C compared to pre-industrial levels and pursuing efforts towards limiting it to 1.5°C
We have an important role to play in terms of advocacy and collaboration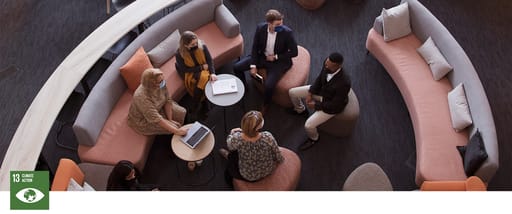 Managing and mitigating climate change within our operations
We embrace our responsibility to understand and manage our own carbon footprint. The key focus areas to reduce our operational carbon footprint include:
Reducing energy consumption
Reducing water usage
Reducing overall waste
Promoting sustainable procurement
Increasing waste recycling rates
Promoting sustainable travel
Reducing single-use plastic.
Acknowledging that we cannot continue consuming natural resources at the current rate, we focus on ways to ensure the security of natural resources in all operations, draw energy from renewable sources where possible, and source only from responsible suppliers.
Progress in 2022
Maintained carbon neutrality in our direct emissions for the fourth financial year as part of our commitment to ongoing carbon neutrality in our Scope 1, Scope 2 and operational Scope 3 emissions
Joined the Net-Zero Banking Alliance
100% renewable energy in our global operations 
Investec Wealth & Investment joined Climate Action 100+
Measured and reported on our material Scope 3 financed emissions.
Priorities for 2023
Assessing the transition plans of our clients who are in high emitting industries
Work with, and assist, our clients in their net-zero carbon journey.
Our targets
Carbon neutrality
Ongoing carbon neutrality within our direct Scope 1, 2, and operational Scope 3 activities
Zero coal
Zero coal exposure within Investec plc within the next three to five years
Net zero
Measure and manage our Scope 3 financed emissions towards net zero by 2050
As much as we believe we have improved our transparency and level of disclosure, we acknowledge that the transition to net-zero is exceptionally challenging. The decisions we need to make cannot solely focus on climate impacts. We have to incorporate the profound impacts on humanity too. This is why we need to navigate multiple pathways, with many uncertainties, towards a just transition. We believe that as a financial institution, coupled with the strength of our brand, we can, and must, use our position to steer our economies to a net-zero world. This is why we joined the Net-Zero Banking Alliance at the end of 2021, to not only strengthen our commitment to a net-zero world but challenge ourselves to direct financial flows towards a positive impact for our planet and society.
2022 highlights
0 tCO2e
Total direct emissions after carbon offsets
0.10%
Coal as a % of core loans and advances (2021: 0.17%)
1.99%
Fossil fuels as a % of core loans and advances (2021: 1.92%)
2.7%
Coal exposure as a % of total energy lending portfolio (2021: 4.0%)
While we report on our full carbon footprint that takes all  emissions into account, 2022 marks our fourth year of carbon neutrality.  100% of our operations used renewable energy through the use of Renewable Energy Certificates (RECs), and only our unavoidable emissions were offset through high quality, ethical carbon credits. In 2022  our carbon credits were purchased through the Wonderbag project.