17 pangolins rescued from the illegal trade, have been treated in the pangolin-only veterinary ward, in the last 12 months. This specialised facility was the result of a partnership between Johannesburg Wildlife Veterinary Hospital (JWVH) and Investec Rhino Lifelife (IRL).
"The ward has made a huge impact on the standard of care we are able to give the pangolins. It's quiet and temperature controlled, so the animals' stress levels are lowered, which aids their ultimate healing from the psychological trauma inflicted by their poaching," says Dr Karin Lourens, veterinarian and co-founder of JWVH.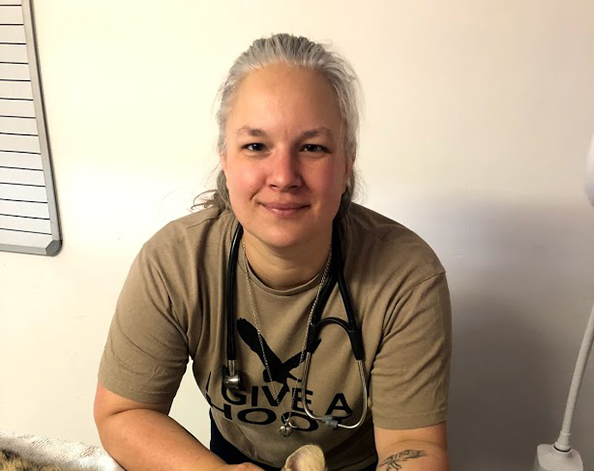 Karin Lourens ,

veterinarian, JWVH co-founder, IUCN SSC Pangolin Specialist Group
The ward has made a huge impact on the standard of care we are able to give the pangolins.
Get Focus insights straight to your inbox
80%
The success rate of pangolins cared for at JWVH
Some five years ago, pangolin rehabilitation specialist Nicci Wright and veterinarian Dr Karin Lourens joined forces to establish JWVH. 
The hospital provides the unique combination of both medical treatment and rehabilitation for indigenous wildlife - an approach paying conservation dividends. Since 2017, JWVH has raised its successful pangolin treatment, rehabilitation, and release rate from 50% to 80%.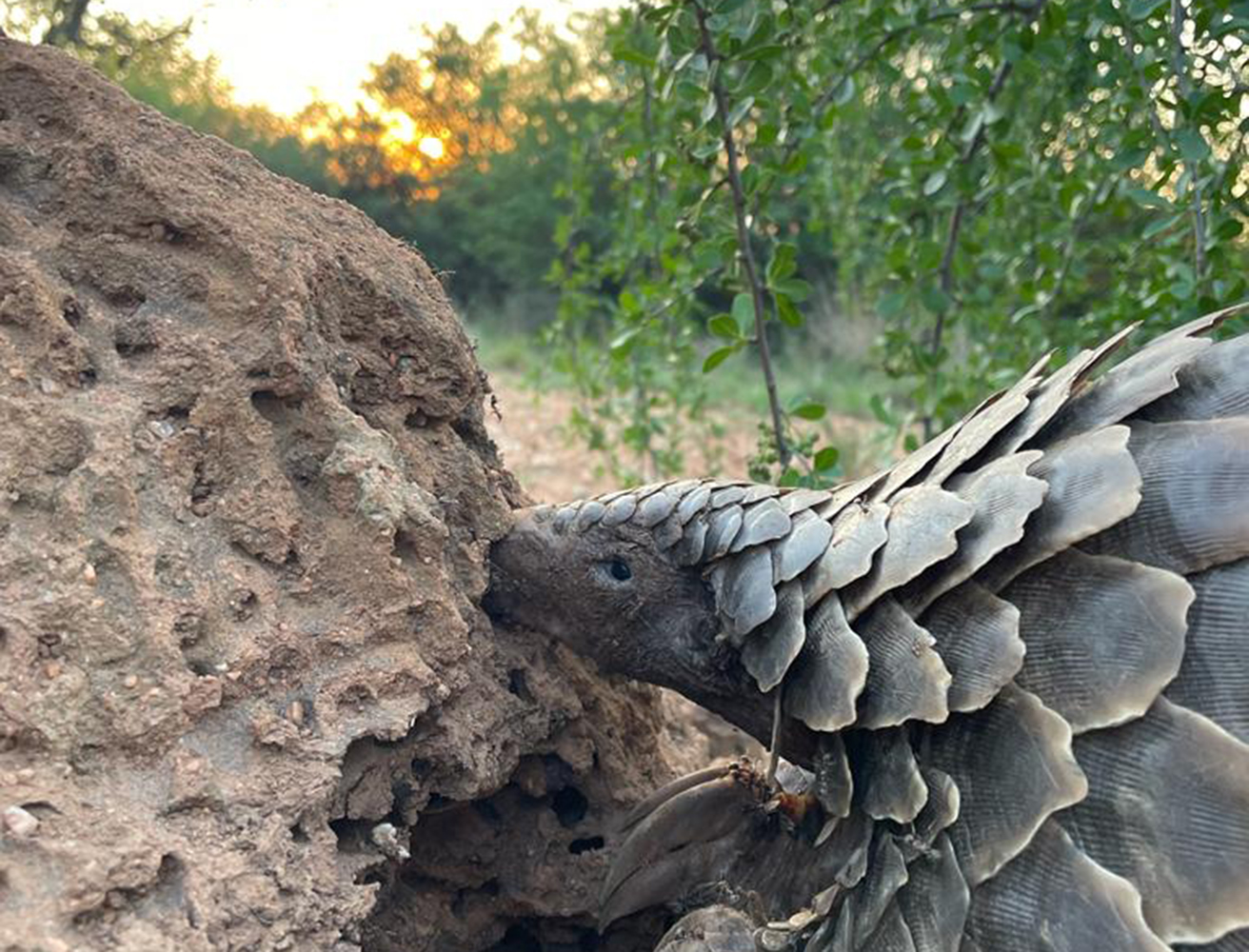 This is "Umlumbi," meaning sorcerer in Xhosa, on a 'feeding walk' during his rehabilitation. Sadly, this mature adult did not survive. 
155
Number of pangolins treated at JWVH in last five years
With the rapid growth of the wildlife hospital and increase in monthly cases, the pair realised that they needed to expand. "Over the last five years we have treated 155 Temminck's pangolins. At times we have as many as ten pangolins in our care at our undisclosed offsite facility," states Wright. 
The demise of the pangolin is at the hands of man, and nothing else
97 tonnes
The amount of pangolin scales that left Africa in 2019
Pangolins are currently the world's most trafficked non-human mammal. Although all eight species of pangolins are prohibited from international trade under CITES, more than a million pangolins were trafficked in the past decade, according to TRAFFIC. And according to Wright, 97 tonnes of scales were trafficked from Africa in 2019. This equates to roughly 160,000 pangolins.
According to the African Pangolin Working Group (APWG) pangolins are prolifically targetted for their scales, which have been used in traditional medicine for centuries in Africa. They are also poached for bush meat. Recently the commodity chain has changed, with Asian development in Africa leading to an increase in demand for pangolin scales in countries like China, Vietnam and Malaysia. 

IWT is the fourth biggest criminal activity worldwide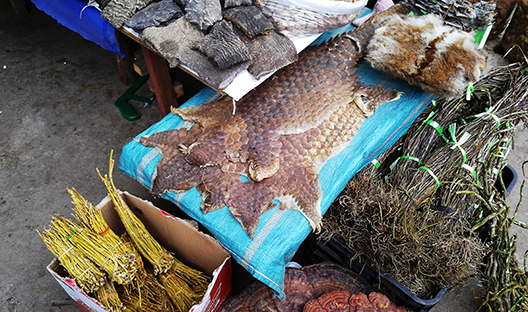 While Illegal Wildlife Trade (IWT) is a global crisis, South Africa has become a hotspot for poaching and trafficking syndicates due to the country's biodiversity and abundant wildlife.
Globally, these illicit activities generate around $23-billion annually, which makes IWT the fourth most profitable criminal activity in the world, yet it lacks prominence as a financial crime. Investec is currently working closely with its peers, law enforcement, and conservation network to disrupt IWT by following the associated financial flows.  

Infiltrating the trafficking syndicates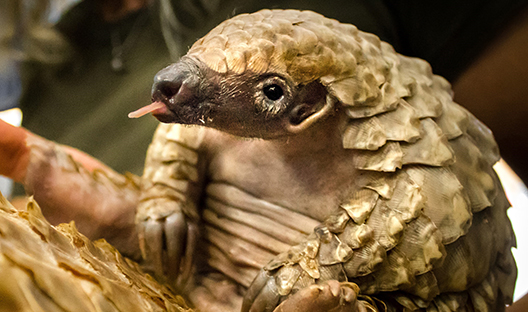 All the pangolins admitted to the JWVH are seized from poachers or traffickers, destined for the IWT. Through the coordinated efforts of the APWG and South African law enforcement, these defenseless creatures are rescued and are always in a compromised state. 
"When they come to us, they have been in a cage, backpack, or bucket, without water or food for many days. Some for up to a month," says Dr Lourens. Besides being malnourished and dehydrated they often have hidden complications like pneumonia and Post Traumatic Stress Disorder (PTSD).
Wright explains, "Pangolins are shy, solitary and sensitive animals. Their trauma isn't just physical but psychological too. Treating their emotional scars is a vital part of the pangolin healing process." 

The benefit of a dedicated pangolin ward
According to Dr Lourens, as solitary, nocturnal animals the ideal environment for the treatment of pangolins is away from the noise and temperature fluctuations within a wildlife hospital. "We've learned that the optimal temperature for pangolins is 23°C which is the average temperature in their burrows in the wild.  Any care they receive needs to be done in a dedicated space just for them," she explains.
The new ward is equipped with the latest equipment including a theatre light, an oxygen generator, an anaesthetic machine, an examination table and a dental x-ray machine which is handheld and ideally suited for radiographing pangolin and smaller animals.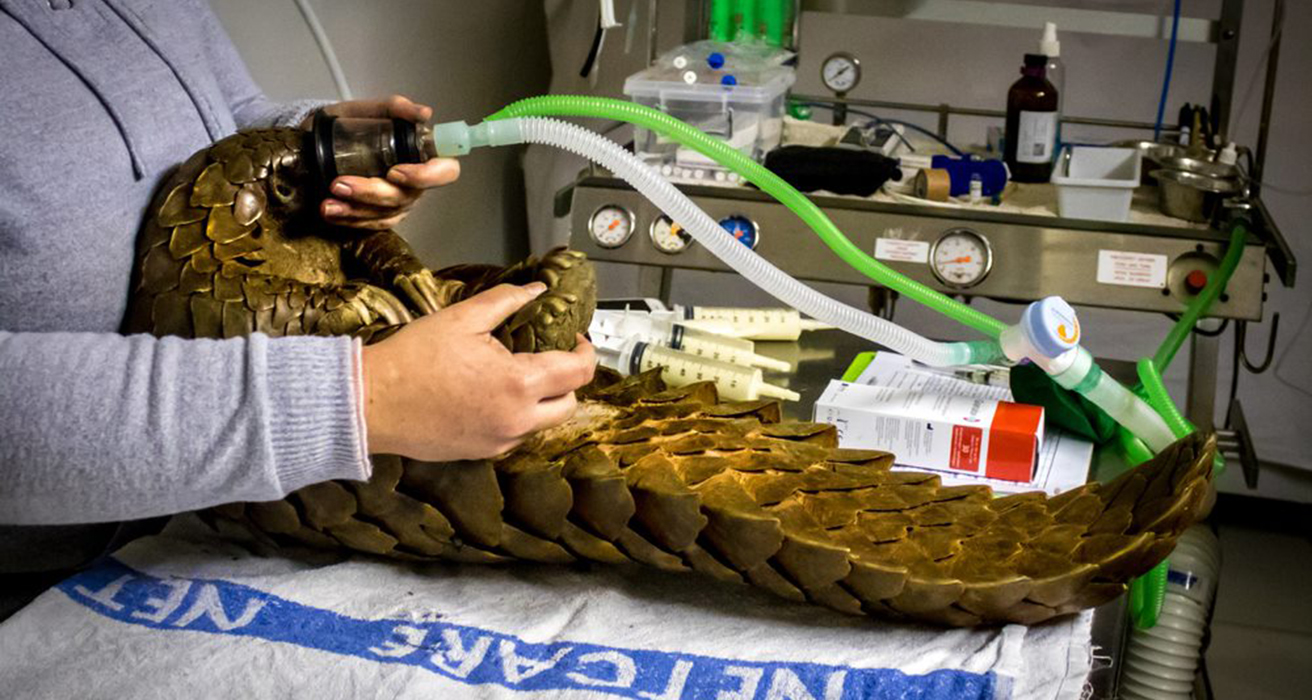 An adult pangolin receiving anaesthesia via isoflurane gas inhalation. 
Investec broadens its conservation impact
The funding for the new ward came from Investec Rhino Lifeline, who has for ten years supported the conservation of Southern Africa's endangered black and white rhino. This new partnership extends Investec's commitment to sustainability and the preservation of endangered wildlife.

"We believe that corporate investment in biodiversity and inclusive conservation is vital to sustaining South Africa's rich wildlife and benefits future generations of both people and animals. We're delighted to extend our support of critically endangered species to include pangolin – through rescue, awareness, community upliftment and combatting illegal wildlife trafficking," says Tanya dos Santos, Global Head of Sustainability at Investec. 

The often long and delicate process of rehabilitation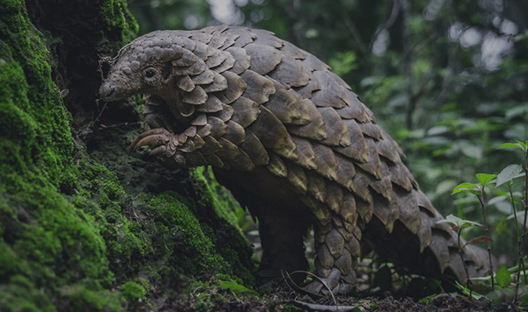 After approximately three days of stabilisation in hospital, rehabilitation begins. This can take anywhere between a few months to close to a year, depending on how well the released pangolin habituates to the new soft release habitat. For the first three weeks they are closely monitored and frequently weighed to make sure they are foraging and picking up weight.
Each animal is fitted with two types of telemetry tracking devices, a satellite and a VHF (very high frequency) tag. According to Wright the combination of both devices assures they don't disappear off the radar.

"Pangolins can cover up to ten kilometres a night when foraging. As nocturnal mammals they feed at night and on average consume about 10% of their body weight in one night," explains Wright.

Dr Lourens adds that they are "skilled disappearing artists". "They're incredibly quiet, stealthy creatures and they go into burrows – so it's remarkably easy to lose track of them. They're like the ghosts of the animal kingdom." 

Watch this pangolin enjoying his ant-feast!
Did you know?
Pangolins use their incredibly long tongue to eat ants out of anthills. In one night's foraging, they can eat up to 10% of their body weight in ants. 
Their tongues are three-quarters the length of their body. 
Video credit: Gareth Thomas, courtesy of JWVH
JWVH has established itself as a global leader in the field of pangolin medicine, treatment and rehabilitation by developing specialised treatment protocols for these animals. 
The treatment and rehabilitation at JWVH is provided completely free of charge. As such, the team rely solely on the support of their community and corporate sponsors to function.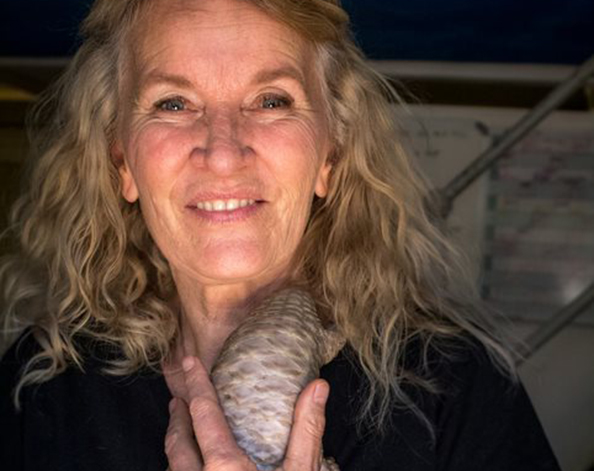 Nicci Wright, pangolin rehabilitation specialist and JWVH co-founder
Investec's investment supports our vision to become a world-class provider of veterinary care for endangered pangolins, while also serving as a teaching hospital for veterinary students and a base for academic research to support global conservation efforts. 
Keeping perspective in the face of loss
Whilst most of the wildlife admitted to the JWVH survives, some do not. Dr Lourens says in order to keep focused and motivated in the face of loss, she reminds herself that every life saved is significant.
"The bigger picture can sometimes be a bit daunting and overwhelming. When that happens, I try and focus on what we have achieved and how we are making a difference.
Each animal is important and each one we save is a victory. Being able to testify in court gives me a voice that very few others have. Even if my actions can impact only one person, this is already making a difference. It is like ripples in a pond: one small stone can make a difference."
Recently the hospital got news that two of their former pangolin patients had given birth in the wild.  An achievement that makes the long, and often emotional work all worthwhile.
"They mated with wild males and each produced wild pangolin pups. This is proof that our treatment, rehabilitation and release processes work and are successful."
Nicci Wright, co-founder of JWVH, Co-Chair of APWG and member of Human Society International (HSI) 
About the author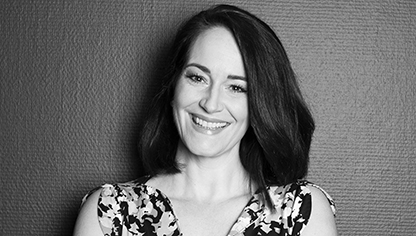 Caroline Edey-van Wyk
Brand Editor
Colloquially known as Investec's "storyteller," Caroline curates and produces all the content that underpins Investec's Out of the Ordinary brand promise. She works across the business but specialises in the areas of Sustainability, CSI, Sponsorships and HR. Caroline holds a Bachelor of Journalism degree in Political Science and Broadcasting - cum laude. Before she joined Investec she was a broadcast journalist at Sky News and eNCA.