Food security and Covid-19: averting a crisis of "biblical proportions"
With an estimated 2.2 million jobs lost during the pandemic so far, more families are going to bed hungry. FoodForward SA, the country's largest food bank, says over half of our population could be food insecure in the next few months. Far from lessening as the lockdown does, South Africa's food crisis requires a coordinated response from government, business, and civil society.

Get Focus insights straight to your inbox
30 million
Predicted amount of South Africans who will be food insecure in next few months
All 9 provinces
FoodForward SA's expanded presences
Understanding the scale of the problem
Covid-19 lockdowns across the world have unleashed a range of unintended consequences, sparking a global economic crisis that has magnified fault lines in society, particularly in developing nations already burdened by high levels of poverty and income disparity.
As the lockdowns continue, the situation is threatening to evolve from a public health emergency into a full-blown humanitarian crisis. Millions of people's livelihoods have been disrupted, leaving those living from hand to mouth unable to feed themselves or their families. At the same time, disruptions to the increasingly global food value chain have exacerbated legacy problems with food security.  
In South Africa, the primary drivers of food insecurity are access and affordability associated with high levels of inequality and unemployment. The supply side, at least for now, is in good shape, with sufficient food available to sustain every household through domestic food production and imports.
Prior to Covid-19, FoodForward SA, the largest food bank in the country, operated in six of the nine provinces. But the unprecedented demand for their services means they've grown to cover the whole country.
"We were inundated with requests for food so we stepped up and made sure we had a national presence. We've moved 5,500 tons of food in roughly six months. Last year it took us the whole year to reach that amount. And in the last six months we've doubled the number of organisations we support to almost 1,000," says Andy du Plessis- Managing Dir. at FoodForward SA. 
2 billion
people experiencing food insecurity pre Covid-19
130 million
additional people will go hungry because of Covid-19
Covid-19 makes hunger a middle-class experience
The UN has warned that the number of people suffering from food insecurity post Covid-19 could double. In 2019 it was at an estimated 2 billion.
The UN World Food Programme's (WFP) Executive Director, David Beasley gave a dire warning in April, stating that the world stands on the brink of a hunger pandemic as it battles the Covid-19 pandemic: "There are no famines yet. But I must warn you that if we don't prepare and act now – to secure access, avoid funding shortfalls and disruptions to trade – we could be facing multiple famines of biblical proportions within a short few months."

Matthew Eckford of Global Foodbanking Network warns against stereotyping hunger and confining it to poorer nations, "If this pandemic has shown us anything it's that anybody can find themselves in need of the safety net that's provided by food banks. We all try and plan for personal economic shocks, but no-one could've planned for the Covid-19 impact." He goes on to say:

"There may be other shocks in the future, potentially climate-related, and it's imperative to continue to build the capacity of food banks where social safety nets are insufficient."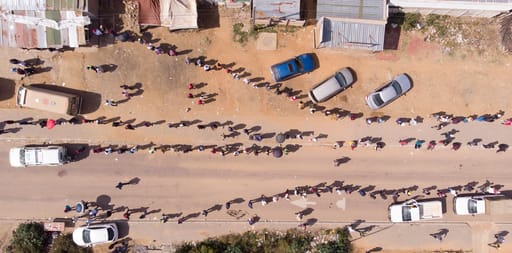 Queues of up to 4km long in the Centurion townships of Olievenhoutbosch and Mooiplaas as over thousands of residents stood in line for food parcels on 2 May. (Source: AFP)
2.2 million
jobs lost in SA in Q1 2020
27%
of children under age five have stunted growth in SA
"I would rather die of Covid-19 than of hunger"
A lack of food at a local level has raised tensions. Some communities appear to be approaching boiling point, with reports emerging of social unrest including the looting of supermarkets, spaza shops and food delivery trucks. According to News24, a Cape Flats resident told an ANC councillor, "I would rather die of Covid-19 than of hunger."
According to the latest Statistics South Africa report released on 23 June 2020, the unemployment rate in South Africa has increased to 30,1% in the first quarter of 2020 - that's an additional 2.2 million people who are unemployed, and millions of more empty bellies.
The situation becomes most desperate where children are concerned. In South Africa, 27% of children under age five are already stunted – a condition caused by undernutrition that affects the cognitive and physical development of children – shocking for a country that is ranked the most food-secure in Africa.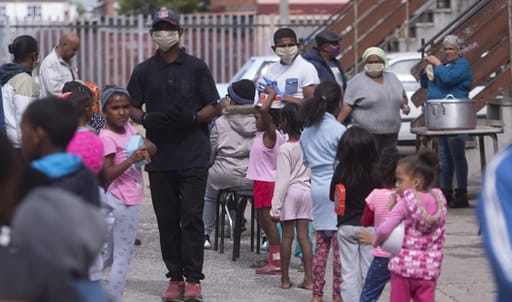 A community feeding scheme helps the elderly and children in Lavender Hill, Cape Town.

Ramaphosa: "Children going to bed and waking up hungry"
In his Freedom Day address on 27 April this year, President Ramaphosa acknowledged food security as a critical challenge that needs to be addressed: "For millions... this has been a month of misery, of breadwinners not working, of families struggling to survive and of children going to bed and waking up hungry."
The establishment of a National Advisory Food Security and Nutrition Council has been on the cards for a number of years, but no such advisory council has materialised.
Government's initial short-term emergency response was to bolster financial assistance to the most vulnerable in society: increasing grant payments that put cash into the pockets of the hungry was the most straightforward short-term solution.
Beyond these measures, President Ramaphosa committed to scaling up "welfare provision during this period to help households living below the poverty line." The Solidarity Fund has also made R120 million available to provide food relief to distressed families and has started delivering food parcels to more than 250,000 households across South Africa.
Prof. May notes that government is positioned to provide financial support via the social grant system, which works efficiently. However, it isn't well equipped to address localised food security problems.
"There is good evidence globally that community-based organisations are the best placed to identify areas of high food insecurity because the government largely relies on census data to identify requirements. As these surveys only happen every 5-10 years, the data is often dated."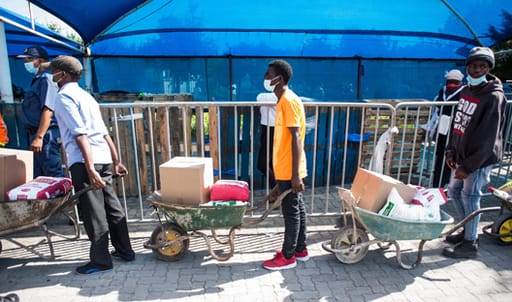 South Africa is ranked as the most food-secure country in Africa and is 48th out of 113 countries worldwide, according to the Economist Intelligence Unit's 2019 Global Food Security Index that ranks countries according to food affordability, availability, quality and safety

Collaboration is key
With supply secure for the coming months, South Africa's immediate food security threats are about access and utilisation – challenges that can't be addressed through a top-down approach. A public-private partnership that includes the presence of a trusted and impartial local intermediary, like a Civil Society Organisation (CSO) or Non-Governental Organisation (NGO), is therefore imperative to arrange equitable distribution and ensure donations and funds are spent according to their intended purpose.
Apart from these logistical considerations, Prof. Julian May, director of the Centre of Excellence in Food Security at the University of the Western Cape adds that "anything that is seen to come from the state is controversial, which is why the NGO/CSO model is best in my opinion, with the state offering financial support to boost affordability."
When it comes to food relief programmes, whether public or private, Prof. Korsten says that research shows that donated food is not always safe to eat. "There is thus an added responsibility on all stakeholders in the food distribution chain to ensure compliance with basic food safety standards. South Africa cannot afford another listeriosis outbreak particularly now during the pandemic."

Connecting a world of excess to a world of need
The public-private partnership for equitable and effective food distribution is the model that has been adopted by FoodForward SA. With over a third of all food produced in South Africa being dumped in landfills, FoodForward SA recovers quality edible surplus food from the consumer goods supply chain and distributes community organisations that have the capacity to reach up to 400,000 households and 1 million+ beneficiaries. (Since Covid-19 this has increased, see above)
"Over the years, we have built a resilient and complex supply chain," explains Andy Du Plessis, Managing Director at FoodForward SA. "Our cold-chain logistics network collects food from our agricultural and retail partners, who supply us with excess food or mislabelled products that cannot be sold."
The organisation's FoodShare digital platform also seamlessly connects beneficiary organisations to major retail partners, including Woolworths, Food Lover's Market, and Pick n Pay, to direct surplus food to those areas that need it most. "This helps our suppliers reduce wastage, and they receive a section 18a tax certificate for their donation. Plus, there is an environmental benefit because every ton of food recovered removes four tons of greenhouse gas emissions from the atmosphere," adds Du Plessis.
FoodForward SA is also ensuring efficacy while minimising the risk of corruption by verifying that all food parcels reach their intended recipients. "Our beneficiary organisations have to confirm who gets parcels. They record the name, address, identity and cellphone numbers of each recipient, which we then verify," says Du Plessis. 
New strategy to target people with compromised immunity
FoodForward SA is evolving their distribution strategy to include health-focused beneficiary organistions. By partnering with the Department of Health, they plan to get meals to people suffering from chronic conditions and food insecurity. "We will now target those individuals so we can create healthier communities in general, says du Plessis. 
This new programme will be piloted in November, across a number of health centres in the Western Cape. "We want to be proactive and together with the government, pre-empt health-related diseases that will arise due to malnutrition in the next few months. We are calling on everyone to continue supporting our efforts so we can upscale our efforts. We need to procure more food, and donor fatigue is setting in," continues du Plessis. 
R6.2 million
Investec sponsorship to FoodForward
The new face of capitalism
The work that FoodForward SA does is made possible by several corporations who are stepping up to plug the gaps left by a financially constrained government. From banks offering "payment holidays" for individuals and special loans for small businesses, to retail landlords relaxing their rental repayment terms and offering up their buildings for quarantine sites, businesses are demonstrating a level of empathy not seen before.
The current Covid-19 crisis has been a test case for 'stakeholder capitalism' – a term that dominated the news out the World Economic Forum in Davos earlier this year. "Companies that want to thrive in the long term need to create value for their customers, employees, suppliers, and their communities – not just shareholders," says Tanya dos Santos, Investec's head of group sustainability. "In addition to supporting several other initiatives, Investec is partnering with FoodForward SA by sponsoring R6.2 million to provide vulnerable beneficiaries with food."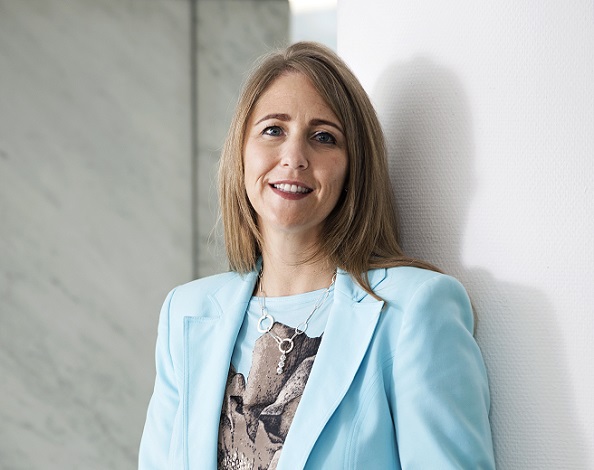 Tanya dos Santos,

Investec's head of group sustainability
We are all in this together and our hope is that stakeholder capitalism continues as the new normal.
702 INTERVIEW: Listen to Tanya dos Santos and Country director of HOPE worldwide, Dr Marc Aguirre on how to tackle food insecurity in Africa.
In 2019, Investec chose to focus its sustainability efforts on six UN Sustainable Development Goals (SDGs) that are aligned to its business strategy. Dos Santos explains that food security was not directly one of them. "Our focus is on access to water, clean energy, job creation, and building resilient infrastructure which are all vital to enable food security. We have always been heavily involved in education as our primary corporate social responsibility focus, but with the onset of the pandemic, we are also extending support to healthcare and food security as critical areas of need during the current crisis."
A key milestone in this journey, says Dos Santos, was realising that the challenge went beyond getting food to those in need. "With malnutrition and child stunting on the rise in South Africa, we wanted to improve access to healthy and nutritious food. We felt this would benefit the most vulnerable in society, particularly as poor nutrition affects immunity."
Alongside Investec, there are countless other examples of companies, government bodies, and non-governmental organisations like FoodForward SA stepping in to assist. But with an estimated 30 million South Africans requiring food parcels in the midst of the Coronavirus crisis, the scale of the challenge is daunting. It is clear that more corporate actors need to step up and become part of the solution. But efforts to date make it clear that while South Africa may suffer from a lack of means, there is no shortage of will across all facets of society to ensure that our most vulnerable do not go hungry.
"One of the silver linings that is emerging from this crisis is that the business narrative is changing," says Dos Santos. "We are all in this together and our hope is that conscious capitalism continues as the new normal."