Education
B.Comm (ACC) University of Limpopo, B.Comm (Honours) & CTA -UNISA, CA (SA) - SAICA
Current position
Senior Aviation Finance Consultant, Investec Corporates & Institutions
Makoena's life today seems a million miles from where she was born, in the small rural area of Ga-Matlala in Limpopo. After school and working to put herself through university to become a Chartered Accountant, she started as a CA TOPP trainee with Transnet, and joined SAA after her final year of articles. After working as an aviation finance executive at SAA, she moved to corporate finance and logistics within the mining sector at Kumba Iron Ore, before returning to aviation finance at Nedbank followed by Investec in 2015.
What do you do at Investec?
I work as a Senior Aviation Finance Consultant in Aviation Finance within the Specialised Finance Division, responsible for providing aviation finance products & services to commercial airlines, aircraft lessors, corporates, and private individuals, purchasing and/or leasing commercial aircraft, helicopters, private jets, simulators and other aviation assets.
What is it like being a woman in the aviation industry?
Whether it is in the boardroom or the cockpit, the aviation industry trails on the issue of gender and diversity. According to a 2017 survey by industry journal Airline Business of the 100 biggest carriers by revenue, only 3% of airline chief executives are women vs. 7% in the FTSE 100 at the time of the study. The studies are more frightening on the African continent.
I remember, over 15 years ago, I would go to the aviation finance conference in Dublin every January, and there was a lack of women and I was definitely the only black woman. So, I think the more we encourage women to enter and stay in the aviation industry, the more awareness there will be.
There are organisations that are trying to support women in aviation like Women in Aviation International which also runs Girls in Aviation Day. I think the more we remove the stereotypes like "women can't be in aviation" the more we create awareness, and the more we create an equal society. These can be achieved through encouraging girls to pursue science, technology, engineering and mathematics at schools; career guidance at all levels of the education stream; and continuous mentorship of women in the corporate world.
My vast experience has afforded me the opportunity to formally and informally mentor young girls and women in the corporate world, a responsibility that I hold dear in my heart.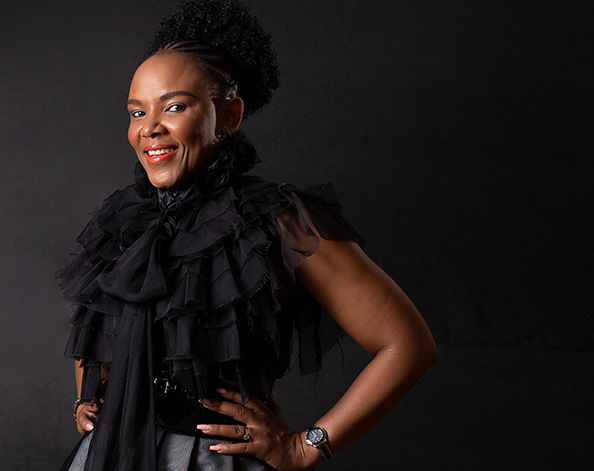 Makoena Mabusela, Senior Aviation Finance Consultant
It's not nice for any child to live in poverty, but I wouldn't change anything. The resilience that I got from it means nothing can break me.
What drove you to succeed despite your poor upbringing?
I grew up in Limpopo surrounded by poverty, with a lack of education and healthcare among other basic necessities. And in those circumstances, you do anything to survive. I used to walk 8km per day as a young child going to school. To do that, I had to wake up at 4am, prepare food and by the time I came back in the afternoon, I still had to do homework and cook the evening meal - and it was exhausting.
It's not nice for any child to live in poverty, but I wouldn't change anything. The resilience that I got from it means nothing can break me. Poverty can drive one to achieve great things, or it can destroy you – it's a fine line. My motto was….. "Poverty is not an option."
Who was your biggest mentor? 
I would say my mother, without a doubt. In Limpopo, during my time (and to some lesser extent – still currently), as a woman you could only become a nurse or a teacher – those were the only known careers. But my mother, who was a high school principal, exposed us to more things and was there to guide us.
When I was in Grade 10, she took me out of the local school and put me into a commerce boarding school. That literally changed my life. I remember my first year in Grade 10, I was at the tail end in my class – I just didn't understand a thing. But my mother was so determined and she hired tutors for me during every school holiday including December. The following years, when I was doing Grade 11 and 12, I was within the top 10 students.
You have five children, ranging in ages from 8 to 25. What lessons do you hope to pass on to them?
For me, whether it is a boy or girl, I try to live and teach them the same values. I know these days there's a great spotlight on girls, but I think at the same time we can't leave the boys behind. Above all, we must make sure boys respect girls and really learn equality. I teach them to "fear no one but respect all", to make sure their voices are heard, but do it respectfully and with confidence. I also teach them to save from a young age and not have an attitude of self-entitlement.
Often times as leaders, we tend to look outside of ourselves, but the whole point is to know who you are and then use that for the benefit of others and yourself.
What have you learned as a 2018 Fellow of the Archbishop Tutu Leadership Programme?
I feel so honoured and humbled to be part of the Tutu Fellowship. The Archbishop's teachings revolve around Ubuntu. The question is, do we live those philosophies? The biggest thing that came out of the Fellowship for me was self-introspection and self-development. Who are you? What do you stand for? How do you show up? How do you impact others? Often, as leaders, we tend to look outside of ourselves, but the whole point is to know who you are and then use that for the benefit of others and yourself.
I believe in positively impacting the lives of others. As part of my contribution to society, I have been supporting Children of the Dawn charity for over seven years now, adopting one child and providing financial support throughout school.
I also have my foundation where I donate school bags and/or school shoes at the beginning of each year to kids in my Limpopo community, because these kids are still walking that same 8km that I walked, but they're walking barefoot, carrying their school books in plastics/hands, even in the rain. And as part of the Tutu Community Project, I am in a process of building an "A re Baleng" library for young kids in my community to stimulate young kids and encourage learning and reading.
One feels guilty even going back there and one wonders where to even start. But I always tell myself "start with just one small act of kindness at a time".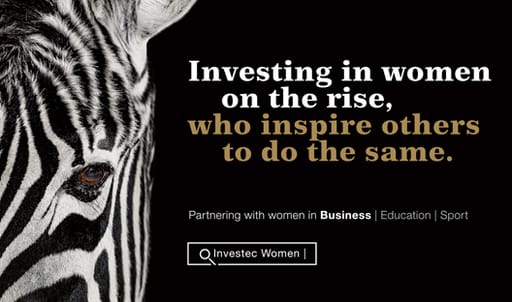 Women on the rise
Read more inspirational stories from Investec women in business.