For an unprecedented sixth year in a row, Investec was named the best Private Bank and Wealth Manager in South Africa at the prestigious 2018 Global Private Banking Awards hosted by the Financial Times of London.
The award recognised Investec's ongoing excellence in private banking and wealth management, particularly the ability to adapt and grow in a changing and challenging market. Investec has continued to deliver a distinctive service to its clients despite the backdrop of a challenging domestic economy and volatile financial markets.
At the heart of Investec's offering is the One Place™ philosophy. Cumesh Moodliar, head of Private Banking South Africa, says clients are global citizens who want an international banking and investment offering. "For this reason, we introduced Investec. One Place™ in 2014. Through this, we give our clients access to our full suite of banking and investment services, both locally and internationally – all in One Place – enabling them to create, grow, preserve and protect their wealth through us."  
 "This is underpinned by our 'high tech, high touch' approach," argues Moodliar. "Investec Online and the App give our clients a consolidated view of their banking and investment accounts, locally and internationally, with one login on one platform. They can also contact their specialist Private Banker or Investment Manager, while our global Client Support Centre is fully empowered to deal with queries and requests."
Henry Blumenthal, head of Investec Wealth & Investment South Africa, says Investec continues to expand its presence abroad and its international investment expertise, enhancing traditional asset classes and complementing them with alternative investments. "Our Global Investment Strategy Group committee, which is a forum of our most seasoned investment minds across our key geographies, guides our portfolio positioning decisions. We are therefore uniquely positioned to assist our clients."
Blumenthal continues, "We look at clients in a holistic way, taking into account their specific needs, life stage and risk appetite. Based on a rigorous assessment of these, we recommend an appropriate asset allocation for each client."
Moodliar concludes, "We have continued to innovate and build capabilities on our digital platforms that enhance security, drive engagement and save clients' time. As we evolve, we first ask ourselves if it will make a real difference in the lives of our clients. We never forget the human being behind the screen or on the other side of the phone."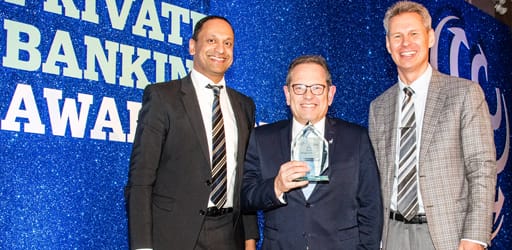 Cumesh Moodliar (head, Investec Private Bank South Africa) and Henry Blumenthal (head, Investec Wealth & Investment South Africa) receive the award from Yuri Bender (editor-in-chief, Professional Wealth Management at Financial Times) 
Disclaimer
Investec Private Banking, a division of Investec Bank Limited registration number 1969/004763/06.  Investec Private Banking is committed to the Code of Banking Practice as regulated by the Ombudsman for Banking Services. Copies of the Code and the Ombudsman's details are available on request or visit www.investec.com. A registered credit provider registration number NCRCP9. Investec Wealth & Investment a division of Investec Securities Proprietary Limited. 1972/008905/07. Member of the JSE Equity, Equity Derivatives, Currency Derivatives, Bond Derivatives and Interest Rate Derivatives markets. An authorised financial services provider No.15886. A registered credit provider registration number NCRCP262.