Loughlin Deegan and Aisling Dodgson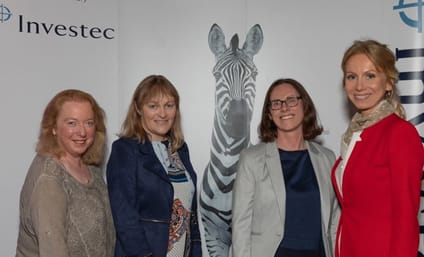 Kathleen Noonan, Fionnuala Keary, Michelle Craughwell and Anna Kucieba from Investec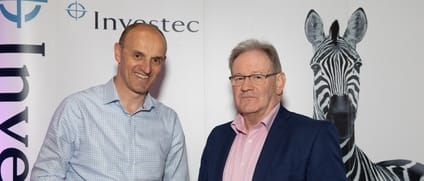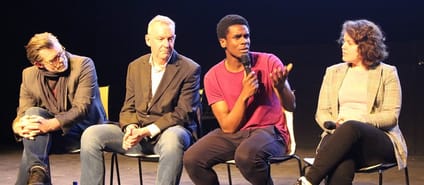 Aisling Dodgson, Head of Treasury in Investec, said:
"Investec is incredibly excited to be supporting the Short Film segment taught at The Lir National Academy of Dramatic Art at Trinity College Dublin. Since first hearing about The Lir Academy in 2017, Investec has valued working with The Lir so as to contribute to society and the well-being of our community in a meaningful and participative way. Partnering with a place of education, that carries an international standard of excellence compliments Investec's Corporate Social Responsibility agenda and contributes in a small way to creating an environment that stimulates extraordinary performance."
Nigel Poynton, Director of Investec Wealth & Investment, added:
"Interestingly, the theme of this short story loosely reflects how we approach wealth and investment management, in that no two people are exactly the same. In our own experience each client usually has their own individual financial and lifestyle objectives which requires tailored financial planning and investment solutions."
Investec has sponsored the creation of the original Short-Film Short Stay written by Ruth Meehan in collaboration with 3rd year Lir acting students. Set in a Dublin Hotel, this Short demonstrates how lives can differ from one hotel room to the next. We encounter a series of couples; work colleagues, family members and complete strangers and witness how life's challenges affects us all in different ways. We also realise that we never quite know what goes on behind closed doors.
Acted in its entirety by Lir final year students-in-training as well as technically supported by The Lir's technical students-in-training, 'Short Film' is just one module taught at The Lir Academy, headed-up by Vinny Murphy, Head of Short Film. The Lir's third year students create two Short Films in their final year of training which are then screened to a public audience annually.
Loughlin Deegan, Director at The Lir Academy said:
"Having companies like Investec get behind Ireland's young creative talent is invaluable – not only to The Lir Academy but to Ireland's cultural fabric nationally and internally. It is always an exciting process for the arts, education and corporate sectors to collide in rich partnerships such as this, specifically when new work is created and showcased to public audiences."
A public screening of Short Stay, sponsored by Investec, took place at The Lir National Academy on Thursday 13 June 2019 and followed by a Q&A with the Short Film participants, director Ruth Meehan and facilitated (Mc'd) by Kate Ferris.