Successful refinancing of largest solar park in Portugal
Kommunalkredit Austria AG (Kommunalkredit) and Investec Bank (Investec) acted as Joint Mandated Lead Arrangers in the successful EUR 102m refinancing of Solara4, a 219 MW PV park located in the municipality of Alcoutim in the Faro region of Southern Portugal.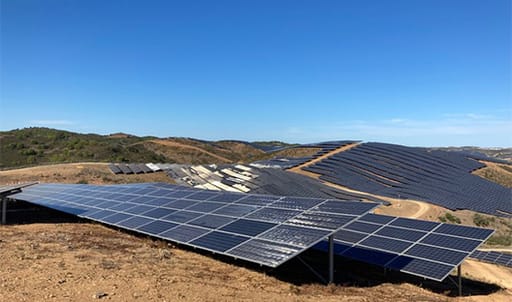 Construction of Portugals's largest – and of Iberia's biggest - PV park (400 hectar) was completed in October 2021 and the plant is forecasted to generate an annual output in excess of 350GWh.
This project constitues the second fruitful cooperation of Kommunalkredit and Investec in supporting WElink, a leading international developer of renewable energy and low-carbon projects, after the initial refinancing of existing debt and funding construction completion of Solara4 in October of 2020.
"We are very pleased to have been able to work with a trusted and experienced partner like Investec in this transaction. This financing underlines our continuous commitment and support for long-term clients such as WElink, starting from the development stage to completion and beyond," says John Weiland, Head of Banking of Kommunalkredit.
As a specialist in sustainable infrastructure and energy financing, Kommunalkredit attaches particular importance to driving innovative and sustainable technologies forward in order to meet key challenges such as economic growth, job creation and climate protection measures. This investment in solar energy in a rural area is bringing benefit to the community through supplying renewable energy, economic growth in the region and providing innovative infrastructure.
Felix Fletcher at Investec commented:
"We're delighted to partner with Kommunalkredit in supporting WElink and the important work it does in the renewable energy sector. Solara4 marks significant progress in low carbon projects for Portugal and we're pleased to be a part of its success."
Please visit our Media hub for our team's contact details.