My Investments – the best of both worlds
Global investment expertise, typically reserved for high net worth clients, can be yours with just a few clicks.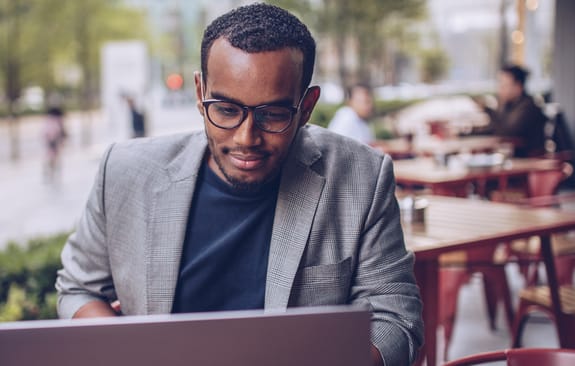 My Investments allows you to look through and choose a product that matches your risk appetite and investment needs. If you need assistance at any point in your journey, a financial professional can speak to you and offer advice. 
We see it as an evolution of our 'high-tech high-touch' approach 
For someone starting out, investing can be an overwhelming experience. With My Investments, you can engage with our digital platforms in your own time, at your own pace. 
We are leveraging Investec Wealth & Investment's investment expertise, traditionally only available to high net worth clients – placing this global insight in your hands as a Private Banking client. Our fund of funds enable you to benefit from the investment expertise of leading investment managers from around South Africa and the world. 
While the platform is underpinned by progressive technology, we haven't abandoned our human approach to service. As a client, you will enjoy access to a team of professionals when you want support.
A team of salaried Investec Life advisers can support you – financial professionals who provide in-depth financial planning and address individual investment needs. 
Over time we will also be adjusting minimum investment sizes and introducing new investment funds that are tailored to your needs.
"We aim to simplify the process as much as possible by providing guidance and a range of private client investment solutions that are easy to understand and access."
With tailored product offerings, cutting-edge digitisation and support from financial professionals, you will find investing a less intimidating and more seamless experience in the future. 
The enhancements to My Investments are already in place – and more will follow over rest of 2021.

My Investments – an enhanced experience
1. Best in class

Best in class Access the expertise of Investec Wealth & Investment – we select some of the investment managers from around the world for you.

2. Flexibility

Flexibility Choose self-service on Investec Online and the App or contact a team of financial planning professionals.

3. Guidance

Get guidance We provide online guidance and information on products. If at any point you need assistance, Investec Life advisers will step in.
For more Quick Update insights, click on the image below:
If you have any feedback or suggestions, please let us know