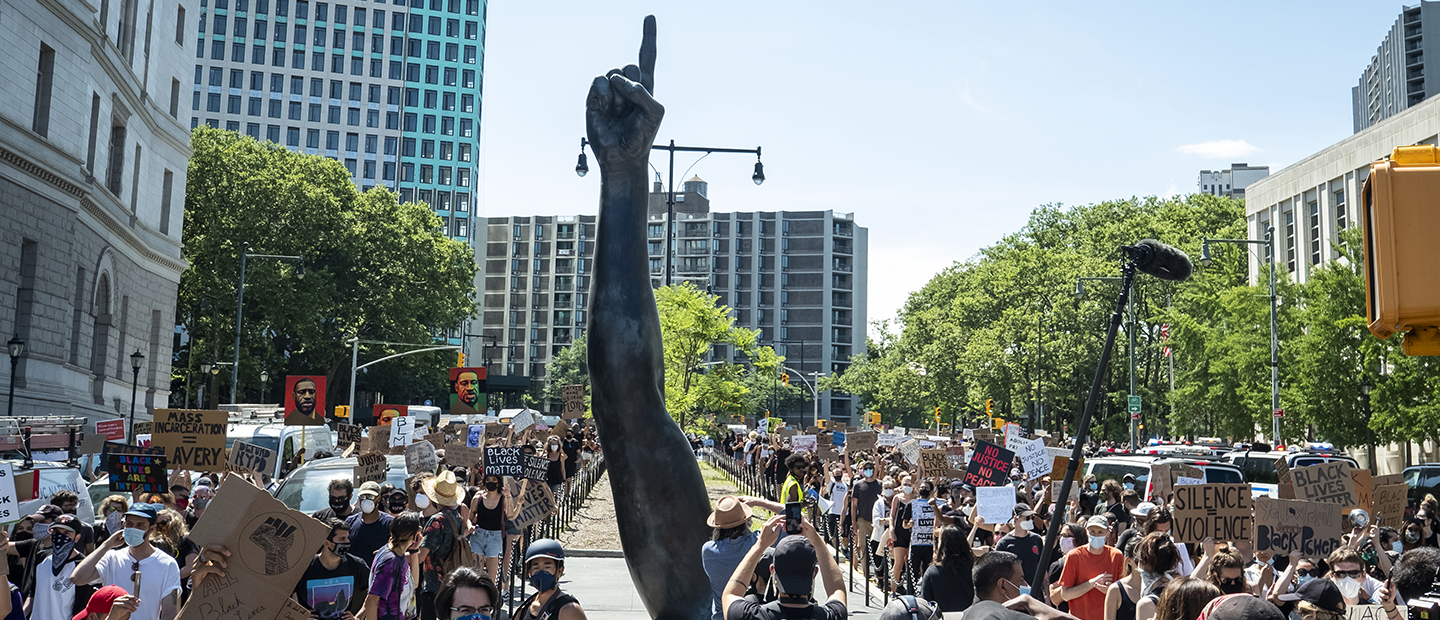 Will Covid-19 strengthen business's commitment to sustainable development?
The largest-ever UN convening of global business leaders provided an opportunity to take stock of business involvement in sustainable development. Only 61% of businesses are developing services or products that serve the SDGs, and less than half are embedding them into their business. But leaders and sustainability advocates, especially the young amongst them, are determined to use the Covid-19 crisis to accelerate action and 'build back better'.
Get Focus insights straight to your inbox
160
countries who attended
20,000
number of businesses who attended
The UN Global Compact Leaders' Summit held mid-June, was the largest gathering in its 20-year history. The cancellation of the scheduled New York meeting due to Covid-19 presented an opportunity for new levels of inclusion. Over 20,000 business and sustainability leaders from close to 160 countries participated in the 26-hour virtual meeting.
"This first-of-its-kind virtual summit shows the impossible made possible, which is appropriate considering our presentation at the summit was 'Making the impossible increasingly possible'. Inclusion is available through digital mediums and its reach is now boundless and non-exclusive, which is important," said Krisen Padayachee, a UN Youth Ambassador and Investec Private Bank employee.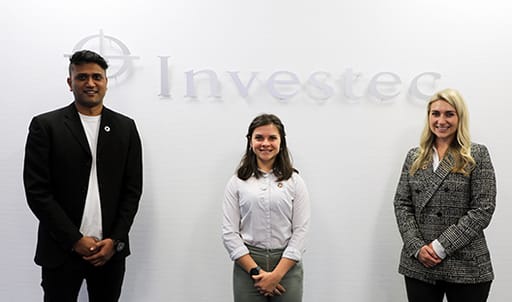 Investec UN Youth Ambassadors chosen to present project
Padayachee, together with other Investec employees, Kim Brink and Maxine Gray, were chosen to present on how to kickstart the 2030 Agenda for Sustainable Development. They were selected from eleven other UN YSIP teams in South Africa. Their submission provided ideas on "how to create a mindset shift that brings the SDGs as a foundation for sustainable business which is ingrained into how we work, live and think". 
Commenting on the crucial mindset shift needed to make this a decade of action, Tanya dos Santos, Investec Global Sustainability head, and champion of the Investec youth ambassadors said:
"The shift really comes from acknowledging that social and environmental impact doesn't have to be at the expense of financial return. We need to shift our thinking into how we use our business expertise to ensure financial return and social return."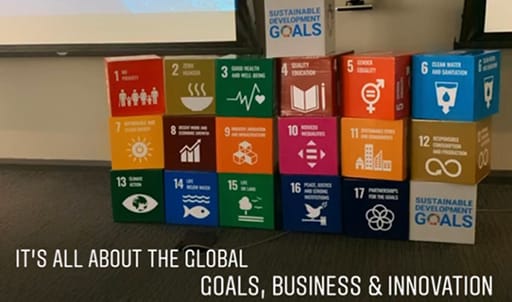 What will it take to make the goals a reality?
It's widely accepted that we're falling dangerously behind on achieving the 17 UN Sustainable Development Goals adopted in 2015. The goals, that form part of the 2030 Agenda for Sustainable Development, are a 'universal call to action to end poverty, protect the planet and improve the lives and prospects of everyone, everywhere'.
With gaping economic inequality, gender violence, racism, and habitat destruction - to name but a few of humanity's numerous persistent ills, it could be argued that the world envisaged by the SDGs is a faraway utopia. But as easy as it is to relegate these goals to the domain of 'wishful-thinking', the consequences of not reaching them are dire. So, what's it going to take for these utopian ideals to move into the realm of reality?
15%
number of businesses with greenhouse gas targets
Carbon neutrality good starting point
A mindset shift that includes a redefining of value is the critical starting point, but it needs to be followed up with tangible, quantifiable plans. "Our team is proud of reaching net-zero direct emissions this year and we have executive commitment to ongoing carbon neutrality. Very few of our peers, internationally, have been able to achieve this, and it's a solid commitment to climate action," said Dos Santos. According to a new United Nations Global Compact (UNGC) survey, Uniting Business in the Decade of Action, only 15% of businesses questioned have set greenhouse gas targets in line with the Science Based Targets initiative. 
UNGC set new benchmarks
In the week before the summit, the UNGC released a set of benchmarks, the first of their kind, that all businesses should follow. They include:
Science-based greenhouse gas emissions reductions that align with the Paris Climate Agreement's 1.5 degree Celsius target
All employees should earn a living wage
Gender balance in all levels of management
Zero incidents of bribery.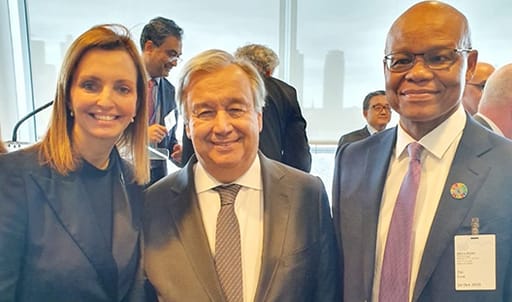 Collaboration and trust key to decade of action
"If we are going to achieve the ambitions set it has to be a multilateral effort. We have to continue to foster an environment of building trust. We cannot do it on our own. It has to be a collaboration between government, business and civil society. Disclosure is important. Measurement is important," said Fani Titi, Investec CEO, when speaking on a panel of leaders from a broad range of industries. Titi is also one of two South Africans to be invited to join the UN GISD CEO Alliance. 
Watch video: Raise SDG Ambition to Recover Stronger
In order to reset, rebuild and create the world we want, we must start by aligning business ambition with the SDG challenges and opportunities ahead. In this video from the June meeting of the UN Global Compact, Fani Titi is joined by Accenture's Peter Lacy, Olam International's Sunny Verghese, H&M CEO Helena Helmersson, Schneider Electric's CEO Jean-Pascal Tricoire and the President of Botswana Dr. Mokgweetsi Masisi.

In order to reset, rebuild and create the world we want, we must start by aligning business ambition with the SDG challenges and opportunities ahead. In this video from the June meeting of the UN Global Compact, Fani Titi is joined by Accenture's Peter Lacy, Olam International's Sunny Verghese, H&M CEO Helena Helmersson, Schneider Electric's CEO Jean-Pascal Tricoire and the President of Botswana Dr. Mokgweetsi Masisi.

The need for collaboration and the importance of measurement were two "themes" that found traction during the summit. Helena Helmersson, H&M CEO, said in order for the clothing brand to achieve their business targets, suppliers had to be brought on board and comply. "We wanted to be known for insisting on fair living wages. We knew we couldn't achieve this goal alone, so we worked closely with our suppliers. I think post Covid-19, businesses will play open cards, opening up supply chains and being transparent with customers."
Helmersson went on to say that businesses mustn't let the apparent challenges to reaching one's objectives stop you from being vocal about what those objectives are.
"Allow yourself unanswered questions. You will need to bring in experts in certain fields and collaborate on solutions. It will make you more resilient in the long term. Be bold about what your business stands for and inspire others."
Sunny Verghese, CEO of agribusiness firm Olam attributes some of the slow progress made on the SDGs to a lack of standardisation of measurement on a micro and macro level. He suggests that the devil is in the detail and everyone needs to speak the same language because the landscape is complex.
The Sustainable Development agenda consists of 17 SDGs, 169 associated targets, and 230 agreed Global Indicators to be achieved by 2030. "If we don't all align on what to measure, how can we track change? Individuals, businesses, countries aren't delivering because sustainability needs to be brought into the heart of every transaction, as a business imperative, not a risk management tool."
Complexity of goals means context and education is vital
Gray, agrees that the complexity of the Sustainability Development agenda means context and education is vital. "The 17 SDGs while presented simply in their numbers and colours, are complex and inextricably linked – I don't believe that there is true context and understanding of what they are or what the 169 sub-goals require, nor what it really means if we do not use this decade of action, to act."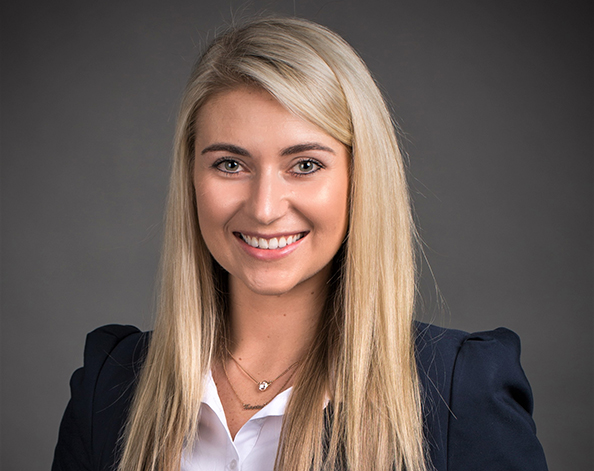 Maxine Gray, Investec UN Youth Ambassador
Furthermore, remuneration policies and incentive schemes are not designed in such a way that entices people to change their ways be it through systems, policies, mindsets or behaviour.
Developing countries must prioritise SDGs
Brink highlights the temptation of developing economies to put the SDGs at the bottom of their priority list. "In our South African context specifically, moving away from what has been practiced by large corporations for decades is a major challenge. Times are uncertain as we face corruption, subpar growth in our health and education systems – and the SDGs then seem to be less pressing. However, focusing on the goals and their sub-targets are a means to tackling these issues."
Covid-19 impact must be catalyst for action
If the SDGs sit low on a business or government's priority list, will Covid-19 push them off? It's a question that was asked a lot during the summit. Gray hopes the pandemic will be a wake-up call for change. "I believe that the pandemic hasn't created new problems but rather exacerbated existing ones. Issues that many people don't see, let alone change, because they don't affect us all equally. This pandemic has awakened us, bringing us closer to these issues than ever before, in a way that urges us to take collective responsibility for finding solutions; if we don't, the consequences will be dire and not for some, but for all."
Titi says this is a seminal moment for the world. "The opportunity post the pandemic is for countries to create enabling policies that support an inclusive recovery; for businesses to invest in solutions that will ensure a greener and healthier recovery; and for us as individuals to consider the role we play in being part of the solution."
About the author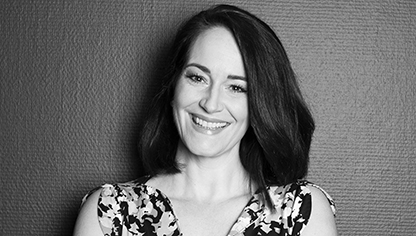 Caroline Edey-van Wyk
Brand Editor
Colloquially known as Investec's "storyteller," Caroline curates and produces all the content that underpins Investec's Out of the Ordinary brand promise. She works across the business but specialises in the areas of Sustainability, CSI, Sponsorships and HR. Caroline holds a Bachelor of Journalism degree in Political Science and Broadcasting - cum laude. Before she joined Investec she was a broadcast journalist at Sky News and eNCA.