Receive Focus insights straight to your inbox
The rise of the gig economy is seeing a global shift away from nine-to-five permanent employment to freelancing and contractual work and, along with it, the workplace itself is beginning to morph from traditional long-term leased offices into highly flexible co-working spaces.
The gig economy originally owes its name to the 1920s, when jazz musicians coined the term for short performance engagements. But today it refers to a broad-based labour market in which many entrepreneurs are working for themselves and thriving.
In turn, it's beginning to put pressure on property landlords – particularly those active in the commercial space – to think differently about the workplaces they need to create for this new scenario.
It's an economy that appeals particularly to millennials and the Generation Z group, given their shared love of flexibility. But, with the tightening economic situation across the globe, it's becoming a marketplace that embraces many generations. 
READ MORE: What is the gig economy?
In 2017 it was estimated that 16% of the UK's workforce belonged to the gig economy and as much as 34% of the US's working population was engaged in it. Numbers are expected to rise to about 43% by 2020. It is anticipated that SA will follow suit.
The knock-on effect is the growth of co-working spaces to accommodate giggers and corporates wanting flexibility. According to the 2018 Global Co-working Survey, 1.7 million people were working in about 19 000 co-working spaces last year.
The business of providing co-working spaces
The gig economy is also turning into very big business for those looking to service this market by setting up co-working spaces – a trend fast delivering the work environment and networking experiences that many professionals involved in the gig economy seek.
A list compiled by the Silicon Cape Initiative (an ecosystem enabler for tech start-ups in SA), notes the existence of about 50 co-working spaces in Cape Town and Johannesburg alone, many of which are stand-alone enterprises.

Creating the right co-working experience
Given that new venues are opening almost weekly throughout the country, the opportunity now lies with property landlords to come up with unique offerings that will attract freelance professionals and other small- and medium-sized enterprises to their venues instead of others.
In 2018, Investec Property partnered with workspace specialist Giant Leap to create FutureSpace – a bespoke offering targeting professional business people looking for an appropriate upmarket venue from which to conduct business.
Robin Magid, head of Investec Property, adds: "Business professionals weren't just looking for another 'me too' solution. And so, with Investec Property's access to core prime real estate and Giant Leap's skill in space planning and design, it made sense to come together and create something distinctive."
 "Workspaces have become about experiences, and the better experience people have, the happier they are."
With the first two such workspaces having opened to date in Investec-owned buildings, namely 61 Katherine Street and Rivonia Road (both in Sandton in Johannesburg), a third Johannesburg venue – Nicol on Main – is set to open in Bryanston in March 2019.
According to Linda Trim, sales and marketing director for Giant Leap, the team behind FutureSpace travelled all over the world to assess the many different offerings that co-working spaces facilitated, not only to ensure that FutureSpace could be competitive in the marketplace, but that it could also go above and beyond what other similar venues offered.
"There are a lot of these initiatives popping up, and we wanted something different," explains Trim. "Workspaces have become about experiences, and the better experience people have, the happier they are."
LISTEN TO PODCAST: Five myths about the future of work
WATCH VIDEO: What co-working can offer you
Flexibility is key
Trim says co-working spaces have become particularly important to the South African scenario, given that people are currently experiencing a great deal of political and economic uncertainty. "Many people don't want to be locked into long-term leases at this stage," she explains.
"You also find huge international companies that want a presence in South Africa, but are nervous about the economy. So, they aren't allowed to have their own leases and offices here. At FutureSpace, there are no FICA (financial legislation) requirements and no lease. Hence, for an international company testing the waters, it's fantastic."
A co-working venue like FutureSpace is also able to complement other, more permanent office users in the vicinity, enabling them to take less office space themselves and to make use of FutureSpace's venues instead. This is particularly useful when the need arises to accommodate teams brought in for just a specific period while a project is undertaken. Other users have included companies in the process of moving offices that need an interim base as a gap filler.
Plug and play environment
Essentially, FutureSpace is aimed at independent contractors and freelancers who work within the gig economy and are looking for a formal business environment in which they can hit the ground running, without the expensive layout of setting up an office from scratch.
"You literally just walk in and plug in," says Trim. "FutureSpace has fast download speeds and connection lines, so if something happens, you've always got back-up. There are printers and Wi-Fi everywhere, along with video conferencing facilities and Zoom technology."
Along with the latest in technology and 24/7 IT support, FutureSpace venues also offer a full reception service to welcome guests, switchboard facilities, a coffee shop, concierge services and strict access control.
From a variety of meeting rooms and open-plan lounge areas where people can work or network with others, to reserved desks and even private offices and executive suites, the key lies in high-performance flexibility that accommodates changing and growing businesses.
"It's really about picking and choosing the services you need," concludes Trim. "And particularly for individual professionals or smaller companies, it's hard to have all those different environments. As part of FutureSpace, you immediately have access to all of that."
About the author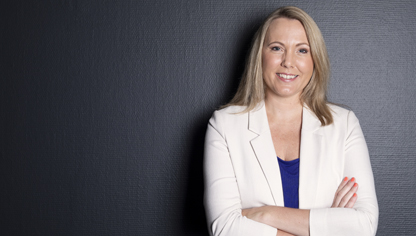 Ingrid Booth
Lead digital content producer
Ingrid Booth is a consumer magazine journalist who made the successful transition to corporate PR and back into digital publishing. As part of Investec's Brand Centre digital content team, her role entails coordinating and producing multi-media content from across the Group for Investec's publishing platform, Focus.