Current ranking
25th on Ladies European Tour
6th in SA
10th in Investec Order of Merit 
Top goal for 2023
Quality over quantity.
Finish top three on Sunshine Ladies Tour
Where are you currently ranked and what is your biggest golfing achievement to date?
My highlight from last year would be winning both the Aramco team events in London and Saudi Arabia with a 6th and 3rd place in the individual challenge for the same events. I captained both teams and so far I'm the only captain to have two wins. I also qualified for the women's US Open in Pine Needles. 
What did 2022 teach you?
2022 taught me that golf isn't a game of perfection and you should embrace your flaws and work with them, not against them. That way you will end up enjoying your career a lot more. 
What are your goals for 2023?
I want to improve my swing and body to be tournament ready, however, I'm not going to play as many tournaments as I did last year. I would rather focus on quality and not quantity. My body can only handle so much travel and competition in one season. I want to perform better in majors. 
What advice would you give aspiring young golfers?
It's not easy and many people will tell you that you can't do it. I had that experience more than once with strangers as well as friends. But if you work smart and have a good work ethic, it is very possible. And PLAY PLAY PLAY. Don't stand on the range for hours. Get out there and play.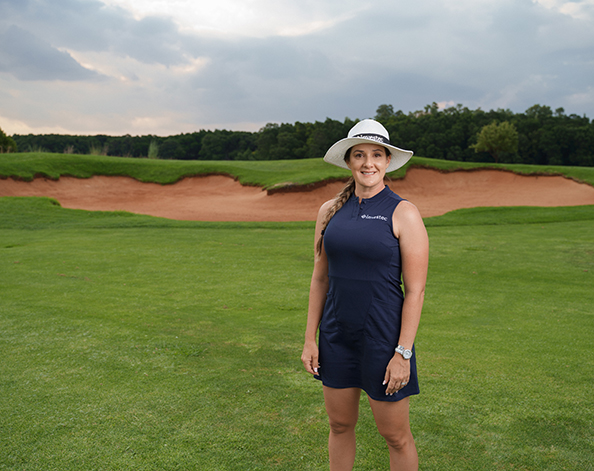 Nicole Garcia, Investec sponsored golfer
At the end of the day, it's just a game of golf, it doesn't define who you are. So I try to smile as much as I can out there, hopefully inspiring others to do the same.
How did your upbringing affect who you are now?
I had a very privileged upbringing, I went to a private school and stayed in a nice area. However, my parents always taught us that if we wanted something we had to work for it. But it wasn't until much later In my rookie year on tour when I had to pay for my golf, and then I realised how fortunate I had been growing up. I am only where I am today because of my parents.

How old were you when you started playing golf and what drew you to the sport?
I was 16 years old when I started playing golf (2006). I had been playing competitive squash for most of my junior years and my squash club where I trained was on a golf course. So my mom booked us some lessons and after the first lesson, I wasn't very interested. But for some reason, I went back for another lesson and the rest is history.

How has your golf career progressed?
In 2013, after my last TUKS exams, I entered the qualifying stages in Europe and ended up getting status on the Ladies European Tour (LET) for the 2014 season. I learned a lot that year and after losing my status in 2014 I went back to the qualifying stages at the end of the year and won the first stage by 13 shots and came 5th in the final stage on a score of -9. Since then I have kept my playing rights in Europe.
Best book you've ever read
A Court of Thorns and Roses, Sarah J Mass
If not golf how would you make a living?
I would have studied animation and gone to work at Disney or Pixar.

What's you favourite motto or quote?
"Thin to win it." (It's a golfing term and a think "thin shots" always seems to work somehow)

What do you believe can be achieved in the South African women's golfing fraternity through Investec's sponsorship of the South African Women's Open?
The Investec South African Women's Open has set a platform for bigger and better things in SA women's golf. I believe it is the start of helping the next generation of talented golfers come through. We just needed one sponsor to step up to the plate and support women's golf in order to pave the way for more companies to see the benefits of women's golf in SA.
If you could play the last round of your life with anyone you choose who would it be and why?
Probably my husband Grant Veenstra. We've been on this journey together for the last seven years and with the exception of a couple of others, he has been instrumental in shaping my game and to have my last play with him, would be a privilege.
How do you keep a healthy balance between your personal life and your career?
This part is very difficult, and I get this question a lot. I am lucky that my husband is in the same industry and understands what needs to be done to be successful. If I didn't have him I don't think it would be easy to find someone who could handle what the job requires.
How do you cope with the nerves?
Nerves are something that you have to learn to overcome. They will always be there and if they are not, then that's when you know it doesn't mean enough to you anymore. To be able to handle nerves you have to put yourself in stressful situations as often as possible. That's why they say, once you win then the second win comes a lot easier. My technique to cope includes lots of conscious breathing and sticking to my routines. Don't change anything. Keep everything slow and repeat, repeat, repeat.
What's the one improvement or change that you would like to make to the game of golf?
I believe, for the future of golf, the game should be brought down to 12 holes and not 18.
The game is becoming too slow and many people are losing interest, in not only watching golf, but also playing it.
How do you get over a bad shot?
Everyone has their own way. For some reason verbalizing to my caddy what I've done wrong in my swing to cause that shot and then taking a practice swing with the correct move puts my mind at ease that I won't do it again and then I can focus on the next shot. Small routines help to take the focus away from what just happened and onto the next shot.