Investec Asset Management
has become Ninety One
Demerger of Investec Asset Management
Following the group's management succession announcement in February 2018, the Investec Board, together with the executive team, conducted a comprehensive strategic review to ensure that the group is well positioned to serve the long-term interests of its stakeholders.

Conclusions from the strategic review
Investec group comprises a number of successful businesses operating across two core geographies, with different capital requirements and growth trajectories
Compelling current and potential linkages between the Specialist Banking and Wealth & Investment businesses (clear geographic and client overlap)
Limited synergies between these businesses and Investec Asset Management 
The Board concluded that a demerger and separate listing of Investec Asset Management would simplify the group and allow both businesses to focus on their respective growth trajectories; resulting in improved resource allocation, better operational performance and higher long-term growth.
On 13 March 2020, Investec successfully completed the demerger of its asset management business (Investec Asset Management), which became separately listed as Ninety One on 16 March 2020. 
Demerger benefits for Investec
Simplification and focus to improve returns
Capital discipline: A more disciplined approach to capital allocation, particularly where businesses are non-core to overall long-term growth and capital strategy
Driving growth: Clear set of opportunities to deliver growth. We are focused on growing our client base and building new sources of revenue across our existing client base 
Improved cost management: Heightened focus on efficiencies to be gained through optimising operational platforms and technology initiatives 
Greater connectivity: Building on compelling linkages between the Specialist Banking and Wealth & Investment businesses and across geographies
Digitalisation: Further developing digital capabilities to continue delivering an advanced high-tech, high-touch proposition, to enable business transformation and greater efficiencies.
Change in group structure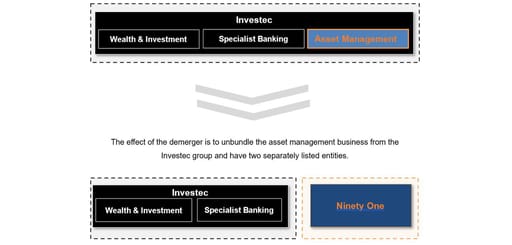 Prior to the demerger, the Investec group had an 80% shareholding in Investec Asset Management
Pursuant to the demerger transaction, Investec distributed 55% of Ninety One to existing Investec shareholders. Shareholders received one Ninety One share for every two Investec shares held
Investec decided not to proceed with its intended sell down of a 10% stake in Ninety One given market volatility at the time of Ninety One's listing 
Therefore, Investec retained a 25% shareholding in Ninety One. As a founding shareholder of Ninety One, the Boards of both Investec and Ninety One believe that it is appropriate for Investec to retain a modest shareholding in Ninety One. Investec believes Ninety One is an attractive business with meaningful intrinsic value. Retaining an equity stake allows Investec to participate in future value creation by Ninety One.
Investec's entire holding of Ninety One shares is subject to a lock up period of 180 days from the date of Ninety One's listing 
Approximately 20% of Ninety One continues to be held by Ninety One staff through Forty Two Point Two (the investment vehicle through which management and directors of Ninety One participate in the business) as well as Ninety One's employee benefit trusts.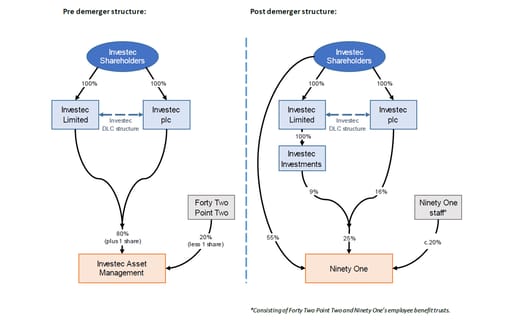 Summary of financial impact
Positive CET1 impact for both Investec plc and Investec Limited 
Combined dividend capacity of Investec and Ninety One is unchanged as a result of the demerger
Accounting treatment: In FY2020, the Investec group will present the consolidated results of Ninety One up to the effective date of the demerger (13 March 2020) and, thereafter, equity account for the retained 25% stake as an investment in associate. The consolidated results of Ninety One will be presented as discontinued operations for FY2020.
Demerger transaction documents
The Demerger Circular as well as all published documents and announcements related to the demerger can be found below. 
Demerger timeline of events:
Announcement of demerger: 14 September 2018
Publication of Shareholder Circular: 29 November 2019
Publication of Ninety One Registration Document: 31 January 2020
General and Court Meetings: 10 February 2020 (resolutions passed with a 98% majority)
Publication of Ninety One Prospectus: 2 March 2020
Effective date of the demerger: 13 March 2020
Admission of Ninety One Shares to LSE and JSE: 16 March 2020
Publication of the prospectus and documents pertaining to the demerger of Investec Asset Management
Demerger related documents
Contact our Investor Relations teams in South Africa or the United Kingdom.
For SA enquiries
+27 (0)11 286 7070
 
For UK enquiries
+44 (0)20 7597 5546
 
[email protected]