Investec Real Estate ("Investec") announces that it has provided Fairway Capital ("Fairway"), the Prime Central London ("PCL") investment specialists, with a £16.4 million senior facility to fund the acquisition and renovation of 4 Wilton Crescent, a super prime residence in one of London's most sought after neighbourhoods.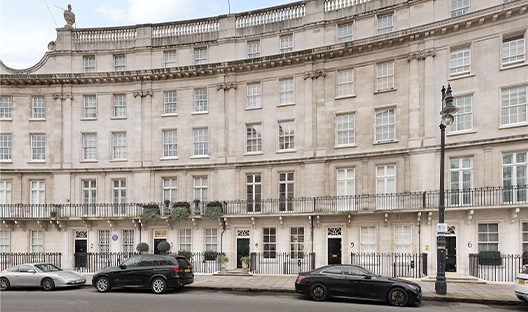 Leconfield Property Group, Fairway's development partner, is responsible for the refurbishment and development, which is expected to complete in 2023. The c.9,000 sq ft property will feature five ensuite bedrooms, staff accommodation, leisure facilities including a swimming pool and garage parking for two cars. The renovation will be finished to Leconfield's typical high standards with bespoke craftsmanship throughout.  Located in the heart of Belgravia, the residence is expected to attract interest from both domestic and international buyers.
This is Investec's second deal with Fairway, having previously provided a £34.5 million loan in October to fund the latter's acquisition and redevelopment of nine PCL luxury homes. This was the first investments by the Fairway Capital Property Fund following an initial equity raise of £80 million in July 2020. The existing relationship enabled Investec to meet the client's funding deadline and execute the complex transaction, which included a JV partner with an ownership structure across multiple jurisdictions, in just over three weeks from credit approval.
Whilst PCL values and transaction volumes were negatively impacted by successive lockdowns, the success of the vaccine roll out has underpinned a strong bounce back. Recent Savills data reported that there had been 237 sales in London above £5 million in the first six months of 2021, a 61 per cent increase on the same period in 2019.
Daniel Carlisle, at Investec, commented:
"Despite an understandable dip, the Prime Central London market has again demonstrated its ongoing resilience and we expect the recovery to gain pace as international travel resumes and government-imposed restrictions end. Alongside New York, London remains the pre-eminent global city for high-net-worth individuals, and this outstanding property will undoubtedly attract interest from buyers looking for a slice of one of its most prestigious areas. We're pleased to be supporting Fairway Capital on another project in a market where we have a 25 year track record, having again demonstrated our expertise in executing complex transactions quickly and flexibly."
George Brooksbank at Fairway Capital, added:
"4 Wilton Crescent will be a flagship asset within our portfolio with a GDV north of £30m.  We had to move quickly and Investec once again proved to be a reliable and efficient debt provider who outperformed to meet the tight deadline".