Benelux buyouts increase from €3.16bn in H2 2017 to €4.16bn in H1 2018


Wider European deal values slide from €43.20bn in H1 2017 to €40.70bn in H1 2018


Benelux 2018 exit values on course to exceed 2017 as European divestments slide by nearly a third to €39.90bn  
Benelux buyout activity grew by a third over the last six months to end H1 2018 on €4.17bn as a number of Dutch mega deals (EV €1bn+) helped drive value totals, according to data from the CMBOR at Imperial College Business School, sponsored by Investec Specialist Bank and Equistone Partners Europe.
The totals were driven by two mega-deals in the Netherlands: DH Private Equity sold TMF Group in a €1.75bn secondary buyout to CVC, while PAI Partners and British Columbia Investment Managers (bcIMP) de-listed Refresco in a €1.62bn take-private.  The drinks bottler has a long history with private equity, having undergone its first MBO in 2000.
"We are encouraged, though not surprised, by the continued strong activity levels in the Benelux," says Alexandre Neiss, who leads Benelux deal origination at Investec. "The backdrop is firmly in place in the Benelux for executing deals, with strong economies providing confidence, lenders providing liquidity and an increasing number of growing businesses providing dealflow."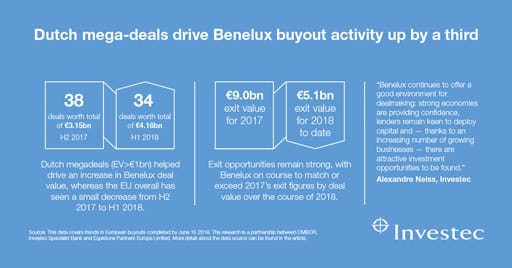 The Benelux activity stands in contrast to wider Europe, where H1 data reveals a softening of new deals: €40.7bn recorded for the first six months of the year is down slightly from €43.2bn in H1 2017, though a number of yet-uncompleted deals in the pipeline could see values for the first half of 2018 boost.  The data further reveals that private equity deal doers have put the brakes on their frenetic exit pace, with the €100bn+ generated in each of the last four years from divestments now falling to just €39.9bn for the first six months of 2018. The sum sees the overall value of exits in Europe drop by nearly a third (30%) from €56.9bn in H2 2017. The UK saw the steepest drop in exit activity, with £6.0bn (€6.8bn) generated, down from £13.6bn in H2 2017. 
Benelux, on the other hand, recorded €5.1bn in exit value for H1 2018, well on course to match or exceed last year's strong €8.95bn full-year figure.  
The Netherlands hosted three of Europe's top 10 exits in the first half of 2018: CVC bought TMF group, a 2008 buyout by DH Private Equity in a €1.75bn sale; JC Flowers floated NIBC Bank following a 13-year hold period; and Apollo floated Ceva after a 12-year stewardship.  
Interestingly, two of these exits were IPOs, while across Europe more than half the total exit value (€20.6bn) was derived from sales to other private equity firms. Just five of Europe's 184 private equity-backed exits in H1 2018 were via IPO, down from 26 in full-year 2017.  
"The environment in the past four years has been conducive to selling assets, helped by the availability of debt on the buyside," says Christiian Marriott, Partner and Head of Investor Relations at Equistone Partners Europe. "Recently, a growing preference for bilateral processes rather than crowded auctions may well have contributed to a higher volume of inconclusive sale processes. Where successful, however, bilateral sales do allow both the buyer and the seller to bypass the hyper competition now inherent in most auctions," he says, drawing on experience gleaned from Equistone's three exits in a two-week period at the start of the summer.
Notes to editors
About CMBOR - Methodology
The data compiled by CMBOR summarises trends in buyouts across Europe (Austria, Belgium Denmark, Finland, France, Germany, Ireland, Italy, Netherlands, Norway, Portugal, Spain, Sweden, Switzerland, Czech Republic, Hungary, Poland, Romania and Turkey and the UK). Data cut-off date: the data in this press release is for deals completed by June 15 2018.
CMBOR defines buyouts as over 50% of shares changing ownership with management or private equity, or both having a controlling stake upon deal completion. Equity funding must primarily be from private equity funds and the bought-out company must have its own financing structure, e.g., MBO/MBI.
About Investec Specialist Bank
Investec is a specialist bank that provides a diverse range of financial products and services to its global client base. The Bank boasts a holistic private equity offering which provides clients with lending, fund finance, advisory and private banking services.
This press release is issued on behalf of Investec Bank plc. Registered address: 30 Gresham Street, London, EC2V 7QP (Reg No. 489604).  Investec Specialist Bank is a brand name of Investec Bank plc, which is a member of the London Stock Exchange.
Investec Bank plc (Reg. no. 489604) is authorised by the Prudential Regulation Authority and regulated by the Financial Conduct Authority and the Prudential Regulation Authority.
Further information can be found at www.investec.co.uk/privateequity
About Equistone Partners Europe
Equistone is an independent investment firm wholly-owned and managed by its executives. The company is one of Europe's leading investors in mid-market buyouts with a strong, consistent track record spanning over 30 years, with more than 400 transactions completed in this period. Equistone has a strong focus on change of ownership deals and aims to invest between €25m and €150m of equity in businesses with enterprise values of between €50m and €500m. The company has a team of over 35 investment professionals operating across France, Germany, Switzerland and the UK, investing as a strategic partner alongside management teams. Equistone is currently investing its sixth buyout fund, which held a final closing at its €2.8bn hard cap in March 2018.
Equistone is authorised and regulated by the Financial Conduct Authority. Further information can be found at www.equistonepe.com.