Receive Focus insights straight to your inbox


Sign up to the Focus newsletter for regular insights from Investec experts.
With the Q2.22 BCI survey taking place between 11th and 30th May it has been influenced by the KZN floods, higher costs, the drop in global financial market sentiment over April, as many key institutions revised down their global growth forecasts, and higher domestic and global interest rate expectations.
SA's inflation rate is not yet at a peak, with higher cost pressure to come for businesses. While we currently expect a peak of 6.8% y/y in June, there is around another R2.00/litre hike building for the petrol price in July, and around a R1/litre for diesel (R1.33/litre for illumination paraffin), which will add significantly to living costs.  
Businesses will continue to worry about the ebbing purchasing power of consumers, coupled with the impact of higher interest rates, which will also negatively impact business sentiment in Q3.22.
Yesterday's better than expected GDP print for Q1.22 will add to the pressure for higher interest rates in SA, and a 50bp hike at the SARB's July MPC meeting seems more likely now than a 25bp lift.  
The persistence of the Russia/Ukraine war is elevating food and energy commodity prices in particular, with sanctions increasing against Russia, which further bolsters energy costs, and adds to global supply chain costs, as does the blockading of key transport routes in the Black Sea.
Manufacturers and new vehicle dealers' activity saw a sharp deterioration in Q2.22, with vehicle dealers experiencing stock and parts shortages for the manufacture and repair of vehicles, as the global supply chain saw a deterioration in deliveries in Q2.22. The closure of the Toyota plant in KZN due to food damage exacerbated the situation, and new vehicle dealers' confidence dropped to an extremely weak 29.
Manufacturer's confidence also plunged to 29 on the KZN floods impact, as 71% of manufacturers and new vehicle dealers were dissatisfied with business conditions in Q2.22, from around 50% in Q1.22, while production was reported to have weakened in the manufacturing sector in Q2.22 overall.
Retailers have also been impacted by higher interest rates; we now expect the MPC to hike the repo rate by 100bp in H2.22 in total as the FOMC does at its next two meetings. Marked pressure would be placed on the rand if the SARB allows the differential between SA and US interest rates to narrow significantly.
The last sector surveyed, building contractors saw a lessening of depressed sentiment, rising to 46 from a very depressed 25. Overall, the business climate was reported to have deteriorated severely over Q2.22, dropping to a reading of -10 from a positive 3 in Q1.22, heralding a marked slowing of GDP growth in the second quarter of 2022.
Read the full report here
About the author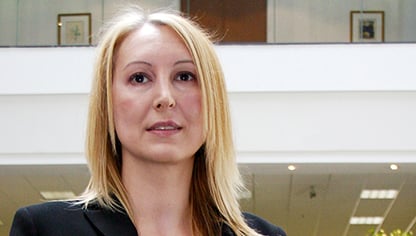 Annabel Bishop
Chief Economist of Investec Ltd
Annabel holds an MCom Cum Laude (Economics and econometrics) and has worked in the macroeconomic, risk, financial market and econometric fields, among others, for around 25 years. Working in the economic field at Investec, Annabel heads up a team, which focusses on the macroeconomic, financial market and global impact on the domestic environment. She authors a wide range of in-house and external articles published both abroad and in South Africa.
PREVIOUS SA ECONOMIC OUTLOOK COMMENTARY:


FOMC note: markets interpret 50bp hike as sign of reduced hawkishness

5 May 2022
The rand strengthens back towards R15.40/USD as Fed dispels fears of extreme rate hikes.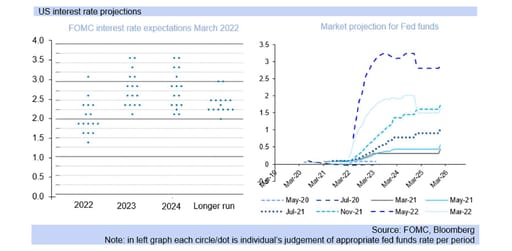 Last night's Federal Open Market Committee (FOMC) meeting saw the target range for the federal funds rate rise to 0.75% to 1.00% (by 50bp), with the committee highlighting that "additional 50 basis point increases should be on the table at the next couple of meetings."
Both the 50bp rate hike and Fed comments about the next two meetings only seeing 50bp increments as well (not 75bp increases), allayed market fears of potential 75bp moves, and saw risk aversion subside substantially in markets, with the rand reaching R15.41/USD.
The rand reached R16.20/USD, R17.04/EUR and R20.28/GBP on Monday as market fear of an extreme US rate hike cycle pushed up risk aversion levels. The domestic currency also subsided against the crosses after the FOMC meeting, to R16.34/EUR and R19.41/GBP.
The Fed Chair, Jerome Powell, added at the FOMC's press conference last night that the FOMC is "on a path to move … the policy rate expeditiously to more normal levels", signalling that monetary policy normalisation will continue at a  rapid, but not extreme pace.
The normalisation process includes reducing the size of the Fed's balance sheet "over time in a predictable manner", " guided by …. maximum employment and price stability goals, … adjusting any of the details of our approach in light of economic and financial developments.
Furthermore, he underscored that "the American economy is very strong and well positioned to handle tighter monetary policy", "inflation is much too high and we understand the hardship it is causing, and we're moving expeditiously to bring it back down".
The tone of the FOMC remained hawkish, comparable to the last meeting, and did not see a marked ramp up to extreme hawkishness. Risk assets overall benefitted, with the rand likely seeing support for further strength in the remainder of the month.
Chairman Powell specified that the "underlying momentum … (of economic activity) remains strong", "household spending and business fixed investment continued to expand briskly. The labor market has continued to strengthen and is extremely tight."
"Improvements in labor market conditions have been widespread, … labor force participation has increased … (but) labor supply remains subdued. Employers are having difficulties filling job openings, and wages are rising at the fastest pace in many years."      
In South Africa, the market view is still divided between a 25bp and 50bp hike at the next MPC meeting (19th May), with 25bp fully factored in, and up to 32bp in the FRAs, but not a full 50bp hike yet, which would likely result in further rand strength if it transpired. 
The SARB lent towards hiking the repo rate by 50bp in March, and could yet deliver a 50bp lift on the 19th of this month. However, the destruction of the KZN floods, and moderation in commodity prices, particularly oil since the last MPC meeting, could limit the size of the hike.
SA's monetary policy is nevertheless likely to remain on a normalisation path, with the SARB primarily focused on inflation, seeking to ensure it returns to  4.5% over its forecast period and so bring the repo rate up to a neutral level of around 6.50% over the next few years.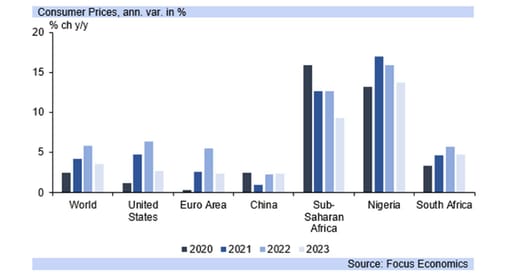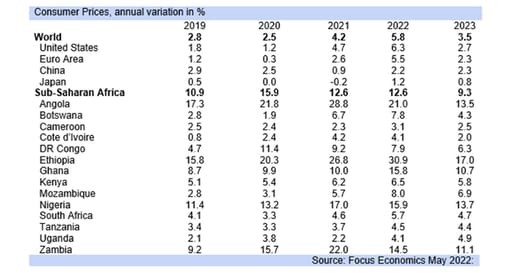 Fourth SA Investment Conference highlights continuing positive sentiment

24 March 2022
Last week's conference confirmed that South Africa is on track to achieve government's five-year goal of R1.2trillion in private sector fixed investment.


The fourth SA Investment Conference (SAIC) is part of a five year drive to achieve R1.2trillion in private sector fixed investment in South Africa. Progress has been substantial, with the value of investment commitments from large corporates benefitting from recent rand appreciation.
Prior to the 2022 conference, R774 billion had been pledged by the private sector, domestically and internationally, over the past few years to the fixed investment goal for SA, two-thirds of which were spread across sectors such as mining, manufacturing, agriculture, the digital economy (SA Investment Conference (SAIC) website).
This then left another R426 billion to be raised this year and next. Of the 152 pledges made during the first three investment conferences, 45 have been reported as completed, or will soon be completed, while 57 are under construction. 2022's Investment Conference shows notable progress towards the goal.
While the MPC announcement and global market forces will have impacted SA markets today, the conference outcome was nevertheless market positive. Indeed, the SAIC's aim is to showcase investment opportunities in South Africa in order to boost economic growth afflicted by the pandemic and global slowdown. The conference had a particular business friendly tone, a necessary positive for business sentiment.
Strong infrastructure investment in South Africa is part of government's planned  economic stimulus (as well as its economic and social objectives), with the capital expenditure driven by both the private and public sectors, and in combination with each other. This is key, with SA in an upwards interest rate cycle, which is growth negative. The MPC's 25bp hike today brings its increases to 75bp in the current cycle, and it is likely there will be at least a 25bp hike at each remaining MPC meeting this year.
The SA Investor Conference today highlights large scale private sector fixed investment plans, while the Economic Reconstruction and Recovery Plan (ERRP) outlines government's capex plans, which include general government infrastructure investment over the next three years of R500 billion. This should also not be discounted, and builds into our exception that South Africa's economic growth will lift towards 3.0% y/y by 2026. 
The ERRP also commits a further R100 billion "over a decade from 2019/20 to the Infrastructure Fund to leverage private- sector and development finance, with R24 billion allocated over the 2022 MTEF period."  SA could see quicker economic growth over the next few years (we currently expect around 2.0% y/y in 2023 and 2024, and closer to 2.5% y/y by 2025) if economic growth reforms are expedited.  
This year the National Investment Plan 2050 (or NIP2050) was launched, aligned with the National Development Plan (NDP) 2030, and with the purpose of  providing a long-term infrastructure planning framework for South Africa. The broadscale plans will strengthen longer-term growth, and improve socio-economic conditions if successful, although in the short-term SA remains at risk from global geo-political evets and from a stagflationary environment. 
During today's conference President Ramaphosa highlighted that infrastructure "does move the needle, it may not wipe out the entire unemployment (figure), but it does add to the number of people who are employed. … I think we are going to meet our target and even exceed it because South Africa is a really hot investment destination." 
Read the full report here

Budget Update: debt projections prove better than markets expected

23 February 2022
2022's Budget Review saw a significant improvement in government's debt to GDP projections and fiscal deficits.


2022's Budget Review saw a significant improvement in government's debt to GDP projections and fiscal deficits. Over the medium-term, gross debt is projected to now stabilise at 75.1% of GDP in 2024/25, (previously the projection peaked at 78.1% in 2025/26), placing SA on a firmer footing to avoid a downgrade from Moody's given its negative outlook, which should now become stable.
The borrowing requirement has been reduced, by R135.8 billion in 2021/22, and by R131.5 billion over 2021/22 and 2022/23 combined. Fiscal consolidation has clearly been deepened, and the revenue overrun is being used to shore up state finances, avoiding unsustainable expenditure hikes.   
Also as a consequence of the R182bn revenue overrun from the 2021 Budget estimate for this fiscal year, and a R62bn overrun than the 2021 MTBPS estimate for 2021/22's revenue, the estimated budget deficit has dropped sharply to -5.7% y/y for this year (from the MTBPS's -7.8% of GDP), but is still substantially wider than the -3.0% of GDP limit for recognised fiscal health (although preferably below this). 
A primary surplus is envisioned by 2024/25. Minister Godongwana has shown strong fiscal gains with the core message being that government is "on course to close key fiscal imbalances and restore the health of public finances". With debt still to escalate, to R5.4trillion (from R4.8trillion this year), gross debt has not yet peaked as a % of GDP and as such does not signify credit rating upgrades, but not downgrades either the debt ratio returns to the current position by 2029/30 without slipping into B+ territory.
The budget deficit for 2022/23 is still forecast at -6.0% of GDP as it was in the MTBPS, but drops to -4.8% of GDP for 2023/24 (-5.3% in the MTBPS) and -4.2% in 2024/25 (MTBPS -4.8%). Debt ratio projections are lower too, from 2021/22's 69.5% (2021's MTBPS projected 69.9%) and for 2022/23 to 2024/25 at 72.8%, 74.4% and 75.1% of GDP (MTBPS projections of 74.7%, 76.8% and 77.8% of GDP).
South Africa has benefited temporarily from the commodity boom, but longer-term will find fiscal consolidation without a dependable higher state revenue stream more difficult. It would instead require a move away from accelerating current expenditure, and the Minister spoke against permanent social welfare increases, pressure from the public services wage bill and further bailouts for SOE's.
Overall, the budget is solid and pleasing, but there are still multiple risks which could derail it, including political in SA. Tax payers experienced slight relief for fiscal drag, while the focus remained on reducing debt projection and this was positive for the bond market as borrowings ease compared to projections, but on balance the budget is like to be viewed as credit neutral by the rating agencies. The NHI was not mentioned, while alcohol, sugar and tobacco product (sin taxes) rose again.
Read the full report here

Sona expected to give insight into problems plaguing SA's economy

4 February 2022
The President's State of the Nation Address (SONA), 10th February at 7pm this year, provides updates on government's policy focus and implementation of economic plans, specifically the ERRP (Economic Reconstruction and Recovery Plan). 


It will also address progress made in combatting COVID-19 (30 million vaccine doses administered so far) and in alleviating its effects on South Africa (the SDR grant is eventually likely to see further extension, into a form of BIG), address social issue and concerns, and provide updates on budget plans (expenditures).

The themes of building an ethical, capable state, combatting corruption and state capture reoccur in the SONA, which is expected to indicate the next steps following on from the Zondo commission.
The President's address is also likely to highlight other reoccurring themes, including education, skills and job creation, the fight against gender-based violence, the need to improve living conditions and the focus on the infrastructure and investment drive.
However, the likelihood is that nothing new will be enacted to substantially reduce the smothering regulatory burden which limits the growth of SA's private business sector.
SA is likely to see economic growth of 1.8% y/y in 2022, with growth likely to lift toward 3.0% y/y by 2026 as growth enhancing reforms gather pace, including those in the key electricity sector, with insufficient electricity supply for a faster growing economy a risk. 
The substantial planned fixed investment in the electricity sector, specifically from private sector power producers, will however take many years before stabilising the grid, and SA is still at high risk of load shedding.   
Government's planned borrowings and fiscal deficit have been projected lower as a % of GDP in November's MTBPS, and the Budget on 23rd February is not expected to see any upwards revisions, while next week's SONA is anticipated to give insight on spending pressures. 
Read the full report here

SARB lifts rates by a further 25bp to 4.00%

27 January 2022
The SARB's monetary policy committee (MPC) opted to hike the repo rate as risks to the inflation trajectory remain to the upside


The SARB's monetary policy committee (MPC) opted to hike the repo rate by a further 25bp to 4.00%. The majority of MPC members (four) were in favour of a hike, with one preferring an unchanged stance.        
Overall risks to the inflation trajectory remain to the upside and accordingly the Reserve Bank has revised its headline consumer price inflation projections higher for this year. Specifically, CPI is now projected to reach 4.9% in 2022 (from 4.3% previously). 2023's headline CPI forecast has declined marginally to 4.5% (4.6% previously) and remains unchanged at 4.5% for 2024.  
Specifically, the volatile oil price, a major commodity import, has picked up notably, with current prices well above the SARB's projected "levels for this year" and therefore remains a key upside risk to the inflation outcome.
"Global producer price and food price inflation continued to surprise higher in recent months and could do so again", according to the SARB. Food inflation which makes up the largest portion of the CPI basket has been adversely impacted by global conditions. Going forward meat prices could present an upside risk to inflation this year, depending on the direction that slaughtering activity takes, according to Agbiz. Furthermore, excessive rains which have destroyed crops and impeded plantings in SA "present risks for agricultural production this year". Additionally, the persistent risk of rising electricity and other administered prices remains. 
The domestic currency is sitting below its equilibrium level and accordingly the implied starting point for the rand forecast has been revised to R15.60 against the dollar, from R15.10 previously. Accelerated quantitative tightening by the Fed and earlier than anticipated monetary policy normalisation, with US inflation having climbed to 6.8% y/y, a 30 year high, will weigh on emerging market currencies and therefore the rand's performance.  
Global growth is expected to decelerate this year as base effects wane, moderating to 4.4% according to the IMF (from a forecast of 4.9% previously).  Global growth continues to remain uneven with emerging markets lagging developed economies, prejudiced by slower vaccination rollouts and limited fiscal stimulus.
The SARB has revised downwards its GDP forecast for the South African economy to 4.8% y/y from 5.2% y/y previously. The unrest and looting in parts of the country in July weighed on Q3.21's GDP outcome. Growth remains unchanged at 1.7% and 1.8% for 2022 and 2023 respectively, but rises to 2.0% in 2024, with the output gap gradually closing. The SARB continues to evaluate the risks to the medium-term domestic growth outlook to be balanced.  
The SARB reiterated that "repurchase rate levels reflect an accommodative policy stance through the forecast period, keeping financial conditions supportive of credit demand as the economy continues to recover".
Read the full report here

Rate hike looms as SARB meets next week

20 January 2022
The MPC's hand could be forced by higher oil prices and faster normalisation of global monetary policy


The South African Reserve Bank's Monetary Policy Committee (MPC) meets next week Thursday for its interest rate decision and there is a real risk it shift to a more hawkish stance. At its November MPC meeting,  the SARB forecast an inflation rate of 4.3% y/y for 2022, but this will likely see substantial upwards revision, to around 5.0% y/y.
The sharp run up in fuel prices and broadening price pressure from other areas has seen inflation come out at 5.9% y/y for December, and similar prints are expected in January and February. Oil prices are now running at a seven-year high, with Brent Crude (SA's benchmark for oil import costs) at US88.4/bbl, which we currently expect will translate to a R1.40/litre hike in the petrol price for February.
Oil prices have climbed by US$10/bbl since the end of last year on rising demand as the impact of Omicron wanes and output from OPEC+ remains tight. Markets are concerned oil could climb further towards US$100/bbl as supply fails to keep up with robust global economic growth. OPEC+ is already battling to increase production to meet the current level of demand and major economies are expected to open up further in the course of the year.
On a positive note, the risk of a credit rating downgrade for South Africa this year has subsided following the removal of Fitch's negative outlook. As a result, SA's overall risk profile has improved, relieving some of the pressure on interest rates.  However, the FRA curve is currently factoring in a 25bp hike in the repo rate next week, and the rand has run through R15.20/USD in anticipation. Should rates remain on hold, bucking market expectations, these gains would likely be reversed, and a weaker exchange rate would exacerbate the inflationary impact of higher fuel prices.
The US FOMC (Federal Open Market Committee – responsible for setting US monetary policy) is meeting the day before the SA MPC meeting, on the 26th of January, and this will influence South Africa's decision. Should the Fed signal that tapering will be slower than anticipated the MPC might well keep SA rates on hold until March.
Markets have factored in four hikes in the US this year, of 25bp each, with the first expected before the FOMC's 16th March meeting. Next week's meeting will therefore shed light on whether the US rate hike curve will steepen. A more rapid interest rate hike cycle would likely see a hawkish stance from the South African MPC, despite SA's high unemployment rate and an economy that has not yet recovered to pre-Covid levels. 
That said, the FRA curve is also currently building in a 2.25% hike in the repo rate overall for this year, which we think is overdone. Such a outcome would require a near 40bp rate hike at every meeting this year, which would be excessive. It is important to note, though, that market expectations fluctuate and financial markets can also overreact at the start of a rate cycle.
Read the full report here

Omicron ramps up in SA but hospitalisation rates remain low

3 December 2021
The new mutation is proving particularly contagious even as early data from the NICD shows relatively low numbers of severe cases.

The fourth wave of Covid-19 infections has hit SA hard and fast, with new cases dominated by the highly contagious omicron variant. 
The 7-day rolling average of new Covid-19 infections is at 5,093, well up on 3,202 a week ago. This despite the figure a week ago being distorted by the addition of some (18,586) previously excluded cumulative tests on the preceding Tuesday.
Globally, new cases are occurring at 0.7million a day from last week's 0.6million, and are still on an upwards trajectory on a 7-day rolling average basis. At this point, the curve of infection globally is similar to the trajectory of the third wave.
The US's fourth wave reached 109,294 new daily infections yesterday. By comparison, the third wave peaked at 285,058 infections per day. The US 7-day rolling average has started to rise again, after a down tick recently, which is usual as numbers can be lumpy.
Deaths in the US, however, still appear to be on a downward trend, ticking up briefly in what looked to potentially be a fourth wave of Covid-19 fatalities but then subsiding again. However, with deaths typically taking place a number of weeks after infection the curve can still tick up again.
Locally, there have been 2.98m recorded cases overall for SA since the pandemic started. Gauteng currently accounts for 72% of cases, the Western Cape 6% and KZN 5%. At present, 2,904 individuals are in hospital with Covid-19. Of all Covid tests conducted in the past week, 22.4% have been positive.
The World Health Organisation (WHO) shows South Africa and central Africa, along with some of North Africa and the west coast of South America imposing some of the most severe public health and social measures globally to combat Covid-19.
To alleviate the devastating economic and health effects of the virus, South Africa is currently assessing the viability of making vaccines against Covid-19 mandatory, at least for certain sectors of the population, as some other countries have done.
Read the full report here

New delta sub-variant is driving the fourth wave of Covid-19 infections globally

18 November 2021
SA's fourth wave may be beginning with a rise in daily new cases of Covid-19 infections


South Africa is seeing a rise in daily new cases of Covid-19 infections, at 1,275, still mild, but well up from 312 two days ago, and 116 on the 8th of November. Globally however, the fourth wave is building strongly, centered in Europe and the UK.
The 7-day rolling average of new daily cases of Covid-19 infections was distorted by the addition of some (18,586) previously excluded cumulative tests on Tuesday,  bringing the 7-day rolling average to 3,202, but this will wear out the system by next week.
Globally, new cases are occurring at 0.6million a day on the 7-day rolling average, well up on the 11th of October, the dip between the third and fourth wave in global new Covid-19 infections on a 7-day rolling average.
The US is also seeing its fourth wave beginning, and this is worrying financial markets and the risk averse domestic currency is at R15.82/USD today, with very risky assets performing poorly, as the US is expected to continue tapering QE, with potential hikes even in H2.22.  
Deaths in the US are also starting to tick up from Covid-19, at 1 ,427 on a 7-day rolling average, approaching the peak in the third wave at 2,087, as the US's third and fourth waves did not see much collapse between them .   
In South Africa, Gauteng is reported to be leading the way in the new wave of infections, with 1,000 out of the 1,275 reported yesterday for the country in Gauteng alone. SA's positivity rate, the number of tests done, versus positive results, is also reported to be increasing.
South Africa's National Institute for Communicable Diseases (NICD) reports "the majority of new cases today are from Gauteng (80%), followed (by the) Western Cape for 5%. KwaZulu-Natal and (the) North West each accounted for 3% respectively".
The "Eastern Cape, Limpopo, and Mpumalanga each accounted for 2% respectively; and Free State and Northern Cape each accounted for 1% respectively of today's new cases." "There has been an increase of 53 hospital admissions in the past 24 hours."
The NICD further reports higher rates in Tshwane, "particularly in Tshwane amongst 10 – 29 year olds' ",  "Localised increases in case numbers (clusters) are not unexpected, however, it is hard to say whether the increases indicate the start of a widespread resurgence."
Read the full report here
SARB lifts rates by 25bps as inflation pressures build

18 November 2021
The hike follows revision of consumer price inflation projections.


The SARB's monetary policy committee (MPC) decided to hike the repo rate by 25bps to 3.75%. The decision was however not unanimous. Specifically, three MPC members were in favour of a hike, with two preferring an unchanged stance.    
Overall risks to the inflation trajectory remain and accordingly the Reserve Bank has revised its headline consumer price inflation projections slightly higher for this year and the following two years. Specifically, CPI is now projected to reach 4.5% in 2021 (from 4.4% previously), 4.3% (from 4.2% previously) in 2022 and 4.6% (from 4.5% previously) in 2023. Moreover 2024's headline CPI is forecast at 4.5%.
"Global producer price and food price inflation continued to surprise higher in recent months and could do so again", according to the SARB. Indeed, Farmers and Agribusinesses are having to contend with rising input costs of fertilizer and agrochemicals as a result of supply chain constraints as well as climbing fuel prices according to Agbiz. However, a "favourable weather outlook for the season and the farmers' optimism through the intentions to plant data compel us to believe that South Africa could have yet another good crop in the 2021/22 production season".
Another risk to the short-term inflation outcome is the volatile oil price which has picked up notably, with "current prices well above" the SARB's projected "levels for this year". Additionally, the persistent risk of electricity and other administered prices remains. Indeed, Eskom's electricity price increases have exceeded CPI for over a decade, and this is likely to persist as cash strapped Eskom, continues to face marked financial and operational challenges.
Moreover, rising wage demands, higher domestic import tariffs and a softer rand pose additional upside risks. The domestic currency has depreciated by 5.9% against the green back since the September MPC meeting, underpinned in part by uncertainty over heightened global inflation and the Fed's policy stance. Accordingly, the implied starting point for the rand forecast has been revised to R15.1 against the dollar, from R14.47 previously. Should we succumb to a further credit rating downgrade at tomorrow's review by S&P or Moody's (not our expected case) this would weigh further on the already volatile rand. 
The IMF's global growth forecast for 2021 was revised down marginally to 5.9% y/y in October, moderating thereafter to 4.9% (2022). Rising infection rates, notably in Europe, accompanied by further lockdowns could however affect this outcome. Global growth continues to remain uneven with emerging markets lagging developed economies, prejudiced by slower vaccination rollouts and limited fiscal stimulus.
The SARB has revised downwards its GDP forecast for the South African economy to 5.2% y/y from 5.3% y/y previously as Q3.21's GDP figure is now projected at -2.5%, notably weaker than September's forecast of -1.2%. Growth for 2022 and 2023 at 1.7% and 1.8% respectively are unchanged.
The SARB continues to evaluate the risks to the medium-term domestic growth outlook to be balanced. Elevated export prices are expected to wane, "perhaps faster than previously expected," according to the SARB. Moreover, the effects of July's looting and unrest in parts of the country, "the pandemic and ongoing energy supply constraints are likely to have lasting effects on investor confidence and job creation, impeding recovery in labour-intensive sectors hardest hit by the lockdowns".
Read the full report here

MTBPS: the fiscal metrics did not disappoint

11 November 2021
Minister Godongwana's debut Medium–Term Budget Policy Statement (MTBPS) delivered on  promised improvement to government's debt to GDP projections, likely averting imminent rating downgrades


While hardly qualifying as a "windfall" mini-budget, Enoch Godongwana debut MTBPS highlighted South Africa's improved fiscal metrics, which reflect better tax revenues, thanks largely to the current commodity boom, as well as the upward revision of GDP by Stats SA.
Gross debt is projected to stabilise at 78.1% of GDP in 2025/26. This compares to February's projection of 88.9%. The improvement is not due to any major drop in borrowings, however, but rather to the higher GDP figure resulting from Stats SA's revisions.
It's good news nevertheless: enough, we believe, to avoid sovereign credit rating downgrades from Fitch and S&P in November. Both agencies have SA on BB- currently, but Fitch continues to have a negative outlook, with Moody's at one notch up. But though the agencies are unlikely to downgrade SA in November, they will keep close watch for signs of any rise in debt servicing costs.
The rand strengthened to R15.19/USD following the statement, as SA's credit risk, which is the perceived risk of default, has slightly moderated. The sheer quantum of debt however is still projected to climb further, with debt projected to increase to R5.5trillion in 2024/25 -- doubing from R2.8trillion in 2018/19.
This still represents a decline in fiscal health. As borrowings continue to rise, the economy will not benefit from any credit rating upgrades, nor are we likely to see the negative outlooks of the two key agencies removed. Debt service costs (interest expenditure) are projected to peak at 5.4% of GDP in 2025/26 and gross debt at 78.1%, with bonds strengthening somewhat.
But the projections won't hold up if there are further crises which depress revenue and increase expenditure. Key risks include further social unrest of the kind seen in June and the intensification of loadshedding. Consequently, the MTBPS affirmed that over the next three years, spending will remain restrained. Government will avoid permanent increases in departmental or programme baselines, or further bailouts of state-owned companies, which would compromise fiscal sustainability.
Instead, short-term tax windfalls will be targeted to reduce the budget deficit and fund temporary priorities, such as extended support for poor households and public employment. In line with government's commitment to support vulnerable households, particularly given the impact of Covid-19, additional resources for social relief will be considered if the fiscal situation improves.
The focus, in short, is on fiscal consolidation and social stability, as well as economic reforms to drive growth and employment. In particular, the minister pointed to diversifying energy generation, releasing broadband spectrum, opening third-party access to the freight rail network, the eVisa system rollout, reviewing the legal regime governing skilled migration, and accelerating infrastructure investment.
The budget deficit for 2021/22 is forecast at -7.8% of GDP, versus National Treasury's base rate (BR) projection of -9.3%, and thereafter drops to -6.0% of GDP for 2022/23 (BR -7.3%) and -5.3% in 2023/24 (BR 6.3%).
Read the full report here

MTBPS Preview: lower debt and fiscal ratios on the cards

28 October 2021
Minister Godongwana is expected to continue on his predecessor's path towards fiscal consolidation and growth stimulation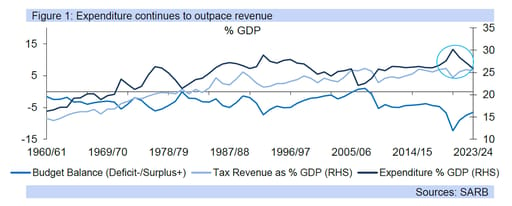 When new finance minister Enoch Godongwana delivers his first Medium Term Budget Policy Statement (MTBPS) on 11 November, the focus of markets and credit rating agencies will be on fiscal metrics and whether or not the rand value of borrowings and deficits rises.
We expect gross loan debt will come out at 70.0% of GDP for 2020/21, versus the 80.3% of GDP projection in the February 2021 Budget. The latter preceded recent revisions to GDP numbers, and the declining ratio was due largely to this, rather than a drop in borrowings.
For the current fiscal year, we expect a debt:GDP projection of 69.8% of GDP (2021 Budget prediction was 81.9%) both on the substantial growth and upwards revision in nominal GDP, with the upwards revision to the size of the economy itself creating a larger base to grow off.
The following three medium-term years, of 2022/23 to 2024/25, we forecast now at 73.0%, 74.5% and 75.7% of GDP, versus the original National Treasury projections of 85.1%, 87.3% and 88.5% of GDP.
The favourable move in the GDP numbers and debt ratio may be enough to avoid sovereign credit rating downgrades from Fitch and S&P in November. Both agencies have SA on BB- currently, but Fitch continues to have a negative outlook, with Moody's at one notch up. Key also will be projected expenditure increases, with a form of basic income grant likely.
The budget deficit for 2021/22 is expected to be projected near -7.9% of GDP (versus National Treasury's BR projection of -9.3%) after 2020/21's -11.7% (BR -14.0%), and thereafter to drop to a projection of -5.9% of GDP for 2022/23 (BR -7.3%) and -4.5% in 2023/24 (BR –6.3%).
The IMF and the World Bank have revised up their growth forecast materially for South Africa this year, along with the economic consensus, predicting that the economy will grow by around 5.0% versus National Treasury's prior expectation of 3.3% y/y We also expect growth of 2.5% in 2023, versus the prior national treasury's prior forecast of 1.6% y/y, and accelerating GDP growth thereafter. 
The higher economic growth outcomes and outlook suggest that revenue collection will be higher than previously expected, which has also aided our reduction of the likely deficit projections. Underlying debt sustainability will see some benefit from a larger economy and a faster growing economy, but can quickly be eroded by rising expenditure.
Expenditure pressures have risen materially this year on the additional social welfare support after the riots and the Sasria shortfall government is compensating for. In the longer-term a form of basic income grant (BIG) is likely for the high degree of jobless adults in SA, although this could be tied to a need for active job seeking.
The social distress grant, reinstituted after July's riots, is not expected to be permanent, and is expected to be replaced by a form of basic income grant (BIG) as mentioned above. 
There are 7.8million unemployed and 3.3million discouraged job seekers, bringing the cost of a R350 BIG potentially to R46.8bn a year, or R32.9bn a year without including the discouraged job seekers, and both without any additional administrative costs.
Read the full report here

Economies experience the impacts of the unwinding from the effects of Covid-19

15 October 2021
As economies, policy measures and markets continue to unwind, or experience the impacts of the unwinding from the effects of Covid-19, volatility persists, as does some uncertainty.


Globally, Covid-19 cases continue to decline, with the seven-day rolling average at 402,944, the lowest since April this year, while global deaths are seeing slower moderation, at 6,689 a day (seven day average), comparable to November last year, or February 2020's brief spike.
However, daily deaths attributed to Covid-19, on a seven-day rolling average (or 7/day average), remain below the lowest point of deaths reached between the second and third wave of Covid-19 globally, which saw 7,686 as a low point. 
A fourth wave of Covid-19, both locally and globally is expected, but will also need a driving factor, and in particular the development likely of a new variant, or a current one which sees a virulent spread. 
The Centre for Disease Control in the US has ten variants of interest and/or concern it is still monitoring, from Alpha to Mu, and has a category for a variant of high consequence (VOHC) where prevention measures have reduced effectiveness, but no variant in this category.
While a fourth wave is not a definite, it is seen as very likely unless vaccination rates rise rapidly globally. US Covid-19 attributed deaths are still seeing an elevated level, although declining trend, at 1,627 (7/day average), well above 188 between its second and third waves.
That is the US is well off its third wave peak of 2,087 Covid-19 fatalities (7/day average) experienced in September, and is expected to see further decline, although still a high rate globally, with the UK at 113, South Africa 57, Germany 54, France 32 and Australia at 15.  
Overall, the improvement in global Covid-19 numbers, and vaccination rates, since the start of the third wave in June certainly support future further recovery in economies, and an easing in supply chains and so inflationary pressures to some extent.
However, energy shortages (and high prices) globally are a restraining factor, and show increasing risk to economic growth just as rapid climate change shows increasing risk to the sustainability of livelihoods and lives, with low-income economies the hardest hit.
The unwinding, and expected unwinding, of support measures has brought volatility to the markets, with the Fed still expected to taper this year, although the chance of this occurring in December instead has seen the volatile rand at R14.70/USD today, and stronger.
Read the full report here

Economies are in various stages of recovery from restrictions

8 October 2021
While economies are in various stages of recovery from restrictions on their activity as the pandemic spread, high inflation is only expected to subside markedly in 2022, with pressure now on monetary policy.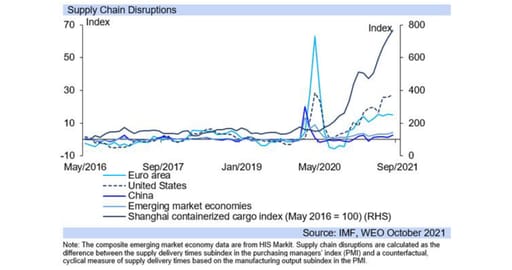 Globally cases of Covid-19 have subsided in the third wave,  although some countries such as the UK and Australia have yet to see this occur, with vaccination rates still uneven between economies; and the IMF believes risks to global recovery are increasing.
In particular, it warns "most emerging and developing countries will take many more years to recover. This delayed recovery will make it even more difficult to avoid long-term economic scarring -- including from job losses" and cites the "vaccine divide" as a key concern.
"The risks to a broad global economic recovery are rising due to a persistent divide in vaccinations, accelerating inflation and burgeoning debt that all threaten to leave developing countries far behind."
The sharp acceleration in inflation on restarting global supply chains as Covid-19 waves wane and high input prices, is only expected to decelerate markedly in 2022. The IMF warns of risks of even higher inflation, including the risk of a de-anchoring of inflation expectations.
This later point is likely to be key in Central bank monetary policy considerations around the world as the pandemic is seen to have subsided. South Africa's Reserve Bank (SARB) recently emphasised risks to domestic inflation in its October MPR (Monetary Policy Review).
In particular, the SARB highlights that a stronger economic recovery than it anticipated occurred in H1.21, versus the lockdown impacts on 2020, and "underlying price pressures may be stronger than initially thought", with the medium-term inflation outlook rising sharply.
The SARB adds that while SA's "headline inflation remains contained and core inflation modest, there are several material upside risks. Global food prices look set to remain elevated, posing a risk to domestic inflation despite the expected bumper harvest in 2021." 
"Rising global inflation and supply constraints could drive up imported inflation, with the impacts exacerbated potentially by rand depreciation." The SARB particularly worries about inflation and points to a likely "earlier start to normalisation in the advanced economies".
Monetary policy authorities are generally sounding more hawkish and the SARB has been indicating it could hike rates by November already, which could tie in with US QE tapering, even though SA's economy has not recovered to 2019 levels and unemployment is very high.
Read the full report here

South Africa's Covid-19 third wave has passed

30 September 2021
With the curve dropping down to levels before the second and third waves, and focus needs to turn to lowering restrictions to support economic activity.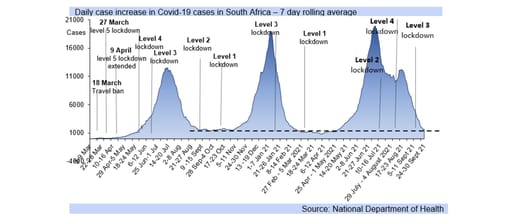 While South Africa is officially out of the third wave, and government reports that the positivity rate has fallen to 0.5%, there is inertia on a further easing of lockdown restrictions, with some worries on the vaccination rate, which is at 16.4% now for full coverage (fully vaccinated).
So far, 17.3million vaccinations have been administered in South Africa, with everyone eighteen and over eligible, and government currently awaiting trial results for over twelve-year-olds. Vaccine hesitancy remains a huge impediment to full vaccination in the country."
South Africa has seventeen million children who are fourteen years old and younger, in a population of sixty million, and 4.9 million aged fifteen to nineteen, with about 37 million people able to still be vaccinated, excluding refugees, asylum seekers and visitors. 
However, the majority of individuals who want to be vaccinated appear to have been, given the low volumes at vaccination sites, with innovative rollouts into some stores, welfare (Sassa) queues and many other areas to encourage higher coverage.
Furthermore, this weekend "Government and Civil Society join hands and resources for Vooma Vaccination Weekend", on Friday and Saturday, 1 and 2 October 2021, in a nationwide vaccination drive, with "pop-ups … open … in all corners of the country.
Government adds, "the public and private health sectors, organised labour and business and community- and faith-based formations will join forces in the vaccination drive themed Vooma Vaccination Weekend."
"This will be the first Vooma Vaccination Weekend in a series of outreaches under this banner in which leadership from across the political spectrum, civil society, traditional leaders, labour and business will mobilise communities to stay safe by being vaccinated."
The state is doing a huge amount, as are many members of society, to raise the vaccination rate through the population, and some companies are making vaccination mandatory. However, disinterest and distrust remain key stumbling blocks.
SA's low vaccination rate (the global coverage rate is 41%) is also negative for tourism, which has high job generation potential and matters for all tourists, including well-heeled foreign tourists which bring in large amounts of spend to the economy, and so support employment.
Read the full report here

SA's non-farm payrolls drop

28 September 2021
Non-farm payrolls outcome drop by -86k (-86,000) in Q2.21. driven by a large fall in part-time civil servants' employment, with ghost workers identified.


Today's release of the Quarterly Employment Survey (QES) from Stats SA looks at employment from the perspective of the payroll of over twenty thousand VAT registered businesses in South Africa and so covers the formal sector. It also excludes the agricultural sector and employees in households, in order to yield a non-farm payrolls outcome for South Africa, which fell by -86k (-86 000) in Q2.21.
Fifteen thousand jobs were lost in the manufacturing sector, seven thousand in construction and sixty-five thousand in community services, under which the government sector falls, with provincial and national government departments recording notable falls in staff numbers – eighty-seven thousand part-time employee jobs were lost while twenty-two thousand full time jobs were gained. Furthermore, easings of individuals in this category (community services) rose by R454million.
Government has been cleaning up its payrolls, deleting ghost workers (individuals on the system who cannot be accounted for in reality, often a form of corruption), with a recent report of thirty-six thousand ghost employees in one province alone (Northwest) according to the premier.    
Bonus and overtime payments of R61bn were recorded in Q2.21, again with the bulk made up by the sector government falls into, community services, at R18.7bn, while taxpayers in the business services sector saw a drop of -R9.8bn in Q2.21 versus Q1.21, which will negatively impact government tax revenues. Overall, for the economy, bonus and overtime payments fell by -R7.3bn in Q2.21.  The transport sector saw the most paid in bonuses and overtime, at R3.2bn in Q2.21.
Employment remains well below 2019's levels, on the harsh rest to the economy from the lockdown restrictions applied in 2020 in the second quarter, as extreme harm was caused to economic activity. 
Total employment is down by 6.5% in Q2.21 compared to Q4.19 which was the last quarter unaffected by the extremely harsh Covid-19 lockdown restrictions imposed by the government in March 2020.
The manufacturing industry saw its sixteen thousand job losses from full time employees, versus a one thousand part time employee gain, taking it to fifteen thousand losses overall in Q2.21. The manufacturing industry has been hard hit by the lockdown, surging transport costs globally, high commodity prices and heavy government rules and regulations which have increased over the past decade, the latter reducing business dynamism and so activity.
The construction industry was worse hit on a switch in labour dynamics basis, as eleven thousand full time employees were lost and four thousand part-timers gained, yielding the seven thousand lost overall as this industry has been particularly hard hit by the lockdown restrictions and ongoing partial or full closure of councils retarding the approval of plans and so construction activity.
Slow productivity also impedes plans approvals, and so hiring and construction activity.
Read the full report here

SARB keeps rates unchanged

23 September 2021
The SARB's monetary policy committee keeps rates unchanged at 3.50% even as inflation looks set to increase, at least in the short term.


The SARB's monetary policy committee (MPC) unanimously decided to keep the repo rate unchanged at 3.50% for now. However the implied policy rate path of the SARB's Quarterly Projection Model (QPM), which is highly dependent on new data and risks, "indicates an increase of 25 basis points in the fourth quarter of 2021 and further increases in each quarter of 2022 and 2023".
The SARB's inflation expectations for this year have increased slightly to 4.4% (from 4.3% previously), while its 2022 and 2023 projections remain unchanged at 4.2% and 4.5% respectively. 
Overall risks to the short-term inflation trajectory remain. "Global producer price and food price inflation have surprised to the upside in recent months and could do so again", according to the SARB, although Agbiz does still expect food price inflation to moderate on the "possible softening in grain-related products, dairy and vegetables, " while the outlook for meat prices "remains uncertain for now". Another risk to the short-term inflation outcome is the oil price which picked up notably after dipping in August and remains volatile. Additionally, the persistent risk of electricity and other administered prices remains.  
Longer-term risks to the inflation trajectory include higher domestic import tariffs, rising wage demands and a softer rand. Althought the domestic currency has appreciated nominally by 1.5% against the US dollar for the year to date, it has depreciated on a trade-weighted basis by 1% since the July MPC meeting. Accordingly, the implied starting point for the rand forecast has been revised to R14.47 against the greenback, from R14.40 previously.
The IMF's global growth forecast of 6.0% will be revised in October. Rising infection rates in a number of countries could weigh on the outcome. Global growth continues to remain uneven with emerging markets lagging developed economies, prejudiced by slower vaccination rollouts and limited fiscal stimulus.
South Africa's economy has been buoyed by favourable commodity prices, however it remains fragile. The looting and social unrest that occurred in July along with the tighter lockdown restrictions will  weigh on Q3.21's GDP outcome. While the SARB's GDP forecast for 2021 has been revised upwards to 5.3% y/y from 4.2% y/y previously, growth expectations for 2022 and 2023 have been lowered to 1.7% y/y (from 2.3% y/y) and to 1.8% y/y (from 2.4% y/y) respectively. Indeed, the events that took place in July, coupled with the devastating effects of the pandemic generally, "are likely to have lasting effects on investor confidence and job creation, impeding recovery in labour-intensive sectors hardest hit by the lockdowns".
The SARB continues to evaluate the risks to the medium-term domestic growth outlook to be balanced, "as most of the bounceback from the recovery is now in the past". Elevated export prices are expected to wane, while SA's elevated unemployment rate and low labour absorption rate will continue to constrain household expenditure (which accounts for 60% of GDP). Additionally, electricity supply constraints and the potential for further waves and lockdowns remains a risk to economic recovery.
Read the full report here

Waning global Covid-19 numbers of new infections

23 September 2021
FOMC signals that tapering is not far off and strong aversion of many populations to lockdown restrictions, shows the growing wish to put the pandemic behind us.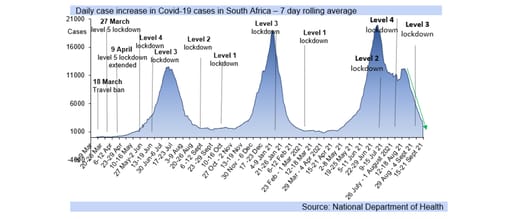 South Africa's ongoing plunge in its seven-day rolling average of new Covid-19 cases indicates that a move to level 1 restrictions in the country will not be far off, if the curve continues to collapse, with early October likely. 
The US, in comparison, is not faring as well, and has still not seen its third wave peak, while deaths from Covid-19 continue to climb, and the number of individuals in ICU is still near the second wave's highs, and not subsiding, negatively impacting its growth outlook this year.  
Vaccinations in the US have finally reached 60% (in forty-five places) full coverage (the UK is at 70%), while South Africa is at 16%. South Africa has seen a particularly harsh third wave, with many deaths and this has knocked business, and consumer, confidence too.  
Australia has seen a third wave over triple the peak of its second wave (although it is not certain that its third wave has peaked), and deaths are still climbing, but the population has shown very clear discontent with the lockdown restrictions.
Anti-vaccination sentiment has slowed the rollout of vaccines in many countries, as well as increasing the risk of the creation and spread of variants, with the virulent delta variant driving much of the third wave around the globe, and first identified in India.
Low vaccination rates in populations risk variants developing and spreading. Egypt has vaccinated only 6.5% of its population on a full coverage basis (also Bloomberg), and recently moved off the UK red listed counties, to amber (SA remains on the UK's red list).
Kenya, also migrating off the US's red list in early October, has a total coverage vaccination rate of its population of 3.6%. Bangladesh at 11.6%, and also leaving the UK's red listed countries from early October, along with Pakistan at 18.3%, are close to SA's 16%.
The other countries to migrate off the UK's red list in early October are the highly vaccinated islands of the Maldives (97.3%),  and Turkey (64%), Sri Lanka (57.6%) and Oman (55.3%), which opens up substantial tourism and revenue to the migrating countries. 
Travellers who are not fully vaccinated with authorised vaccines will still have to self-isolate on returning to the UK for ten days, even from non-red list countries, and measures against the non-vaccinated are beginning to be tightened up globally in many ways.
Read the full report here

SA could see level one in October

17 September 2021
With the third wave over in Gauteng and declining elsewhere, October could bring a further easing of restrictions and much-needed relief to the battered economy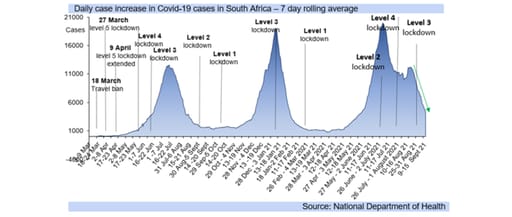 Although the global recovery is well underway, driven by a rebound in the world's largest economies, low vaccination rates continue to impede growth in developing countries.
For the most part, higher income countries tend to have relatively high vaccination rates, with Australia and New Zealand -- both still below 50% fully vaccinated -- the obvious exceptions. The US has now reached 60%. However the global vaccination rate is only 38.1% and South Africa's fully-vaccinated population stands at just 15%.
India, with a population of 1.4bn is only at a full vaccination (coverage) rate of 28%. Indonesia, the fourth most populous country in the world is at 22% and of Nigeria's population of R200m, the world's seventh-largest, only 1% are full vaccinated.
UNCTAD warns that "the biggest risk for the global economy is that a rebound in the north will divert attention from long-needed reforms without which developing countries will remain in a weak and vulnerable position".
The UN agency further highlights, along with the IMF, the danger that "talk of a post-Covid world distracts policymakers from the need for continued support to poorer nations, many of which still lack vaccines."
Most African countries are at full vaccination rates of below 10%. UNCTAD and the IMF both note that policymakers in advanced economies have been slow to appreciate the size of the shock in developing countries, or its persistence.
"The pandemic has often been seen as an opportunity to 'build back better' and rethink the principles of international economic governance. But the chances of that happening risk slipping away again, as after the global financial crisis." 
The IMF, World Bank Group, World Health Organization and WTO warn that without urgent action, even the modest goal of vaccinating at least 40% of the population by the end of the year will prove unattainable.
Read the full report here

MPC preview: SA repo rate unlikely to change

15 September 2021
SARB Governor's message to Parliament is that inflation will likely remain contained around the 4.5% midpoint target


Read the full report here

South Africa's lengthy third wave may have extended the timing until the fourth

10 September 2021
The fourth was is expected as early as January, it will be variant dependent with vaccination levels still too low to prevent it.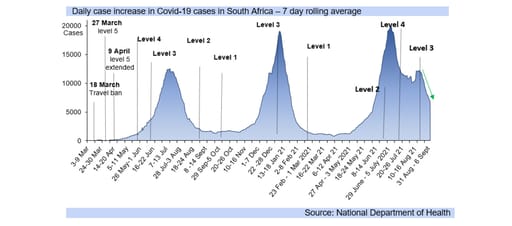 South Africa's third wave has proved more severe than the first two but has also seen less harm vested on the economy, with more sensible lockdown restrictions. However, but the harm done from the first lockdown on employment is still in the system.   
While lockdown restrictions are expected to fall to level two fairly soon, the real changes needed to repair the damage to employment in SA, both from lockdowns and the lost decade of the 2010s, is structural reforms, which remain too slow.
All provinces have now seen a subsidence in their seven day rolling averages of new daily Covid-19 infections, as South Africa's third wave is working its way out the system, with the number of new deaths each day recorded from Covid-19 notably easing as well.
South Africa's total seven day rolling average of new Covid-19 infections has dropped to 6,662 from 8,776 last week and 11,706 a week before that, while Gauteng is down to a seven day rolling average of 514, the Western Cape 1,347 and the Eastern Cape 1,245.
Kwa-Zulu Natal has the highest cases still, at 1,757 on a seven-day rolling average, with the other provinces below 1,000. Vaccinations administered are at 14.3 million, covering 13.8% of the population, with an estimated sixteen months now to 75% coverage (Bloomberg).  
Vaccine fear, hesitancy to just outright disinterest continues to be the major factors impeding SA's vaccine rollout, with insufficient vaccines likely delivered in time to prevent a fourth wave of infections in SA, which could now make itself felt as early as January.
The lengthy period of the third wave has pushed out the timing of SA's likely fourth, although this will also be highly dependent on the timing of a virulent variant. The third wave is being driven by the delta variant, and SA's second wave by the beta variant.
The World Health Organisation's (WHO) current variants of concern (VOC) are alpha, beta, gamma and delta, and variants of interest (VOI) are eta, iota, kappa, lambda and mu, although the WHO is tracking these to determine if any should become VOCs. 
The most recent identified VOI was mu on 30th August 2021, and retains some risks of developing into a VOC. The delta variant became a variant of concern on 11th May 2021, just over a month after becoming one of the WHO's variants of interest on 4th April 2021.
Read the full report here

Its not just the riots suppressing business confidence

9 September 2021
Low government productivity continues to impede higher levels of business activity


The RMB/BER business confidence index (BCI) dropped to 43 in Q3.21, meaning that 57% of businesses were depressed with prevailing business conditions. KwaZulu-Natal fell from 77% to only 27% satisfied with prevailing business conditions due largely to July's riots (the responses were surveyed between the 11th and 30st August).
While some of the early economic indicators for August show that the impact of the riots in July are starting to be overcome, and others for July show somewhat less of a marked impact than may have been feared, this is irrelevant for the high unemployment rate in SA and growing joblessness which is a longer-term factor.
The extremely high unemployment rate in South Africa, of 34.4% is wider for those fifteen to thirty-four years of age who are unemployed and not undergoing education or training, at 45% - or around nine million individuals. There are close to seventeen million South Africans of zero to fourteen years of age, 28% of the population, and the population growth rate in this segment has soared over the past decade. SA has a population of sixty million.
However, prospects of employment are weak with close to eight million fifteen years old and older unemployed, or eleven million including those who have given up seeking work (the discouraged). It is consequently hugely problematic that businesses efforts to expand and employ more are blocked by government's slow productivity such as the backlog of prospecting mineral licenses, permit renewals etc. With many prospective mines in rural areas, government has to rapidly spark private sector employment by eradicating backlogs of mineral prospecting licenses (and renewing permits), as well as approvals for building projects at councils to boost employment in the construction industry. These industries train and upskill workers – which is vitally needed in SA.
However, government also needs to cease importing labour from other counties such as Cuba and India when SA has its own engineers, IT skills and many other unemployed university graduates. Absent better government policies which actively support all South Africans in business and jobs creation, and in all sectors, SA will not return to the low unemployment rate of 21% achieved by the Mbeki inclusive growth years (despite denialism (absent recognition) of this to further factionalist agendas), nor will SA's unemployment rate drop lower towards single digits as SA was on track to see under Mbeki's government before his presidency was prematurely ended. 
While some private sector participation has begun, this needs to be widespread, and blockages to private sector service provision and general business activity needs to be eradicated – the size of the private business sector must triple to absorb the unemployed, not be constrained by state controls, interventions and poor state productivity, and growing size of the state. SA is already in an extreme unemployment crisis.
Read the full report here

Weak uptake impedes SA's vaccination progress

3 September 2021
The third wave is moderating, but low vaccination rates raise the risk of more resistant variants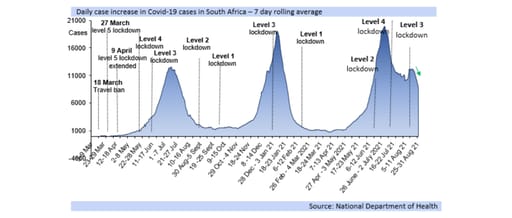 Infection rates in KwaZulu-Natal, the Eastern and Western Cape have decreased (on a seven-day rolling average basis). Gauteng's rates are down dramatically, while the Northern Cape, North West Province and the Free State are moderating.
Overall, South Africa's seven day rolling average of new daily cases of Covid-19 infections has moderated noticeably, to 8,776 from 11,706 a week ago and 12,021 a week before that, after seeing a second, small, spike three to four weeks after July's riots.
Deaths from Covid-19 in South Africa are still fairly elevated, but showing potential signs of moderating, although the third wave is proving lengthier, and seeing less of a material decline at the same point of the second wave - the current wave is lasting longer than the first two.
Indeed, the third wave is still at very elevated levels, and not at a level appropriate to lessen social restrictions, while there is no certainty at all it will fall rapidly enough by 27th October to allow municipal elections to be held with safety.
With the national state of emergency extended to 15th October, it is still uncertain whether the municipal elections will go ahead in October. SA could "look forward to" reduced lockdown regulations if infections decrease or stabilise, the Health Minister is reported to have said.
Reportedly adding on the vaccination front, that government is "looking at soft incentives. People are hungry for entertainment", "for instance, we are saying so many people can go to soccer stadiums if they are vaccinated."
And the "priority is to mobilise people to come forward voluntarily and take the vaccine," with a vaccination rate of over 90% for over thirty-fives touted as the rate needed to avoid a fourth and fifth wave – SA is currently at 12.7% with 13.1million vaccines administered.
Bloomberg estimates it will take twelve months from today for South Africa  to reach a vaccination rate of only 75%. South Africa's fourth wave is expected by the end of the year, and could well be heavily aided by the municipal elections going ahead. 
The new variant of interest in SA, C.1.2., is, as variants are, a result of a high rate of non-vaccinated individuals in a population. 87.3% of South Africa's population is not vaccinated. Researchers do not know yet if C.1.2. is more contagious or deadly than other variants.
Read the full report here

SA's third wave is proving very sticky

27 August 2021
Last year's harsh lockdowns see salary levels still well below Q1.20's and unemployment has shot up, providing a truer reflection of the impact of lockdowns on jobs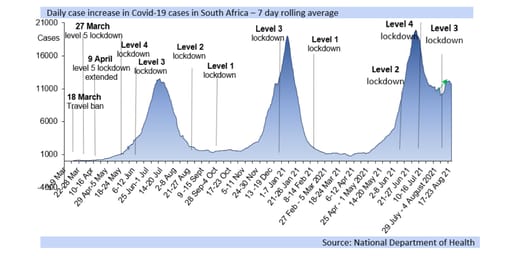 South Africa's seven day rolling average of new daily cases of Covid-19 infections has moderated slightly again, to 11,760 from 12,021 a week ago and 10,187 a week before that, after seeing a second small spike, with upwards pressure coming from a number of provinces.
The Eastern Cape is now showing average weekly cases two and a half times above where it was a month ago, following the Western Cape higher, with the Northern Cape and Free State, also neighbouring provinces, following suit, adding to the uncertainty.
While the Gauteng statistics continue to see a strong declining trend, the high transmissibility of the delta variant is proving to prolong the third wave, as do events where a vast many congregate such as protests, and now there are worries over the October municipal elections.
Deaths from Covid-19 in South Africa are elevated currently, and while not reaching the  peaks of the second wave, they are proving more lengthy and seeing less of a material decline, as the current wave proves longer lasting than the first two. 
Given the devastating damage to household finances, government finances and the economy overall from the Q1.20 lockdown, further substantial tightening in restrictions is not expected, and the risk is that Covid-19 could be with SA for many years.  
Vaccinations are currently at 11.6 million in SA, at close to 12% of the population fully covered (Bloomberg), and while low-income economies are well below this, relatively low vaccination rates do encourage the development of new variants.
Bloomberg now estimates it will take a year for SA to reach a vaccination rate of 75%. The slow, and interrupted, pace of the descent of the current third wave is pushing out the likely start of South Africa's fourth wave towards the end of December. 
However, there is greater uncertainty this time around, and it is in significant part due to the very high transmissibility of the current delta variant, which is still working its way through a number of provinces, and there is no certainty the nation's curve will decline imminently. 
The death rates are not yet showing notable decline either, and such is the danger of new variants, with many more still possible if vaccination rates across the globe do not rise rapidly, it is insufficient for just a few countries to have high levels of complete vaccinations.
Read the full report here

New set of statistics pushes up our GDP forecast for this year

25 August 2021
Increasing the size of the economy reduces future government's debt and deficit ratios and pushes up our 2021 growth outlook


Statistics South Africa published a new set of statistics for GDP after its normal five yearly rebasing and benchmarking exercise, which pushes up our GDP forecast for this year to 4.2% y/y, on higher weightings to faster growing sectors, and upwards revisions to the Q1.21 outcome.  
The new GDP figures lowers gross debt to 71.1% for 2020/21 from the previous 80.3% of GDP, lowering the 2021/22 estimates too, to a gross debt ratio of 73.5% from the previous forecast in the 2021 Budget Review in February of 81.9% of GDP, and for 2022/23 to 76.4% (February estimate 85.1%) and 2023/24 to 78.4% (previous estimate 87.3%).
In addition, the GDP revisions also serve to lower the budget deficit ratio to -12.4% of GDP from 14.00% for 2020/21, and to -8.4% of GDP (February estimate -9.3%) for 2021/22, and for 2022/23 to -6.6% of GDP (previous estimate -7.3%) and 2023/24 to -5.7% (from -6.3%), but again assuming no additional expenditure.
This will be pleasing to the rating agencies, but still shows rising debt as opposed to stabilisation, and also assumes no additional borrowing. SARS recently said greater revenue collection compared to that budgeted is expected to adequately cover the cost of fiscal assistance to lessen the recent riot's impact.
Specifically adding that, Q2.21 saw significant growth in commodity prices which will have benefited both exports and tax revenues, while VAT and corporate tax collections grew faster than expected as well covering the cost of the vaccines and riot relief without having to resort to borrowings.
Read the full report here

Third wave in SA has proved volatile, spiking up this week

20 August 2021
Western Cape and KZN climb on the highly contagious delta variant with fatalities elevated as well


South Africa's seven day rolling average of new daily cases of Covid-19 infections has risen sharply, to 12,021 from 10,187 a week ago, now back at the level of the last week of July, as the third wave continues to prove uneven through provinces.
The risk is that this national spike gains momentum, with the Eastern Cape now showing worrying evidence of following the Western Cape. The Northern Cape and Free State, also neighbouring provinces, are seeing a steepening in their curves.
Limpopo and Mpumalanga are showing a small upturn, having followed Gauteng in their initial third waves. The country has officially recorded 2.7million cases of Covid-19 since early last year, out of a population of 60 million.
KZN also replicated Gauteng's third wave to a lessor extent as Mpumalanga and Limpopo did, and then embarked on a more rampant second leg of its third wave, which is the risk for the other provinces.
Fatalities from Covid-19 are particularly elevated in the Western Cape, and seeing a protracted and severe trajectory, with the initial slow rollout of the vaccine nationally heavily to blame, along with vaccine hesitancy circulating as well through SA and globally. 
So far, South Africa has administered 10.2million vaccines and has a 10.4% coverage rate of its population, i.e. the number of doses required for each type of vaccine administered to provide full coverage  (Bloomberg).
The opening up of the vaccine to the age group 18 to 34 has seen huge take up today as 'pro-vaxxers' desperate to get jabs join many long queues in relief to get the potentially life saving vaccination, a necessity given the virulency of the delta variant.   
With far too many deaths, Covid-19 fatalities are recorded at 78 694 officially but health experts in the field estimate it may be three times this, getting a longed for vaccine shot raises sentiment enormously for those vaccinated and is positive for the economy and SA's outlook. 
Despite quickening its vaccination pace over the last few months, South Africa is nevertheless at a dangerously low vaccination rate in order to effectively combat the highly contagious delta variant that is driving its third wave, and saw too slow a start its vaccination.
Read the full report here

Covid-19 infections now decelerating in both Gauteng and the Western Cape 

13 August 2021
Deceleration prompting a sharp drop off nationally, although KZN continues to trend up post its very severe riot action.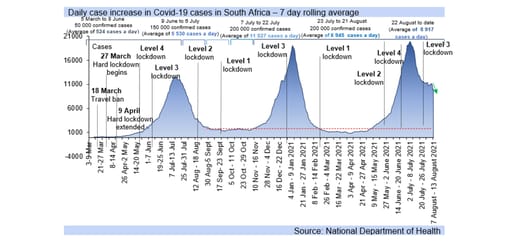 Cheeringly, South Africa's seven day rolling average of new daily cases of Covid-19 infections have dropped to 8,917 from 10,768 a week ago, and 11,403 a week before that (12,727 a week before that), having peaked at 19,956 in early July.
The national curve had very worryingly slowed its descent, and even moved up somewhat following the violent riots which began in KZN, and then were incited to a lessor extent in Gauteng, and only recently has the curve dropped off again. 
Many only end up having tests in their second or third week of Covid-19 infection if they ignore it initially but then become severely ill, and the KZN infection rates rose sharply for three weeks after the insurgency, and have risen further on recirculation.
So far, South Africa has administered 9.2million vaccines, in a population of 60 million, and differences in vaccine administration rates continue across the world, with the UK at 65% coverage of its population and the EU and US around 55% (Bloomberg). 
South Africa is below 10% along with Guatemala, Iran, Botswana, Venezuela, Tajikistan, Nicaragua and Georgia, while Zimbabwe is just above 10%, as is Equatorial Guinea, Pakistan, the Comoros, the Philippines and Bosnia and Herzegovina.  
The IMF highlights that "multilateral action is urgently needed to close gaps in access to vaccines and bring about an end to the pandemic." Absent which, a high degree of loss of lives and new variants will likely occur, reducing the outlook for economic growth.  
The IMF warns, "differences in vaccine access and the ability to deploy policy support are creating a growing divergence between advanced economies from many emerging market and developing economies."
"Faced with high deficits and historic levels of debt, countries with limited access to financing are walking a fiscal tightrope between providing adequate support and preserving financial stability." SA's government finances remain deteriorated well below those of its peers. 
South Africa urgently needs to implement growth enhancing reforms and expectations are high that the new Finance Minister will be instrumental in speeding up the pace, which is increasingly critical on the expansion of the SRD grant, and aid for riot damage.
Read the full report here

South Africa's Covid-19 recovery set back by KZN riots

5 August 2021
July's unrest reversed the declining trend in KZN while the third wave gathers pace in Western Cape

New daily cases of Covid-19 in South Africa have dropped to 10,783, the same rate as early June, with the majority of provinces showing a declining or low, flat trend. South Africa has administered 8.1 million vaccines and fully vaccinated 8.4% of its population (Bloomberg).
KZN was well on its way to a V shaped recovery from its third wave, with cases reaching 1 523 on 12th July, then dropping to 696 by 19th July. But infections then rose sharply in the week following the riots of 11th to 16th. Cases climbed to 1 211 by 23rd July, and have continued to climb since. 
The KZN infection rates can be expected to rise for another few days as a direct result of the riots, as many only test in their second or third week of infection if the ilness has not been severe until then. Cases may continue to rise into the third week of August and beyond due to recirculation.
The negative costs of the riots to South Africans' livelihoods, employment and the economy are still being tallied, with the highly destructive economic sabotage expected to cause a contraction in Q3.21 GDP. Many affected businesses will not recover and jobs will be lost.
Business confidence is expected to plummet, along with employment opportunities in the form of jobs that would have been gained if not for for the violent riots and insurrection led by supporters of Jacob Zuma.
During the decade of Zuma's rule, from 2009 to 2018, the economic growth rate of South Africa collapsed, state capture and corruption escalated rapidly, along with looting of state monies and assets, and governance in many state institutions was severely eroded. The recent actions in support of Zuma have now set South Africa's recovery from Covid-19 back severely, and escalated the death rate from the disease. 
What is needed in response to the destruction of July's riots is a rapid institution of reforms to drive faster economic growth, and in particular bolster business confidence, was well as  a lot more information from government on how it will prevent future insurrections. Thus far, the nation has seen little indication of progress in the critical work of bringing the perpretators of the inurrection to book.
Apart from the immediate priority of restoring safety and security, and preventing further acts of destruction by the insigators of the insurrection, the government must implement with urgency the economic reforms recommended by National Treasury and B4SA. These reforms, focused on the rapid expansion of the private businesses sector, are critical to the revival of business confidence.

Read the full report here

SA's seven day rolling average of Covid-19 cases trending down 

30 July 2021
South Africa's seven day rolling average of daily Covid-19 cases is still trending down, but the Western Cape is seeing an acceleration in its third wave, and KZN too after its riots, but Gauteng retains its deceleration.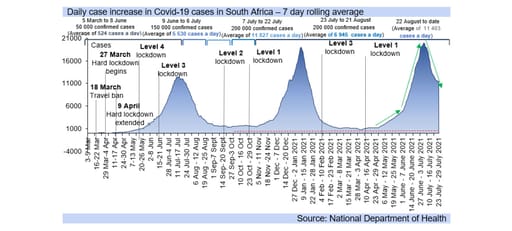 While Gauteng continues a rapid deceleration in its third wave of Covid-19 cases, the lift in the Western Cape and KwaZulu Natal's third waves temporarily interrupted the downwards trajectory of the country's curve overall, but the country's numbers are declining again.
However, KZN has now lost all the gains it made initially in its fight against the third wave before its violent riot action earlier this month and is now back at the first peak of its third wave but is likely to exceed it its cases continue to climb as a result of its insurgency.
It can take up to two weeks or more before positive tests come through, and longer for cases which end in fatalities with no testing before, with KZN also at particular risk in its vaccination drive following destruction of infrastructure and lingering concerns over safety and security.
South Africa has administered 7.3 million vaccines, a 1.3 million jump from last week, speeding up its vaccine rollout, with vaccinations back under way in most sites in KZN and Gauteng and the coverage ratio for the population is now at 7.5% (Bloomberg). 
The coverage ratio "divides the doses administered for each vaccine type by the number of doses required for full vaccination". Government still aims to deliver 35 million doses by the end of the year, using the two dose Pfizer and single dose J&J vaccines .
South Africa is now expected to cover 75% of its population in twelve months' time, taking it into the second half of 2022, while the global average to reach coverage of 75% of the world population is seen at six months (Bloomberg estimates).
The EU and UK are expected to achieve 75% coverage in two months, the US within seven months, Brazil and Taiwan four months, Columbia five months, Peru, South Korea and Russia six months and India eleven months.  
We continue to believe South Africa is at risk of its fourth wave beginning as early as November this year, with a fifth wave in the second half of next year, while vaccine hesitancy is apparent in the population, with significant numbers choosing not to have the vaccines.
With the lift in the country's seven day rolling average only occurring for one day, Wednesday this week, and Thursday resuming the decelerating trend, there is no need for any tightening of lockdown restrictions, and these would be very detrimental to the current weaker economy.
Read the full report here

MPC Review: repo rate unchanged with hike unlikely in 2021

22 July 2021
South Africa leaves its repo rate unchanged at the July MPC meeting, indicating a likely hike in Q4.21, although we currently don't think this will transpire given that the inflation forecast for 2022 has been revised lower.

The Monetary Policy Committee's (MPC) unchanged stance on interest rates saw the rand weaken, to R14.66/USD, with many EM Central Banks having hiked rates. However, there was pressure coming though from the MPC for longer-term normalisation of monetary policy.
The SARB highlighted that financial market and economic conditions are expected to remain volatile for South Africa in the foreseeable future. Global growth is a concern on the spread of the delta variant, while recent unrest in the country has clouded the economic outlook.
Worries over tighter lockdown restrictions, and the negative impact on global growth in key economies is a particular concern, with commodity prices having weakened, particularly metal prices, which has negatively affected the rand this week.
The SARB lifted its inflation forecast for this year somewhat, to 4.3% y/y from 4.2% y/y, but it is the expected inflation outcome six to twenty-four months out, and particularly twelve to eighteen months out, which influences the SARB repo rate decisions.
While the SARB lowered its 2022 inflation outlook to 4.2% y/y from 4.4% y/y, and left its 2023 inflation outlook unchanged at 4.5% y/y, the midpoint of the inflation target range, it projects hikes in the repo rate this year and next (25bp in Q4.21 and over 100bp in 2022).
It forecasts yet further interest rate hikes over 2023, totalling around 100bp, but adds this is still highly accommodative monetary policy as the differential between inflation and the repo rate only rises to 0.5% by the end of 2023, with a neutral level instead seen at 2.0%.
The economy is unlikely to be particularly robust over 2022 or 2023, and such a 2.25% hike in the repo rate is currently unlikely.
The SARB forecasts weak economic growth of 2.3% y/y in 2022 and 2.4% y/y in 2023. For 2021 it forecasts 4.2% y/y, although this is at risk.
The SARB's interest rate forecasts from its quarterly projection model change frequently, and the SARB also ignores the projections depending on the conditions in the economy. However, faster economic growth will not be achieved by lower interest rates but by structural reform.
Impasses in policy proposals need to be overcome so that economic growth enhancing reforms are promoted, and SA urgently needs to sees efforts to boost business confidence through cutting red tape and the regulatory burden, and adopting free market policies.
Read the full report here

SA's economy will be hit hard by looting and destruction

16 July 2021
Orchestrated destruction of infrastructure and looting will also delay the vaccine rollout and may already have caused a lift in Covid-19 cases.

While much of the widespread looting over the past week was clearly an expression of desperation and criminal opportunism, the South African government has now acknowledged that the unrest was instigated as part of a deliberate campaign to sabotage to the economy and render the country ungovernable. The situation appears to be largely contained, thanks in part to the eventual deployment of the SANDF to the worst flashpoints, but fresh reports have emerged of attempts to attack the country's key strategic sites.
These sites apparently included the Durban Harbour, electricity sub-stations and power plants, water treatment plants and chemical plants, with sabotage also extending to major supply routes including the railways and highways. In the event, the destruction extended past retail outlets and included factories, funeral homes and actual dwellings as well.
With the police and army slow to respond effectively to the unrest, quelling the rampant lawlessness required the additional efforts of private security companies and community members themselves. Although at its worst the conflict fell well short of actual civil war, risk was certainly there, and violence escalated to near-wartime proportions in some areas.

The violence appeared to be well-orchestrated, with simultaneous actions arising in KwaZulu Natal and Gauteng rather than spreading organically through the Free State, as one might have expected had it been the result of a spontaneous groundswell, and reports have emerged of key instigators fuelling mobs within communities.
In particular, a handful of instigators are reported to have broken down barriers to allow mobs to enter buildings and loot, while urging the destruction of premises, encouraging arson and other acts of destruction early on.  
With the success of the initial looting sprees on the weekend widely circulated, the outbreaks became more frequent early this week, on criminal opportunism and poverty combined with clear acts of premeditated violence and destruction.
With South Africa in the midst of a third wave of Covid-19 infections, the unrest could not have come at a worse time. Against the backdrop of communities fearing for their safety, unwillingness to venture out for Covid-19 tests may be assumed, particularly in KZN, and it is difficult to know how reliable the latest official Covid infection rates are.
After dipping to 11 182 a day, new daily cases of Covid-19 lifted to 17 489 midweek, with many at risk from increased infections on the riots. South Africa's vaccinations have only reached 4.9million doses so far and the riots risk spreading Covid-19.
South Africa is administering just under 200 000 vaccines a day, with the recent unrest having disrupted a number of vaccination sites and slowed government's efforts, with GDP growth currently likely to come out at 3.9% y/y this year on the hit to the economy in Q3.21.
Read the full report here

Third wave may have peaked in Gauteng, risks abound for complacency

9 July 2021
The infection rate is still extremely high, and will not subside instantly, with more deaths to come and vaccinations increasing modestly.

Government is in the process of quickening vaccination rollout from around 100,000 a day, (reaching close to 200,000 yesterday) towards 250,000 to 300,000 a day, although sites fail to keep the momentum going over the weekends, evidencing it is still not a 'wartime effort'.
At over four hundred recorded deaths a day from Covid-19 yesterday, and four hundred and fifty-seven on Tuesday, this is a ramping up from around two hundred deaths a week ago, as the Covid-19 third wave of fatalities follows infections, with a couple of weeks lag. 
Furthermore, deaths currently recorded from natural causes are reported to be particularly high. Many who do not go for testing may succumb to the disease at home instead, raising the overall death rate in the country, but not necessarily being recorded as a Covid death.
Government reported today that "there is an ongoing rise in infections, hospitalisations and Covid-19 related deaths in SA", and that "in the last 24 hours, 22,910 new cases, were reported, representing a 34.4% positivity rate. Of these, 11,747 were in Gauteng".
Furthermore, from mid-July, those in the thirty-five to forty-nine-year-old age bracket will be eligible to register for vaccination on the state system, although those heavily affected by co-morbidities are not able to do so alone, and remain very vulnerable to fatality from Covid.
Government adds, "over 4 million people have received at least one dose of the vaccine", with Bloomberg's vaccine tracker for 8th July (using 7th July data) showing 6.2% of the population have received one dose and 4.2% are covered in the sixty million population.
Updating the ratio to today's published four million administered vaccine doses (4,017,442) yields a ratio of 6.7%, and would bring those estimated by Bloomberg to be fully vaccinated from 2.1% to closer to 3.0%, but this is still well below most other emerging market countries.
Poland has covered 81% of their population, Chile 62%, Hungary 55%, Singapore 52%, China 48%, the Czech Republic 38%, Turkey 34%, Hong Kong 28%, Argentina 26%, Brazil 26%, Romania 23%, Columbia 20%, Mexico 19% and the other emerging markets below this. 
The quickening in SA's vaccine drive is welcome. Administering 300,000 vaccines a day would allow SA to reach around 36% covered (on a two-dose basis) by early next year - if SA begins administering 300,000 doses a day from next week (with weekends still excluded). 
Read the full report here

SA's third wave approaches the peaking level of the second

2 July 2021
Absent new, harsher Covid variants, the move to vaccinate over 50s will help to reduce severity of future waves

South Africa's seven-day rolling average in new Covid-19 cases has jumped rapidly again, now at 16,916 from 13,009 last week and 9,124 the week before.
In Gauteng, the worst-hit province, the third wave is already far more severe than the first two, with no end yet in sight. Gauteng's caseload is now above 662,300, up a huge 78,291 individuals in a week from 58,136 the week before. The province's seven-day rolling average in new Covid-19 cases is at 10,613, up from 8,305 last week and 5,737 the week before that.
Nationally, Covid-19 deaths are up to 383 a day, from 166 a day seven days ago, and 77 seven days before that. Although the numbers are volatile, there is evidence of an upwards trend from the end of April, and a spike more recently. The country is broadly tracking Gauteng's earlier trajectory, although provincial peaks could be lower than Gauteng's.

The Western Cape is showing a marked quickening in its new daily cases on a seven-day rolling average, now at 1,619 from 1,246 a week ago, and 882 a week before that, as its trajectory mirrors that of Gauteng towards the end of May. 

The North West province too is still showing a marked jump up in new daily infections,  with 1 025 recorded on a seven day rolling average, from 778 a week ago, and 573 a week before that, also mirroring Gauteng's trajectory, but earlier in May (around 18th).

KwaZulu Natal also evinces this trend, at 935 new cases on its seven-day rolling average from 599 a week before that, and it is at an earlier stage, and Limpopo at 824 and Mpumalanga this week from 474 and 510 a week before respectively.  

The other provinces' current seven-day rolling averages of new infections are below 500, but nevertheless increasing in the main. Recent lockdown restrictions will serve to eventually limit the spread, although it takes around seven days for infections to occur after contagions and two to three weeks for deaths to occur for those fatally affected.

Vaccinations are now just above the three million mark, at 5.2% of the population, still increasing at around 100,000 each weekday.

Read the full report here

The third wave continues to build in SA

25 June 2021

Third wave strongly led by Gauteng, with the Western Cape and North West Provinces following suit, with tighter lockdown restrictions for Gauteng a sensible province by province approach.

South Africa's seven-day rolling average in new Covid-19 cases is at 13,009 up from last week's 9,124, and 5,959 before that, as the third wave continues to build rapidly in South Africa, with Gauteng's caseload now at 588,009, up a massive 58,136 individuals in a week.
Mobility data (compiled by Our World in Data) shows a rise in May 2021 in the number of visits and time spent at retail outlets and places of recreation, along with visits to grocery and pharmacy stores and people leaving their homes, tying in with the sharp rise in the third wave.
The google data further shows that there has been a 20% drop-off so far in individuals going into workplaces since the third wave began in South Africa, although this was closer to 70% last year in level 5 lockdown.
Indeed, overall physical attendance at workplaces have remained below pre-pandemic levels overall for South Africa, evidencing that many have remained working from home since March last year, typically down by around 20%.
The duration of time people spent at home in level five rose by close to 40% compared to pre-pandemic (February 2020), and currently is rising to 20%, from closer to 10% above February 2020's level of time in periods from level 3 restrictions with no covid waves.
This shows that South Africans are managing their exposures to others as the waves of Covid-19 wax and wane, and that visits to parks and transit stations (public transport stations) have been curtailed in particular, although responsiveness is to a lesser extent for workplaces.
With individuals better able to control their freedom of choice in deciding on attending parks and using public transport, as opposed to physically being in workplaces, this indicates more individuals would probably choose to work from home than is being allowed. 
Additionally, many visits to grocery and pharmacy stores, as well as places of entertainment and retail outlets are the travels of workers at these places. Nevertheless, there is also indication of a sharp rise in individuals shopping and visiting restaurants etc. versus level 5.
South Africa has vaccinated 2,550,248 individuals (4.2% of its population), up from 1,974,099 a week ago. There is strong evidence of pent-up demand, which will be released into stronger economic growth on approaching herd immunity (75% of the population vaccinated).
Read the full report here

Industrial production reflects economic recoveries around the world

24 June 2021
Globally, PMI readings continue to show extremely strong recoveries in manufacturing production

Manufacturing production is ramping up rapidly as the world's leading economies recover from the impact of the pandemic. The resultant higher demand for industrial commodities has seen prices continuing to show good growth, up 83% y/y and 2.1% m/m, with metals prices up 3.5% m/m, 101% y/y (June Economist indices).
Rising commodity also continue to provide support for the rand, despite recent weakness after the US FOMC meeting, which signalled that rate hikes in the US may happen sooner than previously expected. The news spooked markets at first and also saw the rand lose 72c against the US dollar. However, following subsequent placatory comments by the Fed, equity markets began to bounce back and the rand made back 21c.
The rand is very heavily influenced by metals prices, as well as foreign investor portfolio flows and market risk sentiment; the latter being bolstered somewhat last night as Fed chair Powell reiterated the Fed will not raise rates quickly despite inflationary pressures.
The main inflationary impact of higher commodity proces tends is felt in energy and food, both of which moderated in June. The Economist indices show a June drop of -4.0% m/m for food and -5.7% m/m for non-food agricultural prices, which should slow price pressures somewhat in that month, after May's -2.1% m/m and -7.6% m/m drops. But annual inflation remains high as the basis of comparison is the severely depressed levels experienced at the height of the global pandemic last year.
Overall price increases on a year ago are heady due to these base effects, but strengthening demand has also lifted commodity prices materially, while industrial production for most key economies is at or near historic highs.
June's global copper users PMI (operating conditions for heavy users of copper) is at its highest level since 2010, with aluminium users PMI seeing the fastest growth also since 2010, as is the steel users' PMI, with supply chain pressures still a key issue (IHS Markit).
South Africa's IHS Markit PMI shows production expanded in May, with new orders rising for its manufactured goods, mainly from domestic, as opposed to foreign clients,  while confidence on future output was strong -- the highest in three years. 
Read the full report here

Third wave accelerating sharply amidst sluggish vaccine rollout

18 June 2021
Poor take-up among the elderly is a constraining factor in the pace of the vaccination programme.

South Africa's seven-day rolling average in new Covid-19 cases is at 9,124, well up from 5,959 a week ago and 1,210  at the start of May, as the third wave now builds rapidly, with Gauteng's caseload now at 529,873, up a massive 40,162 individuals in less than a week. 
The level three restrictions recently imposed are still fairly supportive of both the economy and the need to foster faster employment creation to support livelihoods, while clamping down on social interactions, with the latter key to limiting the spread of Covid-19.

However, limiting indoor gatherings to fifty and outdoor gatherings to a hundred will still not be sufficient to cease the spread of Covid-19, while many are still not heeding the work from home call whenever possible, which is vital to help to prevent new waves

Indeed, many companies showed strong resilience through instituting work from home processes very rapidly, productively and successfully, from late March last year, and this should be maintained where possible to limit the current wave and help limit future ones.

South Africa currently has vaccinated 1,974,099 individuals with at least one dose, 3.4% of its population, but it remains far from the 40.2 million (two-thirds) mark, with only healthcare workers and those over sixty eligible, despite a weak take-up of the elderly for the vaccines.

South Africa needs to urgently speed up its vaccination rate, and allow vaccinations for those over forty-five, particularly for all the individuals who work in essential services, and so are necessary for the successful functioning of the economy.

SA also needs the delivery of vaccines to ramp up, with greater available supply and more administration sites with better management, with some individuals reportedly scheduled to obtain their vaccines over the weekend, but often finding sites closed. 

The economy is not going to see a speedy recovery on a slow vaccination rollout process, while microeconomic reforms aimed at increasingly closing SA's economy to international trade, among other DTI proposals, are negatively impacting business confidence.

Increased localisation without sufficient electricity, water, and supply of other necessary inputs (with production of many raw materials decreased over the past decade) could see sharp price implications, as well as risk shortages, quality, and current jobs and industries.

Read the full report here

South Africa's third wave intensifies

11 June 2021

South Africa's third wave showing a recent, worrying quickening in pace, to growth of 37.2% week on week (w/w), from 21.7% w/w a week ago, in line with the path of the previous two waves of new infections.

South Africa's seven-day rolling average in new Covid-19 cases is at 5,959, well up from 1,823  a month ago, as the third wave accelerates in severity, with Gauteng still seeing the highest caseload, at 489,711 overall, and up a massive 24,043 cases on a week ago. 
The Western cape is up 3,695 cases to a week ago (298,743 total recorded so far since Covid-19 took hold in SA last year), KwaZulu Natal up 1,898 w/w (overall total 342,291), and the Eastern Cape up 1,161 w/w (to reach an overall total of 199,400).  

The Free State and the North West Province have had jump-ups too over the past week, similar to the Western Cape, by 3,226 (to 105,932 cases recorded overall) and 3,171 (to 80,569) respectively, while the Northern Cape rose 2,008 w/w (to 51,782).

The other two provinces are seeing slower increases, respectively Limpopo at 1,026 (taking it to 66,832) and Mpumalanga 1,575 (84,818). Administered vaccinations now sit at 1,619,011 in South Africa, versus 1,193,352 a week ago.

South Africa has managed to get to a 2.7% vaccination rate for its population, after a very slow start from February to April, with May and June so far, seeing a marked quickening, but a quicker start in February would have paid dividends now in lessening the third wave.

South Africa has administered around 700,000 vaccines in June to date, and if this doubles to 1,400,000 by the end of this month, at this pace it would take to the end of 2023 to vaccinate 75% of SA's 60 million population, the percentage seen to offer the correct level of immunity.

However, we do expect that vaccination delivery in South Africa will be ramped up substantially further, and that we will get to around 2.5million vaccines administered a month if not in Q3.21, then in Q4.21, which means SA could reach 75% immunity by Q3.22.

However, much would depend on quickening SA's vaccination pace to 2.5m doses, or substantially more delivered a month to achieve this. The mass vaccination rolled out by the private sector needs to be allowed to quicken materially to save lives and reach immunity.

The data now shows that South Africa clearly has technically entered the third wave, and it is likely government may look to more social restriction measures on numbers to aid in flattening the acceleration in the curve.

Read the full report here

Improving incomes boost new vehicle dealers, retailers and wholesalers

9 June 2021

The RMB/BER business confidence index (BCI) rose to 50 in Q2.21 - the first neutral reading in about seven years - indicating that business overall is neither depressed nor optimistic about the operating climate.

Surveyed between the 12th and 31st May, businesses faced better economic conditions as a whole, but variability between sectors was pronounced.
New vehicle dealers were particularly positive, their outlook buoyed by a 7.6% m/m lift in sales. Their confidence reading rose to 63 from 35, a near doubling.

Compared to last year, higher reported consumer incomes are expected to have boosted spend in May, with retailers' business confidence now at 54, from 37, also above the break-even mark and into positive territory, while wholesalers saw confidence remain relatively high, at 63. 

In the provinces, businesses in KwaZulu Natal and the Western Cape showed the highest level of confidence, with KwaZulu Natal seeing a phenomenal leap to 77 from 49 and the Western Cape moving to 51 from 29. However, business confidence in Gauteng was still depressed at 40, showing only a 7 point lift and dragging down the performance of the overall index.  

The business climate overall is deemed to have improved, to 21 from -25, again doubtless on relief at the easing of lockdown measures in the second and third wave relative to the first. Improving household incomes have played a major part, as has the ability of hospitality and entertainment sectors to function. Consumer savings are being deployed and access to credit is improving for higher-income earners.

The manufacturing industry, the last of the five sectors surveyed in the business confidence reading, is still in depressed territory, at 46, but materially less so than in Q1.21 when it saw a reading of 25. Manufacturing has benefited from increased local and foreign demand, with broad-based production lifts across virtually every sub-sector. However, raw material shortages were reported as key constraints, along with other supply chain bottlenecks and delays, similar to the international experience. This shows the imperative of resolving domestic supply chain requirements before embarking on an increase in localisation, as virtually all sub-sectors across the manufacturing industry are already reporting shortages of key inputs to their processes.

Load shedding is also a key constraint. Insufficient electricity supply to meet demand is likely to worsen in June. More broadly, increased economic activity puts additional strain on public utilities, including water. Absent a resolution to SA's public infrastructure capacity, the move to localisation will only exacerbate the shortage of raw material inputs, with many areas already evidencing insufficient water supply for their needs. Additionally, water, electricity and other state-administered price increases would reduce the competitiveness of the domestic manufacturing industry, as would tariffs on key imports needed in South Africa's supply chains.
The global shortage of semiconductors is negatively impacting the stock of new vehicle dealers and retailers of appliances, as sales of these durables and semi-durables continue to outshine those of non-durables (such as food) as consumers adapt to shifting patterns of work and entertainment at home.
Poor business conditions in the building sector have also been impacted by a collapse in demand for office space, while the residential sector continues to see more refurbishment and additions to homes.
Read the full report here

What better-than-expected GDP figures mean for SA's fiscal outlook
8 June 2021

The strong 4.6% lift in Q1 GDP could raise the overall 2021 GDP outcome to 5.0% y/y, if not above, while longer-term, government's gross loan debt could peak significantly lower.

GDP growth and fiscal outlook note: today's strong 4.6% qqsaa lift in GDP could raise the overall 2021 GDP outcome to 5.0% y/y, if not above, while longer-term, government's gross loan debt could peak significantly lower.
Today's Q1.21 GDP outcome shows a 4.6% lift quarter on quarter, seasonally adjusted, annualised (qqsaa), as particularly strong growth surprised on the upside, and could lead to growth for 2021 of around 5.0% y/y if load shedding does not worsen.
The first-quarter figure completes the nominal GDP growth outcome for the 2020/21 fiscal year, and with GDP significantly stronger than national treasury forecast, has a number of impacts on the consolidated budget figures presented in February.
Primarily, the expected lift in gross loan debt as a % of GDP for 2020/21, to 80.3% from 63.3% of GDP in 2019/20 published in February's Budget, now instead comes out at 79.1% of GDP, while the borrowing requirement sits at 15% of GDP instead of 15.2% for 2020/21.  
The budget deficit also contracts, to -13.8% of GDP, from the -14.0% of GDP projected in February, resulting all round in some likely tightening (improvement) in the government finance figures previously estimated for 2020/21 at the February 2020/21 Budget. 
The improvements are slight, but with an outcome now more likely closer to 5.0% y/y for real GDP growth in 2021, the higher nominal GDP outcome for 2021 than previously expected could potentially see 2021/22 gross debt at 80.1% of GDP instead of 81.9%.
However, this outcome is only possible if government keeps to reduced weekly issuance, or even lowers it further, and does not give away these incremental gains in the right direction for fiscal consolidation by failing to stick to expenditure constraints on government wages. 
If so, the budget balance (deficit) could come out at -9.1% of GDP for 2021/22 instead of -9.3% of GDP, and the borrowing requirement at 10.3% of GDP instead of 10.5%. However, again very strong constraint on expenditure is continuously needed.
SA has seen key gains in GDP's mining sector in Q1.21 on the strong commodity prices, along with low-interest rates which have boosted sales of residential property and building materials, as have work from home and stay at home trends in the face of COVID-19.
Looking forward, gross loan debt in 2022/23 is estimated at a large 85.1% of GDP but could come out instead at 82.4% of GDP if government sticks to, or lowers, planned expenditure, and revenues come in as expected or improve, with real GDP growth of 2.0% in 2022.
Strengthening real growth out to 2025 (to 3.0% y/y) would continue incremental gains, but also the compound effect, with 83.4% of GDP for gross debt instead of the current projected 87.3% for 2023/24, if the gains are not wasted by raising expenditure above current plans.
For 2024/25 and 2025/26 this implies gross debt peaking closer to 84%, instead of at 88.5% and 88.9% respectively. Such gains, which would reduce the likelihood downgrades, can only be made with the current planned severe fiscal constraints on expenditure.

South Africa's third wave gathers momentum

4 June 2021
Medical experts are divided on whether the third wave of Covid-19 infections will peak above or below the first two. Meanwhile, shifts in consumption patterns have implications for inflation.

South Africa's seven-day rolling average in new Covid-19 cases is at 4 342, from 3 568 a week ago and 2 849 two weeks ago, as the third wave continues to build, while vaccinations have now exceeded the one million mark, at 1 193 352. 
South Africa has managed vaccinate 2% of its population. Following a slow start since February, May has seen a rapid increase in the pace of vaccinations. However, even at the rate of close to 900 000 vaccines administered in May, it would still take until the end of 2024 to vaccinate 75% of SA's 60 million population.
While South Africa is planning to ramp up its vaccine rollout, the delay in the J&J vaccine's arrival - due to a factory error in the US, impeding regulatory clearance - is a significant setback. Currently, only the two-dose Pfizer regime is in use, and this is deemed unsuitable for rural and outlying communities because it is more difficult to administer and store.  
Vaccination registrations for the over sixty age group are reportedly sitting at a low level of around 50%, and there is a strong likelihood that younger age groups will soon be eligible to receive vaccines via business-supported programmes initially targeting those forty years and over.
The Director-General at the Government Health Department is reported to be looking at vaccinating the country's workforce in stages, with particular focus on those in education, civil servants, the electricity sector, those working in transportation and agriculture. 
But despite these efforts, South Africa's slow vaccine rollout has allowed the third wave to take hold, with many now working from home again where possible, resulting in the ongoing shift in consumption patterns.  
There continues to be lower consumption levels overall compared to a year ago for most sectors, but a reorientation towards home-based entertainment and working has seen gains in some retail sales sectors, particularly household furniture, equipment, and appliances.   
The sharp shifts in consumption patterns, i.e. changes in the weights of goods and services in the basket households consume, have implications for the reweighting of CPI domestically, following similar global precedents, with inflation potentially having been underestimated over 2020.
Read the full report here

Quickening in global growth sees positive knock-on effects for SA

1 June 2021
2021 is now likely to see an economic growth outcome of 3.9% y/y instead of the previously expected 3.2% y/y.

Incoming data indicates 2021 will likely see an economic outcome somewhat higher, at 3.9% y/y, than the previously expected (3.2% y/y) as global recovery and the marked strength of commodity prices benefits SA's exports, with other areas in SA's GDP also gaining traction.
The global recovery has spurred rapid growth in commodity prices, both on expectations of future demand, and on strengthening industrial activity, as many PMIs approach or exceed previous highs globally, although there is also significant evidence of stronger cost pressures.
The Eurozone manufacturing PMI is at a high (data since 1997) with Italy, the Netherlands, Ireland, and Austria specifically at highs, and Spain, Greece, and Italy nearing their previous strongest performances, evidencing increasing demand, positive for commodities' prices.
UK manufacturing PMI, also at a record high yesterday, saw the IHS Markit/CIPS highlight that "new orders rose at the quickest pace in the near three-decade survey history" with "reports of stronger demand from the EU, the US and China".
However, "backlogs of work … are rising to the greatest extent in the survey history", while in Germany its manufacturing sector is being constrained by "worsening supply chain disruption" while "delays in the receipt of inputs reached a new record high".
"Surveyed business continued to report increased demand both domestically and abroad, though at the same time there were several mentions of shortage-related downtime at customers weighing on intakes of new work" (IHS Markit/BME German manufacturing PMI).
Indeed, such has been the ascent in demand, evidenced by new orders, that supply chains have not been able to keep pace, but this does show continued support for commodity prices, positive for SA along with the severe strengthening in global demand.
Australia's manufacturing PMI (from IHS Markit) also at a record level, again showed "strong demand, supported by foreign customers" which also "encouraged firms to expand output further and sustain hiring at a record pace".
While we revised up our 2021 SA GDP forecasts to 3.9% y/y (and the Bloomberg consensus is close at 3.8% y/y), there could be some further upside risk to our view, given the strength of the PMI figures flooding in today globally, and the improving pace of global vaccines. 
Read the full report here

Pace of vaccinations increases but tighter restrictions anticipated in June

28 May 2021
SA's seven-day rolling average of new Covid-19 cases is at 3 568, up from 2 849 a week ago


The third wave could be more moderate than the second according to the South African Covid-19 Modelling Consortium (SACMA), which also expects a lower peak than in the second wave, assuming that no new, more contagious, variants emerge.  
Health Minister Mkhize is reported to have warned yesterday that some of the provinces are in the third wave, with "the numbers rising again in the various provinces; mainly Gauteng, the Northern Cape, Free State and the North West." 
"If we maintain this trajectory, the whole country will be similarly declared," the minister continued. "We, therefore, need to continue to adhere to non-pharmaceutical interventions and continue to increase our vaccination efforts."
The mass vaccination rollout is well underway, although shortages of vaccines is the limiting issue, with government retaining control of procurement and only those over 60 and healthcare workers eligible to receive the shots so far. Vaccinations have now reached 828 204 people, up from 597 406 a week ago.
The still relatively slow pace has called into doubt SA's ability to vaccinate two-thirds of its population by the end of the year -- a target that would be achievable with full, professional private sector involvement if procurement volumes were not a binding constraint.  
SACMA has said that "across all age groups, hospital admissions are expected to be lower than levels in the 2nd wave," adding that the time from initial increase in transmission to the peak is, on average, 2-3 months.
Nevertheless, tighter lockdown restrictions in June are on the cards. But these will likely be focused on regulating social behavior through curfews, alcohol restrictions, and the like, thereby avoiding severe economic impact as the recovery takes hold. We are currently forecasting GDP growth of around 3.9% for the year.
Read the full report here

SA sees third wave building as economy remains highly sensitive

21 May 2021
Seven-day rolling average of new Covid-19 cases doubles, but another harsh lockdown is unlikely

The economy contracted by an unprecedented -17.8% y/y as a result of the lockdown in the second quarter of 2020. 
The high sensitivity of businesses, and consumers, to lockdown restrictions has exceeded expectations, and imposing further harsh restrictions now would severely exacerbate the high fragility of the recovery. For this reason, we do not expect any such moves by government. Levels 4 and 5 are likely to be avoided, and even level 3 is likely only in a light version.
In the second wave, SA moved to level 3 around 12,000 cases a day on a 7-day rolling average, but as this happened later than anticipated, it contributed to a less severe Q4.20 GDP outcome than originally forecast, and a lessor contraction of -7.0% y/y for 2020. 
SA is below 3,000 cases a day on a 7-day rolling average currently, at 2,822, and is not showing a steep climb either in this average. Increasing restrictions severely in the near future would be very pre-emptive, choking off promising economic and employment recovery.      
SA has administered 597,406 vaccinations so far and has not completed its phase 1 of covering 1.25 million frontline healthcare workers, but has embarked on a portion of phase 2, beginning vaccination of those over 60 (5 million) and of healthcare workers more broadly.
South Africa has almost vaccinated 1% of its population, which is still a very slow outcome, exceeded by most EM countries and many African countries, and so is a threat to economic and employment recovery, as it exposes SA to further waves and lockdown restrictions.
Read the full report here

Commodity boom isn't the only force boosting the rand

20 May 2021
Resource prices explain some of the currency's recent gains, but incremental improvements in domestic fundamentals are also playing a role

The rand's gains this year are outpacing the currencies of both emerging market peers and other commodity-driven economies. There is a multitude of drivers behind the currency's rally; among them, risk-on sentiment in global financial markets and the strength of commodity prices. But the outlook has also brightened on small but steady improvements in the structure of South Africa's economy.
We continue to forecast a reform-led economic recovery that should improve exposure to global growth, with domestic GDP rising from 1.5% y/y in 2022 to 3.0% y/y by 2026. This year is likely to see a statistical rebound of between 3.0% to 4.0% y/y, after 2020's -7.0% y/y drop.
Major structural challenges and constraints to economic growth remain, including limitations on electricity and water supply, inadequate transport systems, and an onerous bureaucracy. However, small improvements in these areas in recent months have proven that quicker reforms will lead to accelerated growth.
The blueprint for faster economic growth and higher levels of employment and incomes is clearly laid out Project Vulindlela, the joint initiative of the Presidency and Treasury to "fast-track the implementation of high-impact reforms, addressing obstacles or delays to ensure execution on policy commitments." The need could not be more urgent, following the slow pace of implementation since 2018 and the marked deterioration of much of the 2010s.
While growth prospects have brightened, financial market investors may also be feeling somewhat more comfortable after SA's handling of its bond market rout a year ago, as well as improved fiscal plans on revenue figures that exceeded those forecast in the Medium-Term Budget Policy Statement (MTBPS). In particular, investor confidence has been buoyed by the reduced government debt projections, aided by the 2020/21 corporate tax-led revenue overrun, as well as the drop in weekly bond issuance. But markets will still be watching intently to see if fiscal consolidation is indeed achieved.
The attention of the capital markets will also be trained on efforts to bring to book corrupt, high-ranking political figures who were, until recently, deemed untouchable. Recent signs of progress on key prosecutions have no doubt contributed to the rand's momentum.
It should be noted, however, that not all proposed reforms in SA are market-friendly, with some, such as the contentious introduction of land expropriation without compensation, harking back to the prior regime's populist agenda.
As the heady mix of domestic policy, global market events, and commodity prices continue to impact its fate, the rand will remain volatile. But, for the first time in recent years, the currency's longer-term trajectory might just be looking up.
Read the full report here

Production lift will push GDP growth into positive territory

14 May 2021
Q1.21 lift will push GDP growth into positive territory as expected, but also add to the mixed picture, with a number of key data readings outstanding while Fitch has SA's rating unchanged.


Yesterday's mining production print, at 3.8% qqsa (quarter on quarter, seasonally adjusted) completes the picture for Q1.21 industrial production, which rose by 3.5% qqsa in Q4.21, and so will make a fairly strong, positive contribution to overall Q1.21 GDP.  
Industrial production makes up 21.5% of GDP, consisting of the sub-sectors manufacturing, mining and electricity production. However, the largest sub-sector in GDP is real estate, business services, and finance at 21% followed by general government at 16.3% of GDP.
General government expanded consistently in size over the 2010s decade, with the heavy cost of staff wages, as civil servants' remuneration grew rapidly in the 2010s, the key component in the marked deterioration of government finances on the expenditure side. 
Fitch still has SA on a negative outlook, stating this week that "payroll and SOE reforms will be crucial for fiscal consolidation. Compensation of public-sector workers accounts for a large share (around 35%) of government expenditure." 
"Ongoing negotiations on a new wage deal are likely to be difficult and the government is unlikely to meet its target of agreeing on a wage freeze, leading to the risk of expenditure overruns. …. The conditions for debt stabilisation are challenging".  
"The Land Bank default last year and the difficulties of electricity monopolist Eskom Holdings SOC Ltd highlight the risk from contingent liabilities from SOE's high debt and weak finances." These elevate SA's planned peak in debt, and it remains on BB+ with a negative outlook.
Both Fitch and Moody's ratings are unchanged so far this year, with the negative outlooks retained, but Fitch worries on "further deterioration in South Africa's trend GDP growth rate" and highlights that SA has been through an "exceptionally tough lockdown".
Fitch comments that "the government is working on structural reforms to accelerate the economic recovery, but the scale envisaged is limited and recent record of implementation is weak so that trend growth is likely to remain very weak, below 2%".
While we expect economic growth to quicken to 3.0% y/y out to 2026 on structural reforms, Fitch appears to see less of a positive trajectory, showing concern that "divisions within the ruling party (have been) hindering policy-making", or essentially implementation.
Read the full report here

SONA Preview: SA edges towards a financial precipice

9 February 2021
The 11 February State of the Nation Address (SONA) comes at a critical moment in South Africa's recent history. Unless government articulates a more business-friendly policy agenda and demonstrates real progress in achieving the goals of the ERPP (Economic Reconstruction and Recovery Plan), the country's financial future looks dire indeed. 


Government's latest growth plan, the ERRP, has seen few short-term goals achieved since its unveiling in mid-October. Progress has been mainly diagnostic: establishment of committees, funds, and (perhaps counter-productively) increased state employment. 
SA is likely to see economic growth of 2.9% y/y in 2021 as it rebounds from the -7.3% y/y collapse of last year. This muted recovery has been accompanied by an unsustainable expansion in government borrowings and a widening fiscal deficit. Planned government borrowings for 2021/22 sit at R4.6 trillion (86% of GDP), and are forecast to reach R5.5 trillion by 2023/24 (93% of GDP) and 95% of GDP by 2025/26. As these ratios deteriorate and SA sinks deeper into a debt trap,  lower credit ratings are all but guaranteed. The slide towards C-grade categories reflects concerns about a rapidly increasing risk of default. SA's credit ratings are likely to fall into the single B grades this year already. 
The only way out of this trap is inclusive economic growth. Failure to achieve (as opposed to simply plan) rapid economic growth and cut state expenditure, is now critical to avoid financial collapse. This requires policies that promote private and public sector investment in productive infrastructure and a curtailment of unproductive expenditure on inflated public wages and inefficient SEOs.
On a more basic level, a key factor in SA's failure to achieve sustainable economic growth is the alarming fact that doing business in South Africa is becoming more difficult, not easier. 
With the pace of regulatory reform lagging other economies in the developed and developing world, SA is becoming less competitive as a destination to set up shop or commit fixed investment. The result is lower employment, lower tax revenues, and a negative growth spiral. 
Furthermore, the World Bank's  2020 Doing Business report says "inefficient regulation tends to go hand in hand with rent-seeking. There are ample opportunities for corruption in economies where excessive red tape and extensive interactions between private sector actors and regulatory agencies are necessary to get things done." This is particularly true of both South Africa's onerous regulatory environment and its high levels of corruption. South Africa lacks true, unified outrage against corruption."
The 20 worst-scoring economies on Transparency International's Corruption Perceptions Index average eight procedures to start a business and fifteen to obtain a building permit. Conversely, the 20 best-performing economies complete the same formalities with four and eleven steps respectively. Moreover, economies that have adopted electronic means of compliance with regulatory requirements— such as obtaining licenses and paying taxes—experience a lower incidence of bribery. It's clear that South Africa needs to shorten the time taken to start a business.
Hopefully, the president's address will go some way towards reassuring South Africans that government is alive to the dramatic benefits that can accrue from creating an environment that is more attractive to doing business, and to the dire consequences of maintaining our current slide towards the cliff edge.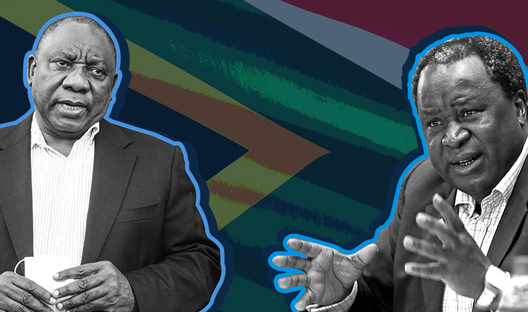 Get all Investec's insights on the latest Budget Speech and SONA
Our economists, tax experts, personal finance and investment experts unpack what the latest fiscal measures mean for income, savings and daily expenses of individuals and businesses.
Read the full report here

January lockdown restrictions have not harmed SA's 2021 growth outlook
2 February 2021
Amended level 3 lockdown restrictions in January should not harm the 2021 growth outlook, unless further restrictions are applied, which is unlikely.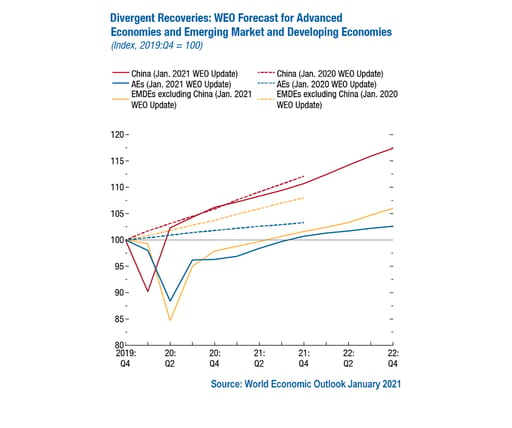 The seven-day rolling average of new cases of COVID-19 infections in South Africa has slowed to 5 539 individuals, from its peak in the current wave of 19 042. A downward trend has been maintained, now well below the peak of the first wave, with 2 548 new cases a day.
New daily COVID-19 infections at the origin of the second (current) wave have declined noticeably (Nelson Mandela Bay), and further afield, with SA's fatality rate moderate due to its youthful population. The rand reached R14.89/USD today as new daily cases moderated.
Level 3 restrictions have been eased somewhat, with alcohol sales allowed Monday to Thursday 10am to 6pm, onsite consumption of alcohol at licensed venues from 10am to 10pm, and the sale of alcohol from wine farms, micro-breweries during normal operating hours.
Furthermore, all beaches, dams, rivers, parks, and swimming pools are now open, with social distancing and health protocols, and gatherings remain limited to 50 indoors, 100 outdoors, not exceeding 50% of capacity. However, SA remains at risk of a third, and even fourth wave.
While South Africa is expected to begin administering vaccines this month if in limited quantities, it will still be many months before the entire two-thirds proportion of the population is covered, and so before social distancing and economic restrictions can fully ease.
The progress towards herd immunity (two-thirds of populations fully vaccinated, including likely all the elderly, vulnerable, and health care workers/other essential services) generally is slow, with the US only vaccinating 10% of its population so far, and the UK 14%.
In South Africa, 1.5 million doses of Oxford-AstraZeneca for health workers have arrived and it is reported that SA is securing another 20 million from Pfizer, 12 million from COVAX, 9 million from Johnson & Johnson, reaching 40 million in total. 
Domestic economic growth will depend heavily on the degree of the regulated lockdowns on economic activity, and the necessity to substantially ease the regulatory burden on private sector businesses while lifting civil servants' productivity.
Economic activity is expected to rise by 2.9% y/y this year, but the deep scarring the domestic economy has already experienced from the harshly regulated shutdown of economic activity last year is likely to be persistent until 2024 in real terms.
Read the full report here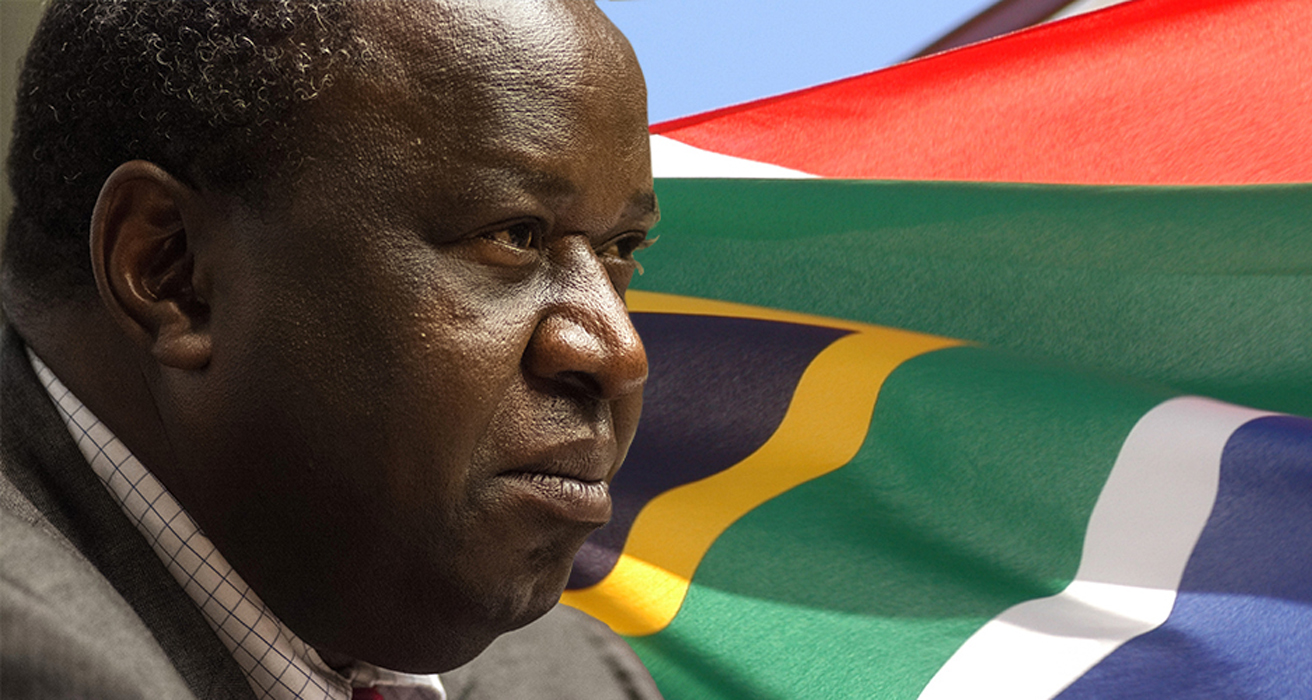 Tough times ahead for SA economy
25 June 2020
The 2020 Supplementary Budget Review projects a sharp deterioration in government debt. if SOE contingent liabilities are included, SA's debt:GDP looks set to grow to around 100% by 2023/24, with further ratings downgrades on the cards.
Wednesday's Supplementary Budget Review shows that this decade is expected to begin with a massive plunge in the health of government finances, with a fiscal deficit of -14.6% of GDP and gross debt as % of GDP of 81.8 projected for this fiscal year, versus the previous projections of a fiscal deficit of -6.8% of GDP and debt at 65.6% of GDP for 2020/21. 
The rating agencies are likely to downgrade SA further on the back of this budget, as the key objective of any credit rating agency is to assess the ability of a country (or corporate) to repay its debt, and with SA now signalling that its debt burden will rise to 87.4% by 2023/24 this has deteriorated SA's ability to repay its debt.
It is not possible to continuously borrow out of debt, nor to indefinitely borrow to make debt payments and fund current expenditure. Debt interest payments do have to be made to avoid default. SA is on a negative outlook from Moody's, at Ba1 (BB+). The rating agencies will likely downgrade SA after the budget, if not in November 2020, then sooner. 
Some limited positive news emerged from the adjusted budget today, and that is the announcement that SA's debt is projected to peak at 87.4% by 2023/24, as opposed to pre-budget 'leaks' that SA's debt is further estimated to rise to 90.9% by 2023 and over 100% by 2025, climbing to a massive 113.8% by 2029.
However, SA has been falling through the credit ratings increasingly quickly, and is at BB from Fitch (for both its foreign and local currency ratings), while from Standard and Poor's SA's local currency rating is BB but its foreign currency (country) rating is BB-.  The next step after BB- is single B, followed by the C grade ratings and then D, for default.
While SA projecting a peaking, and hence stabilisation of debt is positive, it will not be enough to avoid SA being pushed into the single B credit rating categories over the course of the next few years, with 87.4% still a huge figure for an emerging market's government debt, and one which does not tally with debt sustainability.
This is particularly because the credit rating agencies tend to look at SA's debt in conjunction with that of its guarantees that it has extended to the State-Owned Entities' debt, and the calculation, when including all these contingent liabilities takes the figure to around 100% of GDP by 2023/24. 
The biggest risk SA faces in its massive quantum of debt issuance is investor appetite, which, while strong will not last forever. SA will likely run out of space in the domestic market, which is the biggest absorber of SA's government debt, as SA has a limited quantum of savings, which have been used to mostly fund government issuance so far.
Furthermore, government is increasingly eyeing private sector savings to fund its infrastructure projects, via prescribed or voluntary assets, with pension funds already a very large holder of state debt.  The huge ramp-up in projected debt and issuance is at odds with the limited savings pool in SA, and will add to pressure for further credit rating downgrades. 
Read the full report here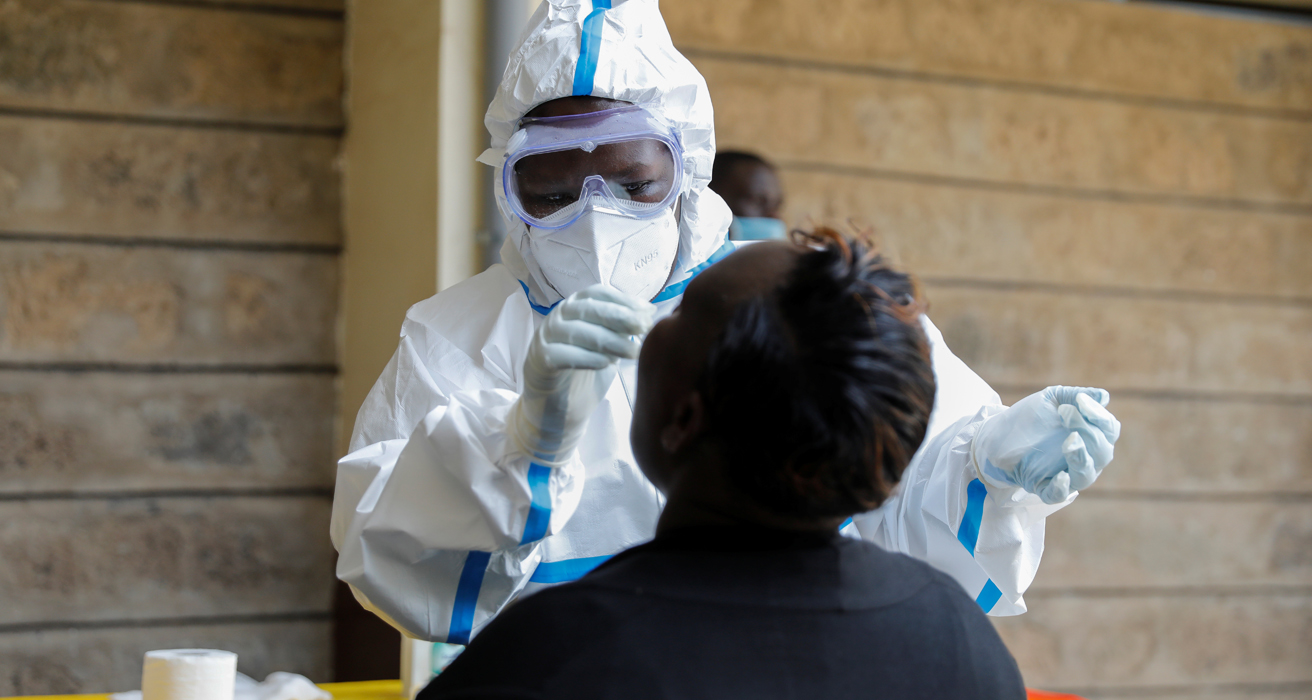 Economies open as Covid-19 infections rise
5 June 2020
The impact of the Covid-19 crisis is deepening poverty, hunger and unemployment around the world. The  opening up of economies continues, but recovery will be impeded by lagged effects
This week the number of confirmed cases of Covid-19 have exceeded 6 million globally, at 6.4 million versus 5.6 million a week ago, while the number of deaths are at 382 867 versus 353 334 a week ago. With the epi-centre of Covid-19 now in Latin America, the region also faces an economic and health crisis from the effects of the spread of the pandemic.
Latin America suffers from substantial inequality, with weak public finances and fragile health systems. In Brazil Covid-19 cases and deaths are surging, while politically the country is seen to be becoming more unstable, suffering also from poor responses to the crisis, with GDP contracting by -1.5% y/y in Q1.20 and expected to drop a further – 9% y/y in Q2.20. 
The number of Covid-19 cases in Brazil is around 600,000, with above 30,000 new cases a day now in a population of just above 200 million. Chile (population 19 million) and Argentina (45 million) are seeing fewer confirmed cases but are smaller populations, with their respective Covid-19 reported infections approaching 120,000 and respectively 20,000.  
Chile's economy contracted by -14% in April, and prolonged lockdown measures are expected to see a deeper contraction in May and June, with the country also suffering from social unrest. In Argentina economic activity fell 11.5% in March, with worse expected in Q2.20, and it defaulted on a US$500m payment and is in restructuring talks with bondholders.    
In Columbia, Covid-19 cases are around 30,000 with a population of 50 million, with its government lifting restrictions incrementally, while its economy is seeing very depressed consumer sentiment and its manufacturing sector also having shown deep contraction.
Mexico is at around 100,000 cases (population 129 million), and is expected to see the deepest recession in Latin America, of -13.0% y/y in Q2.20, -9.2% y/y in Q3.20, -6.6% y/y in Q4.20 and -4.2 y/y in Q1.21, after contracting by -1.4% y/y in Q1.20. The lockdowns in the US are also negatively affecting activity in Mexico. 
In South Africa, there are 40 792 confirmed cases of Covid-19 to date, with 848 deaths, as the country with a population of 59 million is expected to see a deep recession this year. Public opposition to the lockdown restrictions is rising sharply, while incomes fall and a survey on hunger shows an increase from 4.3% to 7.0% in respondents.
The survey from Statistics SA, on the impact of Covid-19 on employment and income in South Africa, conducted between 29th of April and 6th May, with no updated report published yet, also shows that "the percentage of respondents before who reported no income increased from 5.2% before the lockdown to 15.4% by the sixth week of national lockdown".
Many individuals in South Arica are using savings, UIF payments, loans from family and friends, investments and social payments other than the UIF to survive, but all these sources of income will be eroded, and without a rapid opening up of the economy, will see more sink into deep financial hardship and so retard the recovery of economic growth later this year.
Read the full report here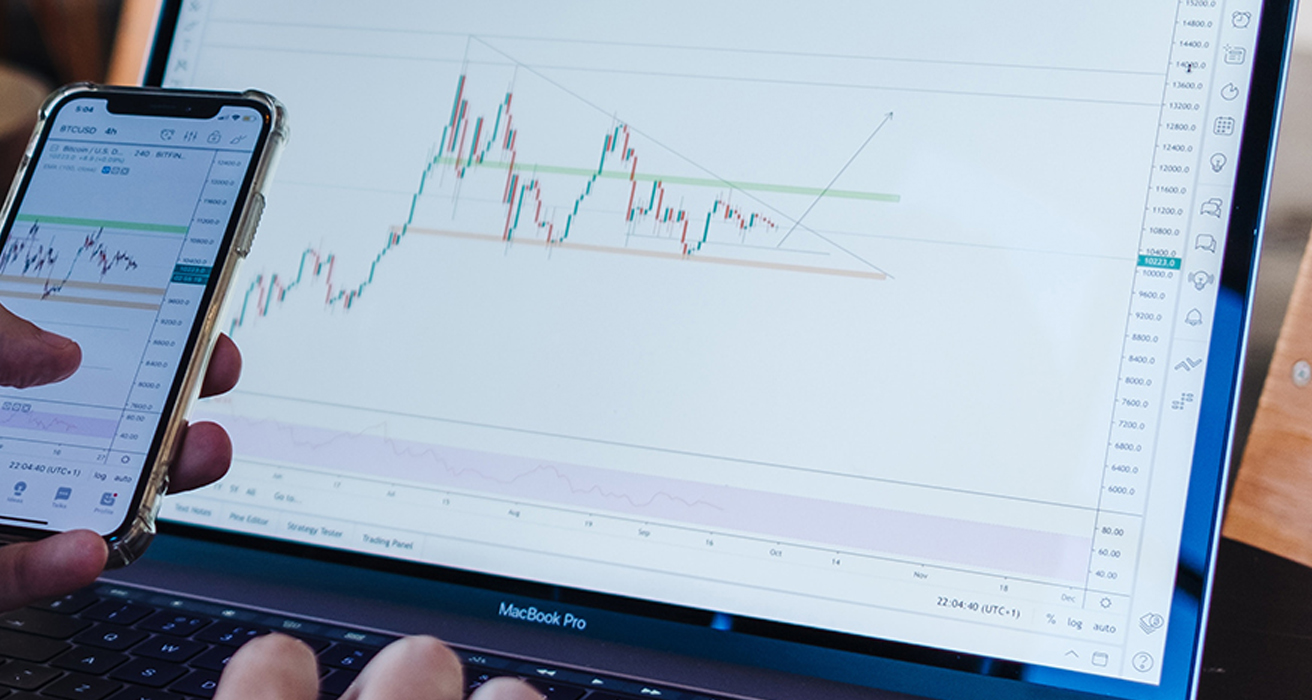 Impact of lockdown on GDP
26 May 2020

GDP is at risk of contracting by between -8.0% y/y and -10% y/y, if not worse this year, on the lengthy, severe lockdowns

March 2020's leading business cycle indicator, released today by the Reserve Bank, lifted to 104 from 103.3 in February. The around six-month lead (between the leading indicator and GDP growth) indicates that with Q1.20 at 103.4, down on Q4.19's 104.0, Q4.20 GDP would be on track to see a contraction.
However, the data used was for Q1.20 and does not capture the worsening conditions of the extended lockdown, globally or domestically. With the lengthening of the lockdown (May level 4, June level 3), from April's virtually total shutdown of level 5, Q2.20 GDP could see a sharp contraction of around -50% qqsaa or worse, while Q3.20 is likely to see less of a rebound than previously anticipated.
With the current progression of one month for each level, July and August will see some continued restrictions on economic activity, and the recovery in Q3.20 is likely to be much more subdued than originally thought. Instead of a rebound of 40% qqsaa in Q3.20 it could instead be around 15% qqsaa.
Furthermore, it is not certain that the levels will see a linear monthly progression, levels could go up as well as down, while companies themselves are at risk of temporary closures if infections occur.
The use of the Q1.20 leading indicator (released today) as a pointer of future business activity has been dramatically diminished by the impact of the Covid-19 crisis.
We previously expected economic growth of -4.8% y/y for 2020, but now believe it could come out closer to between -8.0% y/y to -10% y/y, if not worse. Much will however depend on the progression of opening up the economy. The very slow pace so far has driven our worsening forecasts, as has the sheer length of the lockdown to date, which has seen incomes fall (both due to rising unemployment and firms cutting back on staff remuneration versus last year), and demand to collapse.
Read the full report here

MPC preview
19 May 2020
Interest rates are likely to remain lower for longer in South Africa, at this week's MPC meeting a small rate cut is likely
South Africa has seen a 2.25bp cut in interest rates this year, 200bp in direct response to the impact Covid-19 has had on the economy and financial markets, as the crisis deepened. The first cut, of 25bp in January, was in response to the recession SA had fallen into in the second half of last year, given that inflation was subdued into the target range close to the midpoint, and expected to remain there over the forecast period.
Indeed, this year we expect CPI inflation will come out at 3.4% y/y, and at 4.1% y/y in 2021, although we believe the risks are for even lower outcomes. At the last MPC meeting, the emergency meeting in April, the MPC forecast CPI inflation at 3.6% y/y for this year and 4.5% y/y for next year, but we believe these forecasts will be lowered at their meeting this week, to closer to 3.4% y/y or below for this year, and to closer to 4.0% y/y for next year. 
This week's MPC meeting is likely to see a further downwards revision to the Reserve Bank's GDP outlook, particularly for 2021, as the lockdown is proving lengthy and severe. We expect however that the SARB (South African Reserve Bank) will not engage in another large (100bp) cut in the repo rate this week, preferring instead to preserve some room to implement further easing later in the year, should conditions worsen even further.
We expect that the MPC will deliver a modest cut of 25bp this week, but there is a possibility it chooses to keep interest rates unchanged, giving the immensity of the cuts at its last two meetings. Keeping its powder dry by leaving rates unchanged or providing only a small, 25bp cut, in the face of a potentially much larger contraction in GDP than is currently widely expected would allow for more support later.
GDP risks contracting by closer to -10% y/y to -15% y/y this year due to the very slow reopening of the economy that is occurring, and the extreme nature of the lockdown. South Africa has seen one of the most severe economic lockdowns globally, and its lengthy duration (with level 3 now only expected by June)  will likely see the domestic economy contract by closer to -10% y/y to -15% y/y this year. 
Interest rates are likely to remain low for a lengthy period of time, as the economy will not recover in Q3.20,  nor will it recover in Q4.20, or in 2021. Many years of growth will have been wiped off GDP and it will be a slow lengthy process to rebuild. Unemployment risks rising to 50% next year. From an inflation point of view, the SARB is in no rush to hike interest rates. 
The uncharted territory South Africa and the rest of the globe is in has created enormous uncertainty.  In South Africa the government has warned that levels will be raised if necessary (the lockdown intensified) which would severely worsen the GDP outcome. Covid-19 has not yet peaked in SA and it is quite a while before it is expected to do so.
Read the full report here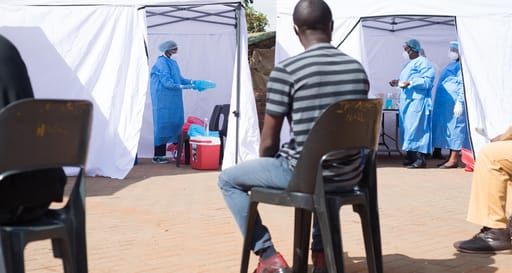 More job losses as lockdown continues
15 May 2020
The pace of South Africa's Covid-19 ratio of deaths to infections slowed substantially from mid-April, with lockdown restrictions only seeing some relatively mild easing, while job losses shoot up 

The pace of South Africa's Covid-19 deaths to infections ratio slowed materially from mid-April, both in terms of new infections and deaths, and total deaths and infections. Lockdown restrictions have only seen relatively mild easing while job losses shoot up. Experts on Covid-19 have warned it will be impossible to eliminate the virus.
South Africa's low fatality rate, below that of the global rate, reflects also a low infection rate, but even with the extremely severe lockdown the country has been under (one of the most severe in the world), the virus has spread, and will continue to spread, with global evidence now warning it will become endemic and is unlikely to be eradicated.   
A vaccine is deemed unlikely this year, and herd immunity (when over 60% of the population has had the disease) is the most likely path. Studies have observed that the number of deaths globally is likely to be lower than expected. It is well reported that children under 18 have an extremely low likelihood of the disease, especially death from it.
Experts have said that the spread of the disease is impossible to prevent. Global figures have shown that Covid-19 tends to cause essentially no symptoms in around 70% of cases, while around 25% of cases show mild symptoms, and the remaining 5% (typically the elderly or those already severely ill before Covid-19) see severe symptoms with a risk of death.
South Africa continues to see a very cautious approach to lifting its economic lockdown restrictions, while the damage caused to the economy is ramping up. South Africa has yet to see level 3 reached, and the circulation of money has collapsed, with the companies that are open (recently surveyed at over 50%) still seeing turnover negatively impacted.
South Africa's severe, lengthy lockdown could see the economy contract by more than expected in 2020, closer to -15% y/y than the latest consensus estimate of -6.4% y/y (Bloomberg) if the very slow pace of opening up persists. This would cause formal unemployment to escalate more rapidly, risking a rise ultimately beyond 50%.
South Africa's Covid-19 infections are still on an upwards trajectory, while a number of other countries have seen cases of new infections peak. However, globally there are now concerns of a second round of infections, or even of multiple waves of infections, driving the globe inevitably towards herd immunity.
Around the world, the impact of restriction measures in the face of Covid-19 has had a severe, dire impact on economic activity, employment and so livelihoods. South Africa has been at the pace of one level of lockdown a month but the economy is in the process of losing several years of development and will not recoup these losses in the medium-term.
The incoming data on April, the first full month of lockdown and the most severe period of lockdown to date, has shown that electronic bank transactions in the economy, which is reflective of business activity and the circulation of money, is at a fourteen year low in real terms (removing the distorting effects of inflation) – BankservAfrica data.
Read the full report here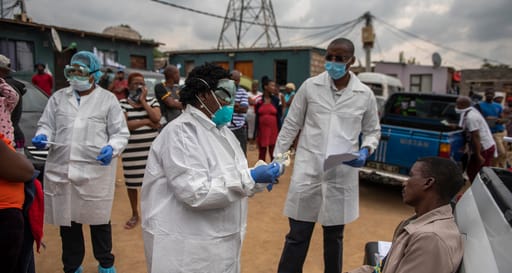 SA economy expected to contract 
8 May 2020
A meaningful recovery from recession, globally and domestically, will depend on the rapidity of exit from lockdown restrictions, broad based support measures and for SA particularly, a substantial easing in red tape
Globally, the advent of the easing of lockdowns turned attention to the prospects for economic recovery, boosting some financial market sentiment. However, a slower than hoped-for pace of easing of restrictions would disappoint markets, and a return to temporary risk-off is not unlikely, particularly if a second wave of infections/ lengthening of lockdowns occurs.
Economic expectations of the impact of Covid-19 on the global economy continue to adjust, with economists slightly less pessimistic about the global economic outlook than a week ago according to the latest Focus Economics survey, but risks are still seen as heavily skewed to the downside.
In South Africa, low survey responses are hampering hard data collection. The economy is expected to contract by -36.2% qqsaa in Q2.20 (Investec forecasts -37.1% qqsaa or -12.1% y/y), with business sentiment already depressed over the past decade, with economic growth weakened by poor state governance and a rapidly rising quantum of red tape.  
The latest Bloomberg economic consensus shows SA's GDP contraction this year forecast at -5.0% y/y (Investec -4.8% y/y). However, we now expect there is a rising chance that SA will see GDP growth contract by more than -6.0% y/y in 2020, as government's pace of easing the restrictions on the South African economy is proving to be extremely gradual.
Already a report from BankServ (the largest automated payments clearing house in SA) analysing actual transactions, shows that in the thirty-eight days to the 3rd of May 2020 (since lockdown began on 26th March 2020 in SA) daily transactions are down sharply, by 49% after peaking in March, as consumer spending plummets.
Specifically, "consumer transactions were down by half of the usual transaction volumes tracked by BankservAfrica's Point-of-Sale (POS)* and ATM transactions over the corresponding period in 2019". "April's month-end was 48% below the norm", and the "drop in the month-end transaction volumes between March and April was 58%".   
BankServ highlights that this "reflects a slower start to the April pay month so far. The actual same period in 2019 had a 20% increase in transactions." "This is a far cry from the average daily spend by consumers that is usually higher at the start of the pay month."
Cheeringly, "indications so far suggest May 2020 will also be below the norm." "However, since 1 May 2020, when level 4 restrictions were applied, the average number of transactions processed by BankservAfrica increased slightly to 58% of the usual transaction spend", proving "a glimmer of hope for a gradual increase in spending over time."
As lockdown restrictions are eased further, with businesses hoping for level 3 restrictions to come sooner rather than later, the circulation of money in the economy is likely to see some further impetus, but consumer confidence will have been severely repressed in Q2.20, with lockdown also largely eliminating expenditure on big-ticket items and many luxuries.
Read the full report here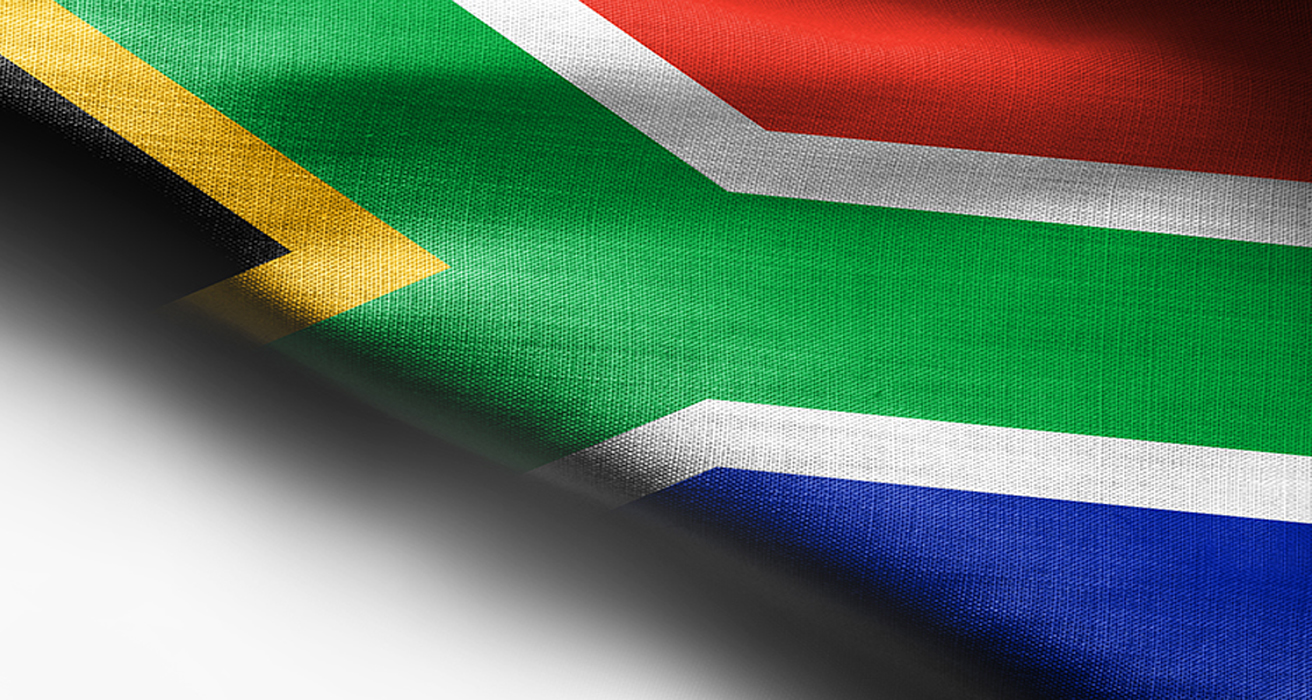 Another downgrade for SA
30 April 2020
Standard & Poor's downgrades South Africa to BB- from BB (foreign currency rating) with a stable outlook, and drops SA to BB from BB+ on its local currency rating (stable outlook), as SA falls further down the rating ladder 
The onslaught of improved risk sentiment largely overrode the impact of last night's S&P's downgrade on the rand. Further credit rating downgrades for SA are still possible, given also ongoing political obstructions to necessary structural reforms (particularly a massive reduction in regulations and red tape) to prioritise sustained, rapid economic growth rates.
Specifically, yesterday evening Standard & Poor's lowered South Africa's credit ratings once again, with the foreign currency rating on the sovereign's long-term debt falling to BB- from BB, with a stable outlook, and the local currency rating on SA's long-term debt fell to BB, from BB+, also with a stable outlook.
S&P highlighted that "South Africa's already contracting economy will face a further sharp COVID-19-related downturn in 2020" as "the broader economic fallout will be very difficult to handle, and South Africa entered the crisis from a weak fiscal and economic position." "The appreciably weaker macroeconomic environment will also weigh heavily on … fiscal revenues".
S&P adds, "(i)n the second half of 2019, the economy shrank, due partly to a set of severe rolling power blackouts. The COVID-19 health crisis will create additional and even more substantial headwinds to GDP growth, owing to a strict five-week domestic lockdown, the markedly weaker external demand outlook, and tighter credit conditions."
"As a result, we now project the economy to shrink by 4.5% this year compared with our November 2019 estimate of growth of 1.6%." " A proactive policy response, including South Africa's decision to go into a strict lockdown relatively early, has so far limited the health impact of COVID-19. Early gains in tackling the virus will be built upon". 
Early this morning the rand did weaken briefly to R18.23/USD, R19.81/EUR, and R22.70/GBP in response to S&P's downgrade as the country's ratings fall closer to C grade. South Africa's R800bn Covid-19 relief is expected to place great strain on government's finances, while tax revenues underperform substantially due to the lockdown.   
Concerns over SA's fiscal deficit and debt levels have been rising in general, with a Bloomberg's consensus now showing forecasts of a fiscal deficit in excess of -10% of GDP for 2020, and close to -10% of GDP in 2021. In 2022 a deficit of -8.5% of GDP is expected, as the impact of Covid-19 on government finances is expected to prove long-lasting.
The borrowing requirement will rise substantially, and S&P sees "net debt levels rising to over 75% of GDP by the end of 2020" and "to 84.7% by 2023, raising questions around debt sustainability". Credit rating agencies common primary function is to assess entities ability to repay debt, and SA's ability has deteriorated materially.
Read the full report here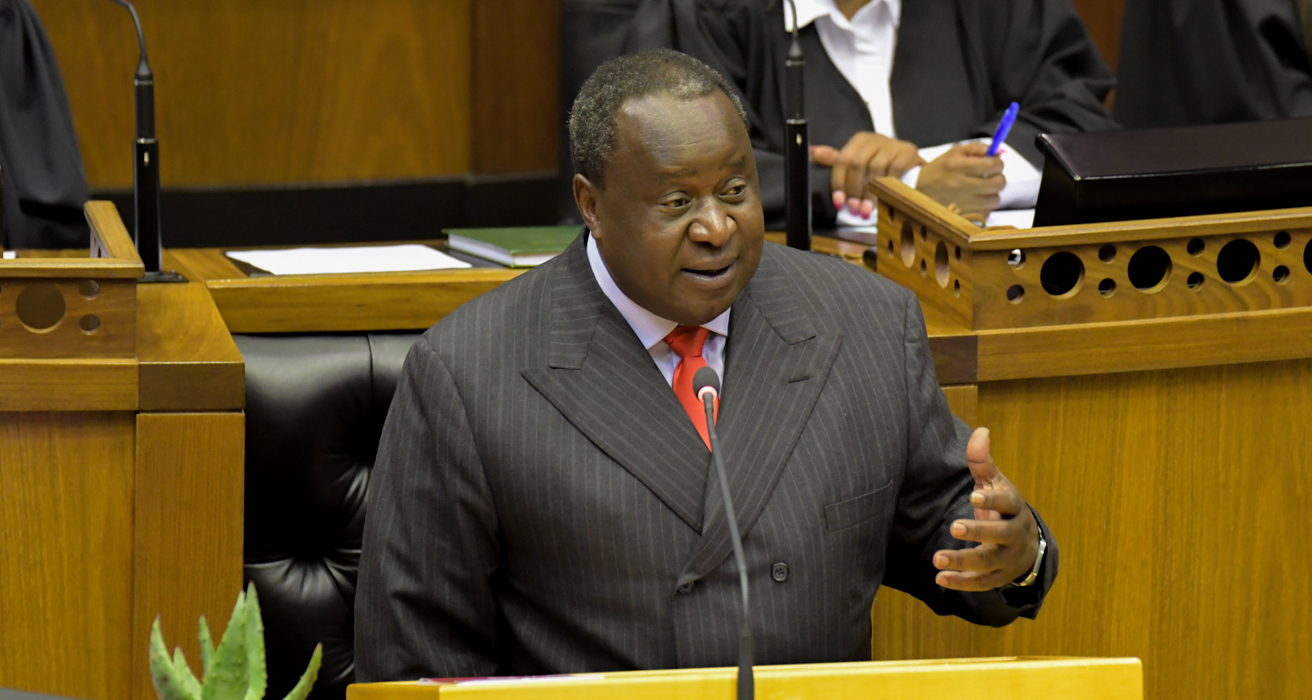 R500bn stimulus package for South Africa's economy
22 April 2020
The R500bn stimulus package for South Africa's economy (close to one tenth of GDP) announced last night is well targeted – but efficient, effective implementation will determine how successful it will be

With the impact of Covid-19 rapidly developing, the global recession is increasingly expected to be worse than previously thought, with a deep, lengthy downturn exceeding 2008-09s. South Africa is also seeing forecasts for its GDP revised significantly lower, with many tending towards the -5% y/y to -10% y/y range, up from smaller contractions initially forecast.
President Cyril Ramaphosa's announcement of a R500bn fiscal stimulus plan for South Africa last night is near 10% of GDP, and was not chosen lightly. The R500bn support package is well-targeted, with a high focus on providing bridging finance for corporates (R200bn), as well increasing healthcare and providing some measures of alleviation of poverty.
Specifically, the package is broken down into a) an extra-ordinary health budget, with R20bn for healthcare for in the face of Covid-19 Relief, b) relief from hunger and social distress, including R50bn for temporary 6-month Covid-19 grants, increasing existing grants, food assistance through vouchers and cash transfers and R20bn for emergency water supply.
Furthermore, c) support for companies and workers of R100bn for protection and creation of jobs, and a R200bn loan guarantee scheme for SMMEs (in partnership with SARB, banking sector, and National Treasury), and d) a phased reopening of the economy that is risk-adjusted, balancing the need to get back to work with the health risks.
The "R200 billion loan guarantee scheme … (is) in partnership with the major banks, the National Treasury, and the South African Reserve Bank. This will assist enterprises with operational costs, such as salaries, rent, and the payment of suppliers. In the initial phase, companies with a turnover of less than R300 million a year will be eligible."
The R500bn support package is part of the second phase of government's "economic response to stabilise the economy, address the extreme decline in supply and demand and protect jobs". "The third phase is the economic strategy we will implement to drive the recovery of our economy as the country emerges from this pandemic."
The President also highlighted other measures that occurred in the first phase, including R70bn tax relief measures, R40bn income support for firms unable to pay staff wages, release of disaster funds, while the 2% repo rate cuts have unlocked R80bn for the economy. These three phases make up government's economic recovery strategy.
"Central to the economic recovery strategy will be the measures we will embark upon to stimulate demand and supply through interventions such as a substantial infrastructure build programme, the speedy implementation of economic reforms, the transformation of our economy, and embarking on all other steps that will ignite inclusive economic growth."
The President's announcements last night also stated the need for structural reforms and inclusive economic growth. However, South Africa is expected to have been in a three-quarter recession before April this year as, the ease of doing business has been deteriorating in SA in the past decade, dragging economic growth down.  
Read the full report here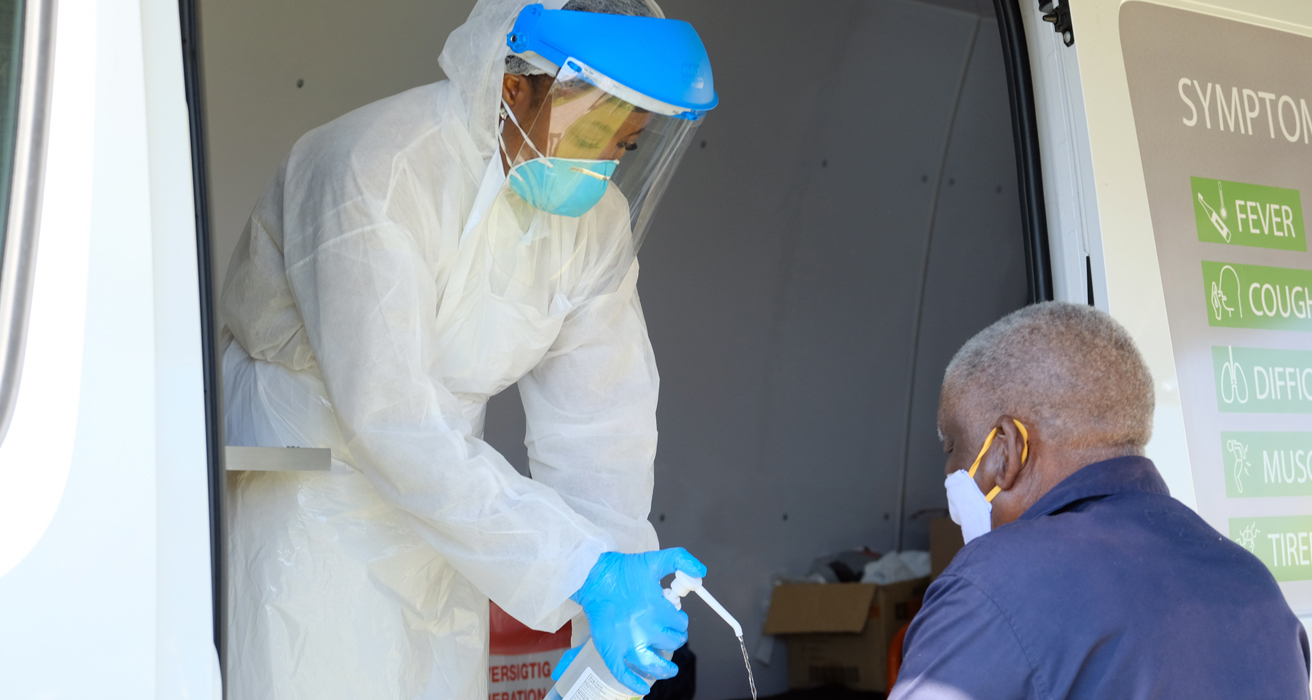 SA moves to level 4
16 April 2020
The SA's lockdown continues, but some small phased opening up of the economy has been approved by government, particularly in the mining sector, ports and logistics, hardware stores and some informal food traders
Many countries around the world are considering plans to lift restrictions on the operation of their economies (imposed to limit the spread of Covid-19), and are already outlining early phases of reopening parts of their economies, while at the same time (most are) considering the measures needed to avoid restarting a second round of Covid-19 infections.
Chancellor Merkel has appealed for "extreme caution", allowing the gradual reopening of some of smaller shops from next week and schools next month, but adding "(w)e have made some progress. But I do have to stress that this progress is fragile", "this is a situation in which caution is the order of the day, not foolhardiness."
German exports are expected to fall by a reported 15% this year (DIHK), with 80% of companies reporting sharp falls in turnovers and pessimistic views on the future, as the pandemic continues to negatively impact global supply chains, and delayed or cancelled capital investment adding to the malaise in Europe's largest economy.  
New Zealand may begin easing its lockdown next week, although Prime Minister Ardern warned it would not be back to normal. The country is looking at moving from a stage four lockdown, which has seen only food stores and pharmacies remain open, to stage three which includes restaurants reopening for take-aways, along with some other retailers.
President Trump has promised plans today on reopening the US  economy, stating that the U.S. had "passed the peak" of the Covid-19 crisis and that his "aggressive strategy" against Covid-19 was effective, vowing immediate "guidelines" on ventilating parts of the economy, with areas/states evidencing lower infections easing restrictions by 1st May.
The US is reporting a record daily death toll from Covid-19. WHO data shows that for 15th April the US had 578 268 confirmed cases, with 23 476 fatalities so far, and daily 24 446 new cases and 1 504 new deaths. The CDC says the US is "nearing the peak right now". The US has reported the most fatalities from Covid-19 versus any other nation.
The US has also lost 22 million jobs during its lockdown, eliminating the employment created in its past ten years of growth since its last recession of 2009, with Bloomberg also reporting that a US jobless rate of 15% or higher is implied by the recent jobless claims, a high since the Great Depression.
South Africa has amended its lockdown regulations to start reopening a few economic areas, notably mining (which can now operate at 50% capacity) under very strict health regulations. Miners which supply Eskom can operate at full capacity, as well as smelters, plants, and furnaces, and refineries to prevent fuel shortages, all under very strict health regulations.
Furthermore, essential items can be sold from hardwares and suppliers of vehicle components under register, logistics and ports can operate for export to decongest ports, bring in cargos currently at ports, and the transportation of cargos from ports and general transportation of essential goods. A further gradual phased opening of SA's economy is likely.
Read the full report here

Rand tumbles as intrest rate cut is announced
14 April 2020
Rand weakens on SARB surprise 100bp cut announced today, to R18.40, after having closed yesterday at R18.27,      we continue to expect an average of R17.50/USD for Q2.20
The surprise 100bp cut in the SARB's repo rate today (to 4.25%) takes South Africa's interest rate cuts this year to 2.25% in total. The repo rate is at a historic low since it was recorded in 1998, the previous low was in 2013 at 5%. The prime lending rate was last at 7.75% in 1973.
After an initial knee-jerk reaction, the rand retracted to R18.26/USD, R20.01/EUR, and R22.93/GBP from R18.37/USD, R20.09/EUR, and R23.03/GBP, with its close yesterday at R18.12/USD, R19.77/EUR, and R22.65/GBP. The SARB has indicated more cuts are currently likely, potentially another 1.25%. The rand saw additional weakness this afternoon.
Interest rates are low globally, with Central Bank rates respectively at 0.1% for the UK, 0.05% for the US, in Europe 0%and Japan at 0.3%. The degree of monetary and fiscal stimulus globally is unprecedented, with the Federal Reserve Bank expanding its assets on its balance sheet under a huge quantitative easing programme.
This will prove inflationary, and in particular will weaken the US dollar over the course of this year (and potentially next), while the huge quantum of liquidity globally is likely to prove yield-seeking, lowering risk appetite and driving portfolio flows into risky assets, which include equities generally and emerging market bonds, with the rand expected to benefit.
The rand saw a more marked retracement against the US dollar, than against the euro and the UK pound, around midday, while the gold price rose to US$1 748/oz from its close of US$1 713/oz yesterday,  with the gold price expected to gain further on the impact of global QE (Quantitative Easing). 
Currently, however, global financial markets have not yet entered a period of risk-on and risk aversion is still heightened globally. The domestic currency is still at weak levels and is likely to remain volatile and weak in the near term until evidence for the beginnings of a recovery in the global economy becomes clearer.
The South African Reserve Bank (SARB) notes currently as well that "global financing conditions are no longer supportive of emerging market currency and asset values. Credit risk has risen back to 2008 levels and about R100billion of local assets have been sold by non-resident investors."
The SARB adds that "(t)he overall risks to the inflation outlook at this time appear to be to the downside". Its 2.25% cut in interest rates this year has helped both steepen, and lower the yield curve, along with its substantial operations to add liquidity in the mid to longer-end of the yield curve.
The huge volumes of QE globally makes the interest rate cuts in South Africa easier for markets to stomach, and the SARB is likely to cut rates further to assist SA as additional measures of monetary stimulus occur globally. The rate cuts in SA are likely to keep the rand closer to R18.00/USD - R18.50/USD this month, but strengthening as risk-on emerges.
Read the full report here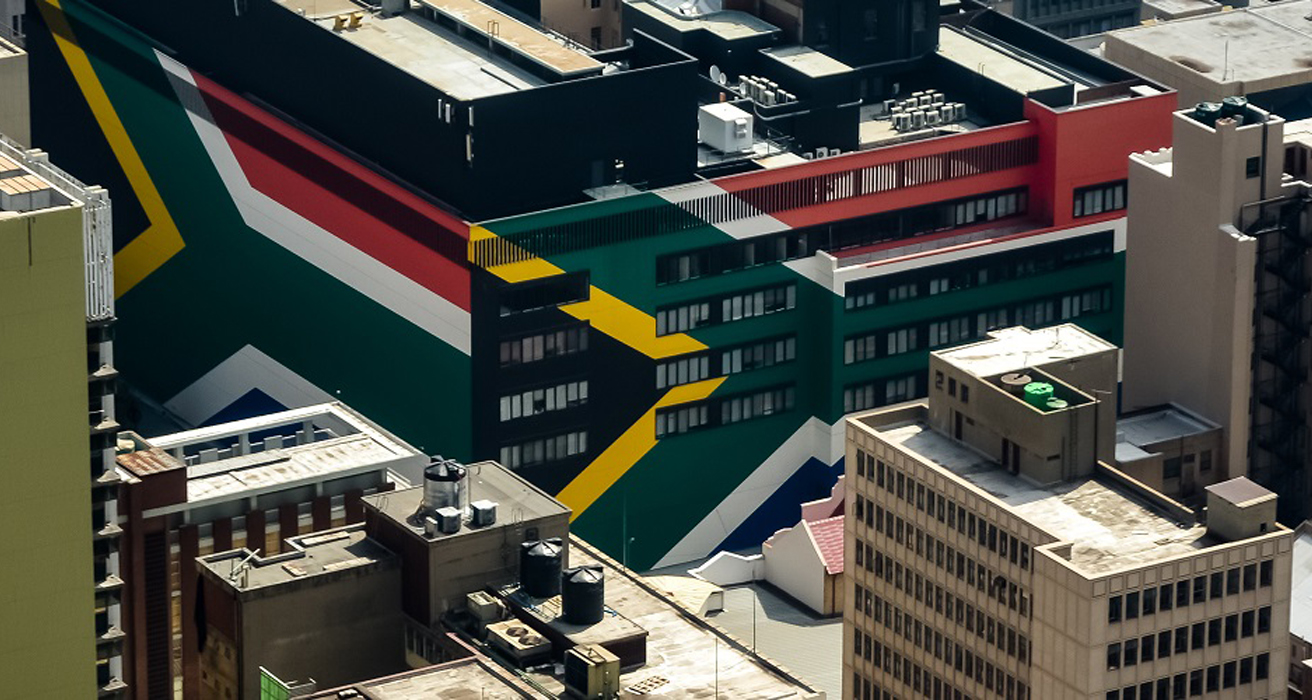 Q2.20 Macro-economic outlook 2020-25
1 April 2020
Covid-19's global impact aids SA deeper into its recession, H2.20 is likely to see recovery
South Africa is currently likely to see GDP contract by -2.7% y/y this year, following on from the recession in the second half of last year. Risk is seen to be tilted to the downside however, on both the degree and extent of disruption to domestic, and global, economic activity from the Covid-19 pandemic.

South Africa's recession this year is expected to be greater than its recession at the time of the global financial crisis just over a decade ago. In 2020 peak to trough a contraction of -4.0%  is estimated, versus -2.5% in SA's recession that stretched over H2.08 and Q1.09.

The global economy is widely believed to fall into a recession this year, but consensus expectations are currently for the global economy to recover in 2021, and indeed for this recovery to begin in the second half of 2020. 

However, uncertainty is still high and  it is not yet certain how long it will take to contain the virus (flatten the curve globally), and how long the global economy will be negatively affected, with some growing concerns that the negative impact of Covid-19 could drag on into 2021.

Policy support measures announced have been very substantial globally, bringing some stabilization to the financial markets, but the economic shutdowns are having negative effects on incomes, employment and output globally. 

While better understandings of Covid-19 has been gained over the last month from the experiences in other countries (particularly China), uncertainty is still high and it as it is not yet certain how long it will take to contain the virus (flatten the curve globally), and how long the global economy will be negatively affected,.

Indeed, only once it looks likely that the Covid-19 curve has flattened globally and sentiment turned, will economic forecast become clearer. Reducing market risk aversion (uncertainty) from still high levels will be key in driving some recovery of the rand and SA's other financial market indicators.

Read the full report here
Receive Focus insights straight to your inbox
Get more economic insights from Investec Focus