Responsible Rocks: The rising demand for ethical gems
Jewellery may be the ultimate luxury gift, but consumers with a conscience now demand ethically sourced stones and metals – from diamonds to coloured stones like emeralds, sapphires, and rubies.
A wearable investment that inspires a sort of passion similar to buying fine art, jewellery performs extremely well as an investment asset class – up by 112% in the 10 years to Q4 2018, according to the most recent Knight Frank Luxury Investment Index.
Receive Focus insights straight to your inbox
Rise of the movement
Long before the fashion industry began to question the manufacturing methods used, fabrics sourced and labour involved in the creation of their products, the jewellery trade was forced to take a long, hard look at its offering. A growing movement was gaining momentum throughout the world – one that demanded sustainability and transparency in all we bought, wore and used. The fair and ethical trade movement changed what coffee we drank, what chocolate we ate and what cotton we wore.
No surprise, then, that the glittering prizes used to adorn the body and reflect both wealth and power would become a case for serious scrutiny. How these glories appeared had intrigued people for centuries. How were they found, and where? Who owned them? How were they produced? They were the subjects of legends and lies, scams and scandals, love and loss.
Leonardo di Caprio highlighted the concept of blood diamonds to the general public with his 2006 film, but jewellery makers and retailers have long been aware of the growing concerns about the earth being plundered, countries driven to war, tribes being decimated and people being treated cruelly – and the part their industry may have played in this.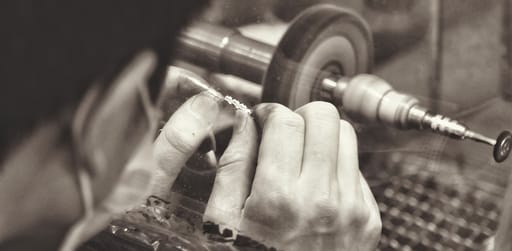 An industry taking action 
In the diamond market, increased calls for transparency were aimed at accounting for the life cycle of a stone: from mining to cutting and polishing, to sale and transport, and the creation and sale of the jewellery itself.
Slowly and firmly, the industry began to take action. In 2003, the Kimberley Process Certification Scheme was set up to halt 'blood' or 'conflict' diamonds – gems sold or traded to fund armed conflicts – from entering the mainstream jewellery market. And nearly 15 years ago, the Responsible Jewellery Council was inaugurated to establish and monitor responsible business practices in the diamond, gold and platinum industries. To date, it has more than 1,100 members representing the jewellery trade, from mine to retail. Its code of practice addresses everything from environmental impact and mining practices to human and labour rights.  
Coloured stones present more difficulty. While the diamond industry is institutionalised and operates on a larger scale, coloured gems tend to be sourced from smaller, informal digging sites – the industry is more sprawling and less regulated.  
No emerald or ruby is completely flawless, and while the nature of inclusions – minerals or foreign bodies encased within gemstones – only added to the myths and mysteries surrounding these rare gems, it meant they also were easier to fake. Combined with a lack of information on their source and history, many dealers were unable to determine where the stones originated.  

With coloured stones now highly fashionable (having returned to favour after years of being in the diamond doldrums), this has elicited renewed scrutiny on their provenance. Many of the finest rubies and sapphires, for example, come from Myanmar, where a military-led crackdown on the Rohingya people in 2017 has been described by the UN as ethnic cleansing and possible genocide – raising concerns about so-called 'genocide gems'.
Ethical sourcing and responsible production
These days, companies and individuals are taking steps to increase transparency and accountability from mine to market, establish corporate social responsibility guidelines, and set standards related to pricing, trade, labour and materials.  
In the mid-2000s, Gemfields was set up in London and quickly became a significant producer of emeralds and amethysts from Zambia and rubies from Mozambique – and a source of ethically mined gems. Gemfields developed what's considered to be the first formal grading system for coloured stones, and seeks to minimise the environmental impact of its mines while investing in community projects in the areas in which it operates. To this end, it is working closely with dealers and manufacturers to modernise the sector, with its gems used by some of the world's top jewellers, including Fabergé – which it acquired in 2013 – and Chopard. 
Jewellers themselves have introduced their own safeguards, and continue to launch new initiatives. Last year, De Beers, the largest diamond producer in the world, created the Tracr platform, which uses state-of-the-art blockchain technology to chart a secure digital trail on a number of rough diamonds – from miner to cutter to polisher to jeweller – in order to verify the authenticity of each stone. They had help from five manufacturers in creating Tracr and hope to roll it out to the rest of the industry this year. 
De Beers also is committed to biodiversity and land conservation, dedicating six hectares of land to conservation for every hectare affected by mining, and has developed educational, community and gender diversity projects where it operates.  
Tiffany & Co., for one, has worked to improve supply chain transparency and the responsible sourcing of coloured gemstones. Though formal sanctions that prevented the import of jade and rubies from Myanmar – originally passed due to the severity of human rights violations there – were lifted in 2016, the company has not purchased any stones from the country since 2003. Tiffany is also launching the Diamond Source Initiative, a programme that specifies the country in which a diamond is mined and, in future, information on where it was cut, polished and set.  
Individual designers such as Solange Azagury-Partridge and Stephen Webster have always been concerned about the stones they use and their provenance, selecting and purchasing from companies like Gemfields and Rubyfair, as have a plethora of newer names like Guya Merkle and Olivia Grace.   
Merkle, who inherited her company, Vieri, from her father, travelled to Africa and to Peru to ensure that the gold the company used was ethically mined. She also saw how workers in the mines were regularly exposed to toxic chemicals, founding the Earthbeat Foundation to encourage responsible mining projects and strengthen alternative businesses in mining communities.  
The ethical sourcing and responsible production of some of the most beautiful decorations in the world may be a slow build. But the majority of the industry's major brands are dedicated to it, younger designers are committed to it, and consumers are demanding it. This is a movement that will only grow.
Writer and editor Jo Foley is the former editor of Woman, Options and Observer Magazine and has edited a number of publications for the Illustrated London News Group.