Meet Annelise Peers
"Who I am now is not the person I'll be in 20 years," says Annelise Peers, a member of Investec's Global Investment Strategy Group (GISG). "That's because I'm an eternal student, always learning new things." This is no throwaway comment – Annelise speaks five different languages and is busy learning a sixth.
Learning those languages has helped open up new worlds for her and reminded her of the importance of stepping outside the bubble that is often our daily lives and that we think is reality.
Working in financial markets in different countries has put her in a position to constantly question these preconceptions we have about reality.
"To be relevant, you have to keep moving along. Thankfully, that is the nature of our business."
Annelise says the GISG's greatest strength is the role it plays as a beacon in the difficult markets we find ourselves in. "My clients need to know that there's depth to the decisions made about their portfolios, that it's not just me making the calls," she says. "What I like about being on the GISG is the way alternative views test you and challenge your own views."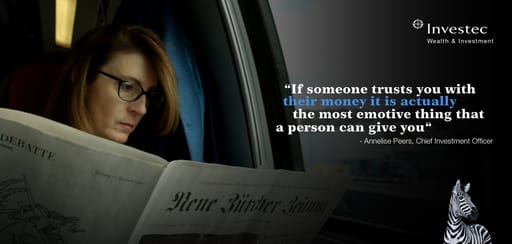 Trust us to manage your wealth today
More insights from Annelise Peers