Gabriella Somerville founded ConnectJets in 2009. With her own capital. During one of the worst times in aviation history. Sounds crazy? Perhaps. But Somerville saw an opportunity where others saw obstacles.
This boldness, resilience and, above all, enthusiasm for her work began from an early age and has continued to drive her business decisions as the aviation industry evolves.
"From age two I was attending air shows," she says. "My father never saw any stigma in taking me, and that fed through to when I started to make career choices."
Her first aviation job was as cabin crew with British Island Airways, after which she spent seven years flying around the world with Virgin Atlantic. "It was so new and exciting. I don't ever remember having a bad day at altitude." But she wanted to soar higher. "I didn't possess a degree, but I had determination."
Within a few years, Somerville was part of Virgin's promo team for inaugural flights and looking after VIPs. "Richard [Branson] was an inspiring leader and encouraged entrepreneurial flair," she recalls. "He'd give you the autonomy to make changes."
Somerville moved back to British Airways in 1996, becoming fleet and customer services director, before launching Cool Eventz in 2005, creating luxury boutique events for jet companies. A job at Bombardier Skyjet International followed, but there was turbulence ahead.
The recession levelled many areas of British industry – including aviation. So when she decided to start up private aviation firm ConnectJets in 2009, with her own capital, "people thought I was quite mad".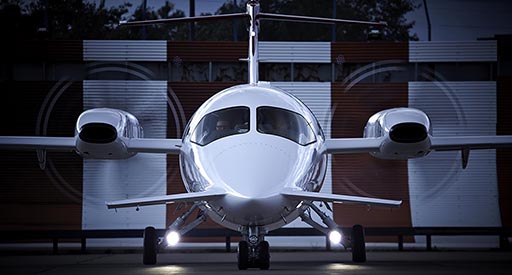 Somerville founded ConnectJets in 2009, with her own capital
A down payment on future success
Somerville could see opportunity. "ConnectJets was created to solve problems that had come about because of the economic downturn. With marketing budgets retracting and customers selling off their aircraft, I'd go in and offer solutions. Two years later, we'd turned over £4m with zero debt.
"After working for Sir Richard Branson at the age of 21, Somerville had seen first-hand the Herculean effort and tenacity required for such a start-up. "It is imperative to listen to your clients, gauge the market and where it could go, and keep innovating."
Over the years, ConnectJets' business model has continued to evolve to include charter, jet card, aircraft, and Avanti EVO sales, with clients ranging from corporations to celebrities. "Aviation is tough, as is the competition. You have to remain versatile, innovative and at the top of your game."
And, says Somerville, growth, and success depend on being a versatile and agile leader.

"True leadership means you listen, empower and encourage," she says. "As an entrepreneur, it's important that while we keep our eyes fixed ahead, we don't forget about our team, who might be a few steps behind us. Richard Branson was good at keeping one eye ahead and one eye behind and engaging with his shop floor workers."

Her advice to other founders? "Be honest to yourself and the team. Leadership is challenging, especially if you're running a small business, where there isn't a corporate support network. As leaders, we often fail at getting it right all the time. Admit mistakes – it makes us human, and we gain respect.
"It's important to be calm in a crisis. Draw yourself back, look at it collectively and take a couple of deep breaths. Create a roadmap or a strategy and involve the whole team in what you're doing. You need their support and their belief that what you're doing is right."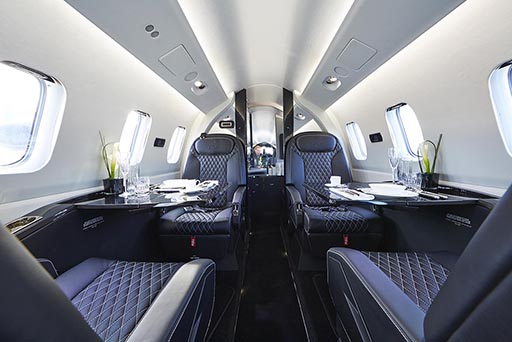 Over the years, ConnectJets has continued to evolve, and now includes charter, jet card, aircraft, and Avanti EVO models.
Somerville's future is now focused on two challenging aims in her industry: a more gender-diverse workforce and sustainable aviation.
"Sustainability is at the forefront of my mind right now – private aircraft pilots and owners are now looking for environmentally sensitive aircraft." ConnectJets is now the UK agent for the Avanti EVO – a twin turbo-prop aircraft manufactured in Italy by Piaggio Aerospace that is 40% more fuel efficient than a jet.
"We're also currently working with VRCO, based in Derbyshire, who manufacture the new, electric-powered NeoXcraft e-VTOL – a flying car! It's quiet, cheap to run, and very eco-friendly, as it can be charged exclusively on solar power."
She also remains a vocal advocate for women in aviation – fewer than 5% of pilots worldwide are female, and in 2014 she became the first female sales agent for the Piaggio Aerospace Avanti EVO for the UK and territories. Somerville's aim is "to see more women take on key roles", and in 2015 she won an honorary global exemplary award for entrepreneurship from the EU Women Inventors & Innovators Network for her achievements.
"As entrepreneurs, most of us will experience the vortex of failure and the flight of success. Both can be fleeting – you have to learn to accept that both will come and go. It's how you handle defeat and triumph on which you'll ultimately be judged. There was a great sign at Frieze art fair this year in London.
It read: 'I can't go on, I'll go on!' It sums up one of my favourite quotes from Churchill: "Success is not final, failure is not fatal: it is the courage to continue that counts."
For more Business Class insights, click on the image below:
Receive Focus insights straight to your inbox