Do what you love. Add the most value.
Good Work Foundation CEO Kate Groch tells us about her passion for helping young people learn.
Current role
CEO of the Good Work Foundation, based in Hazyview
Qualifications
B.Sc in Zoology UCT (Honours – University of Pretoria) 
Teaching Degree (UNISA)
Your top tip to young women graduates looking to enter the working world? Really try to discover what you love, and make that what you do.
Best piece of advice you've ever received about your career?  If  you really believe in something, even if it feels like you're going uphill, keep going.
What book are you reading? Where the Crawdads Sing, by Delia Owens
What podcast are you listening to? On Being, by Krista Tippett

From her experience teaching at a rural high school in the Free State, Kate Groch was inspired to start the Good Work Foundation (GWF), which is on a mission to lead a digitally empowered education model for rural Africa. The GWF is sponsored in part by Investec's Rhino Lifeline.  Here, Kate talks to us about her passion for helping young people learn who they really are, so that they can do what they love to add the most value to the planet.
What inspired you to start the Good Work Foundation?
In the early 2000s I was teaching Maths, Science and Biology at a local high school in a small Free State town, and it was a big eye-opener to see the gap in education between urban and rural areas. There was this moment when I realised that something needed to be done: we were not tapping into most of the potential of our country's people – because most of them were living in rural areas. 
My second piece of inspiration was when I adopted my daughter, Maya, and watched her potential explode when she was given nurturing, love and opportunity. Every day, she is a reminder that no matter where you're born, if you're given love, opportunities and access to learning, you can achieve anything.
How is technology changing the way youth in poor communities access education?  
The challenge with rural areas is how to get brilliant teachers into all these tiny schools. It also becomes so hard in a school where there is only one teacher and maybe 70 kids – how can we get these kids to love learning?
Learning is meant to be fun and technology can help bring this wonder back to the learning process. 
In a small rural community, technology also shows kids that they are in charge of how their learning progresses, because it gives agency back to them. So you don't have to wait for a textbook or a teacher – if you're curious, technology lets you progress – it really takes the lid off learning.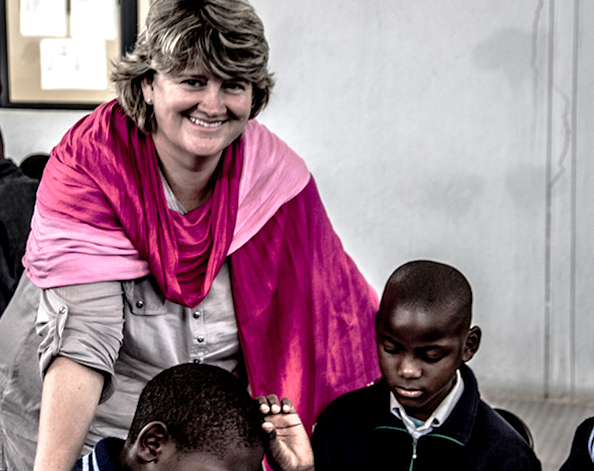 Kate Groch, CEO of the Good Work Foundation
Never assume what somebody knows, and never underestimate what they can learn.
What are the main challenges for adults trying to enter the working world?  
Out here, often when young people are asked what they want to do when they're older, they say "I just want a job". They haven't had the luxury of really looking at who they are, what they'd love to do, and where they would add the best value to the planet.

Because of this mindset, people grab any opportunity: you'll get a whole lot of kids studying nursing or teaching, simply because there was a bursary available. So the challenge is to really get them to understand themselves and then work out what they want to do. We've got young people who are studying Fine Art, which is not a normal thing to be studying from a poor community, because the typical mindset is, what's the job afterwards? But you don't just have to have a job – you can start a career.
Another challenge is that there's a tendency to think that if you're smart and you get a bursary, you go to the city and never come back. We need to look at how we can energise work and opportunities in rural areas – so that you don't have to leave your family in order to be successful. 
GWF – digitally empowering rural Africa
Kate's career tips
Never stop learning - there are so many wonderful online courses and seminars 
Read and listen to podcasts of people who inspire you 
Find someone in your community who has been successful and ask them to mentor you 
Don't be afraid to try! If it does not work, learn what you can from the experience and try again 
Spend time with and really get to know yourself 
Prepare for interviews. Write answers to the sort of questions you think they will ask and do research on the company. Prepare a few questions for the interviewers too.
What needs to change with the way we approach education – with adults and children? 
The biggest shift that has to happen is to stop thinking in compartments where you go to school, and then go to work. Learning isn't a compartment of 12 years while you're in school, and then it's done, rather there is an ecosystem of learning and working. There's ongoing learning within where you are, and then you reinvent yourself, and continuously shift. 

Any success stories you can share?  
Almost our entire team have come through our system. We've got amazing people: some started as builders on our campus and now they're running all the finance admin. One person was the gardener at the church and now she's in our hospitality academy. We're also seeing young people really start to return to their own communities and energise them. Some joined us after school at a bridging year level, discovered who they are, went into career academies, and through our facilitator internship are now teaching others. 

What advice would you give a young, ambitious learner from a poor background?
Where you're born is an important part of who you are, so hold onto that – but it doesn't define where you can go. It helps when you start to have older students be role models for other young people, because they see people in their communities doing all sorts of amazing things. At the same time, you don't want people to lose the sense of community they have. So, don't lose where you came from, but don't let it hold you back. 

What's the most important thing you've learned since starting your journey with the Good Work Foundation?   
Never assume what somebody knows, and never underestimate what they can learn.
Investec Rhino Lifeline sponsors both the Open Learning Academy and the Coaching for Conservation programme at GWF.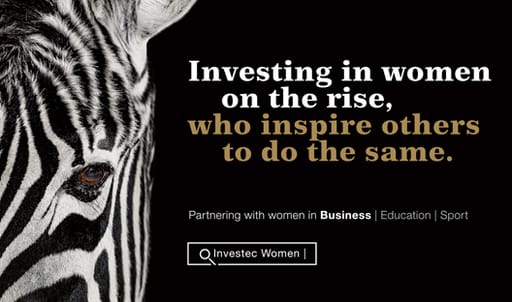 Women on the rise
Read more inspirational stories from Investec women in education.