Investec has been founded by entrepreneurs, for entrepreneurs. The spirit of entrepreneurialism runs throughout Investec and the programmes and initiatives that the bank chooses to support. A few Tube stops to the east of Investec's offices in the City, close to the hum and gleam of London's financial centre, is a new and rising world of young, ambitious entrepreneurs. In Bromley-by-Bow, you will find a shining, real-world illustration of what Investec means when they say their purpose is to 'create enduring worth'.
These words capture Investec's values and culture, which the bank and its people live by with their continued commitment to Investec Beyond Business. Executed in partnership with the Bromley-by-Bow Centre, this social enterprise incubation programme provides budding entrepreneurs with seed funding and professional counselling with volunteers from the bank's finance, marketing, and human resources departments. Not only does Investec Business Beyond create sustainable, profit-making businesses – with a combined total turnover to date of £6.5 million, but it also helps in producing positive social outcomes for the community.
Youth employment, social exclusion and vulnerable families are among the social issues that have been addressed by the start-ups backed by the initiative. Others are targeted towards community cohesion, homelessness, mental health, rehabilitation of ex-offenders and food poverty.
Beyond Business is strongly backed by its leaders, with CEO Ruth Leas on the judging panel. Every year, a shortlist of businesses is invited to pitch to the panel of judges comprising of senior leaders at Investec as well as senior members of the Bromley-By-Bow Centre. The judging day deliberately coincides with City Giving Day in London, which celebrates the value of the City to society and shows how businesses can make a difference, as part of the bid to create a fair society. After a day-long pitching process, the panel selects five or six most promising social enterprises. The successful entrepreneurs each receive between £20,000-£30,000 in seed funding, along with specialist advice from Investec volunteers.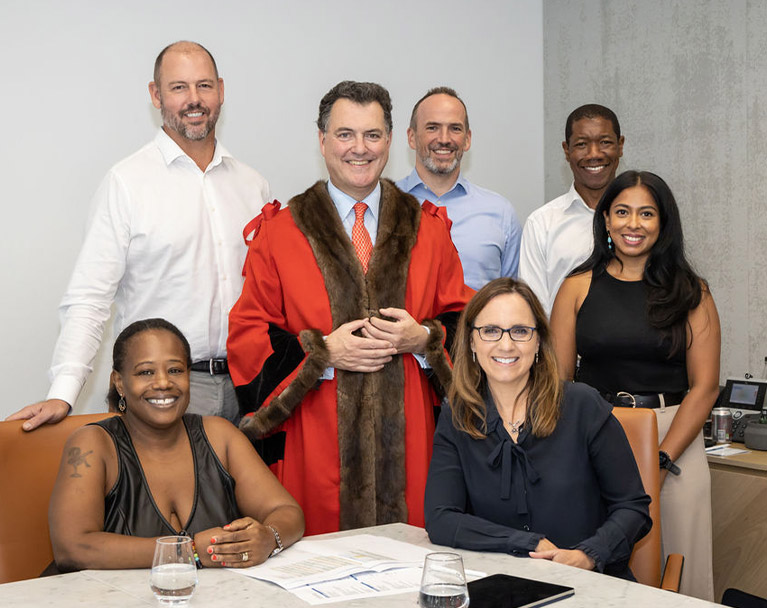 Laura North,

founder WeSpeak
Each Investec mentor creates a warm and judgement-free environment that allows students who are low in confidence to grow and thrive.
The bank's support for the entrepreneurs often continues long after the seed funding has been awarded. An evident example of this is a social enterprise which was a winner in 2019 is We Speak, which is an online programme helping students from under-represented backgrounds to improve their speaking skills and confidence in the workplace. Investec's staff continue to engage with the business and volunteer their time to mentor and guide the students through We Speak, to date. Since 2019, around 100 Investec mentors have worked directly with 250 students, increasing their confidence by 42% on average. "It's an incredible experience working with Investec and the mentors," said Laura North, the CEO and founder of We Speak. "The culture of Investec is a perfect fit with We Speak because it is so inclusive and generous. Each Investec mentor creates a warm and judgement-free environment that allows students who are low in confidence to grow and thrive."
Creating enduring worth means making meaningful, long-term commitments and Investec's support for the community goes back almost two decades. Since 2011, Investec has been the sole provider of funds for Beyond Business, in which time the programme has launched 56 social enterprises, many of them female-led and from diverse backgrounds. Their success has had a lasting impact on the wider community, creating more than 375 jobs and providing 54 work experience placements and 76 volunteer opportunities. The programme has helped launch a wide range of start-ups, including a catering business, a counselling service for women and a bicycle manufacturing and repair business.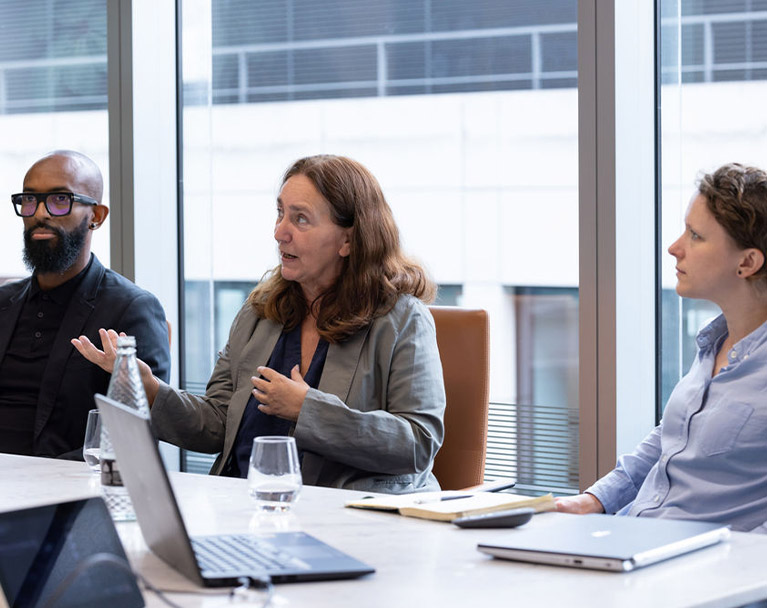 Levan Peart,

founder Blackout Dance Camp
I met other entrepreneurs and industry professionals, which helped me build connections and gain insights into the market.
The entrepreneurial spirit, which is key to Investec's success, can be felt in every part of the bank. Over the years, Investec Beyond Business's judging panel have witnessed the same zeal and spirit among those who have applied for the seed funding. To date, the success rate is high with 75% of the social enterprises still trading after three years, which is well above the national average for new businesses of 50%.
"The Beyond Business programme was highly beneficial in launching my company. One of the most valuable parts of the programme was the mentorship component. I am currently paired with an experienced mentor who is providing invaluable guidance. Another helpful aspect was the networking opportunities. I met other entrepreneurs and industry professionals, which helped me build connections and gain insights into the market. The programme also provided access to resources such as workshops and funding opportunities, which were invaluable in getting my business elevated. I am very grateful for the support I received through the Beyond Business programme and would highly recommend it to other entrepreneurs", says Levan Peart, a previous winner of the Beyond Business programme and founder of Blackout Dance Camp.
While Investec Beyond Business has created opportunities in and around Bromley-by-Bow over the years, the programme has also been immensely rewarding for Investec's employees, allowing them to gain fresh perspectives, to engage with those around them and to grow professionally and personally.  Active involvement in supporting businesses with social causes not just for the benefits the entrepreneurs, but it also benefits the mentors. They meet smart and driven people who, up until that point in their lives, had never had a break. They meet people who are dedicated to making something of their lives, given the opportunity.
Investec Beyond Business is an integral part of the community at Bromley by Bow. It is an initiative of which Investec's people should be proud, as an example of how the bank is staying true to its purpose of creating enduring worth. Having a purpose is always a positive; it's even more powerful when it's a shared purpose.