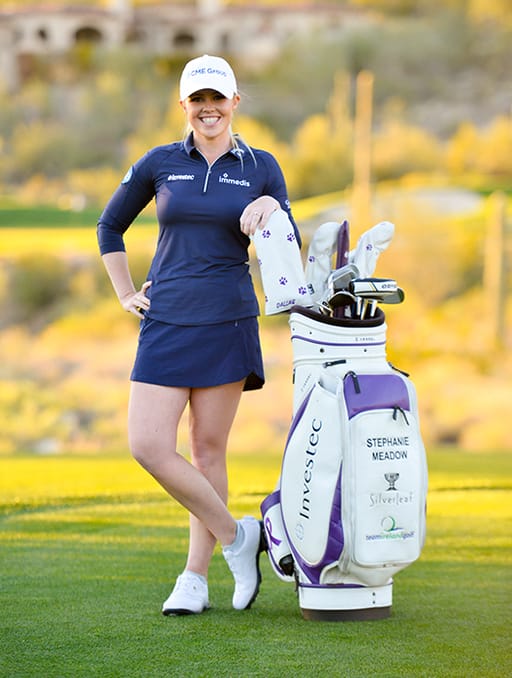 2020 was Stephanie's most successful year having climbed to 124th in the official world rankings. Originally from Jordanstown, Co Antrim, Stephanie had an accomplished early golfing career, and represented Ireland in the 2016 Rio Olympics. Having finished 3rd in the US Open in 2014, Stephanie's career was put on hold following the sad passing of her father.  Through her outstanding resilience Stephanie's was recognised by her fellow golfers on the LPGA Tour honouring her with the Heather Farr Award which is given each year to an LPGA golfer 'who through her hard work, dedication and love of the game of golf, has demonstrated determination, perseverance and spirit in fulfilling her goals as a player'.
Recognising her achievements, Stephanie was chosen as the 2018 Irish Golf Writers' Professional of the Year, the first woman to win the award in its 43 year history.
Outside of golf, Stephanie is an accounting graduate, and views herself as a young entrepreneur who self manages her professional golfing career and personal brand.
Stephanie commented:
"Investec has been an unbelievable partner since 2016. They have stuck by me, supported me, and believed in me through all my highs and lows. I am proud to represent a company whose values align directly with my own. I would truly not be here today without their support and vision."
Leigh Yeaman, Divisional Director for Investec Belfast continued:
"Investec has backed Stephanie since 2016, and are immensely proud of what she's achieved. Her resilience, perseverance and drive is an example for us all, and we wish her every success in the upcoming season."
Investec Wealth & Investment (UK) is a trading name of Investec Wealth & Investment Limited which is a subsidiary of Rathbones Group Plc. Investec Wealth & Investment Limited is authorised and regulated by the Financial Conduct Authority and is registered in England. Registered No. 2122340. Registered Office: 30 Gresham Street. London. EC2V 7QN.