A few months ago I made the case for patience and commitment in staying the course to reach long-term investing goals.  Nothing has changed.  In fact, it turns out that patience is exactly what we (investors, clients, strategists, and advisers) needed and will continue to benefit from.  You may be aware that September was a low point for many markets and the gains since then have been welcomed, even though the market leader board has been very narrow (mega Tech, again!).  A well-known investor once said "The stock market is a device for transferring money from the impatient to the patient" and I have seen this first hand over the last 16 years (and fortunately/unfortunately I continue to see it).
Returns are lumpy.  It has been hypothesised that one makes 80% of their return in only 20% of the time – we just don't know which 20% - but in any case the best years tend to follow the worst years.
The American Market (S&P 500) has produced an average yearly return of 10% from 1926 – 2021, yet we have observed this 10% figure only 7 times in those 96 years (the dark blue bars below).  In other words, don't expect average.

S&P 500 Index Annual Returns 1926 - 2021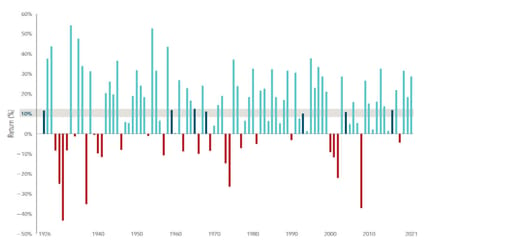 In USD & dividends reinvested. Past performance is not necessarily a guide to the future and should not be relied upon.

The story of the last six months has been one of disaster avoided rather than anything materially positive.  There is still a chance of a mild recession, however, we escaped a US Debt Crisis, we ducked under Banking Crisis 2.0, and we were saved by warmer European weather reducing the reliance on Russian gas.  We still have to contend with stubbornly high inflation, especially in the UK, as well as the unknown consequences of higher interest rates (think mortgages, business borrowing, as well as a higher cost on government borrowing).
Positively though, employment is solid, consumers have low debt and strong savings which they continue to spend, and companies are generally healthy.  We also have the Artificial Intelligence wild card to consider!
We continue to proceed with caution, but in no way fearful – the markets can always surprise!
Investec Wealth & Investment (UK) is a trading name of Investec Wealth & Investment Limited which is a subsidiary of Rathbones Group Plc. Investec Wealth & Investment Limited is authorised and regulated by the Financial Conduct Authority and is registered in England. Registered No. 2122340. Registered Office: 30 Gresham Street. London. EC2V 7QN.