The market: According to Deloitte, the top 100 luxury goods companies generated revenues of $305bn in 2021. According to PWC, China's luxury goods market is seen to hit $112bn by 2025. China's share in the global personal luxury market according to the FT/Bain. The risk for this forecast is not only economic growth, but also President Xi's push for common properity.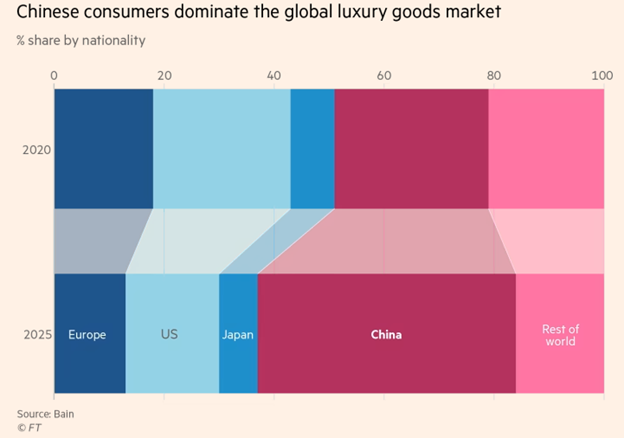 The problem: "While the super-rich continue to spend, Burberry Chief Executive Officer Jonathan Akeroyd said younger, more aspirational US consumers were cutting back on purchases of sneakers, hats and belts." Americans, particularly young consumers who had discovered European luxury, kept spending. It helped that they were flush with stimulus payments as well as stock market and cryptocurrency gains. Source BBG. Iconic luxury house Chanel's growth in the US has slowed in the past six months, pointing to a moderation in luxury's biggest market following a multiyear boom.  The world's second-biggest luxury brand by revenues, which is privately held, is growing "in the single digits" in the US, chief financial officer Philippe Blondiaux told the Financial Times, after growing by nearly 10 percent in the Americas — where the US accounts for the majority of sales — last year. "We had a softening in the US, so no different from some of our competitors, from November of 2022, and that's continued over the first few months of 2023," Blondiaux said. Source FT
Hope on China is getting priced: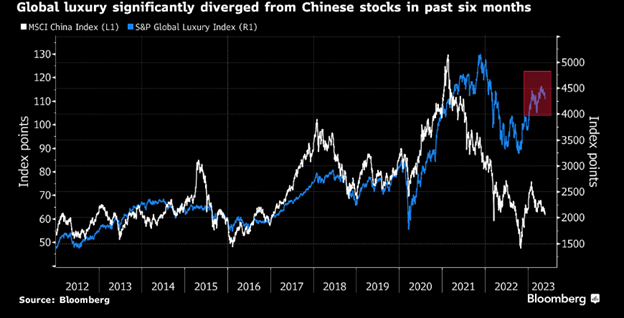 Some cracks in the system: Watchfinder & Co., the online pre-owned watch-selling platform controlled by luxury conglomerate Richemont, has dropped prices by about 15 per cent as valuations of used Rolex and other top models have declined. "There is pain for sure", Arjen van de Vall, who took over as the chief executive officer of Watchfinder in 2021, said in an interview. "You see supply going up significantly for models that we would literally have killed for just a couple of months before." Watch values have been hit by slowing economic growth, higher interest rates and the collapse of cryptocurrencies. In recent months, watch dealers and investors have flooded the market with supply of once-sought-after Rolex Daytona, Patek Nautilus and Audemars Piguet Royal Oak models, leading to a 24 per cent decline in a luxury watch market index, compiled by Watchcharts, in 12 months. The index comprises 60 watches from the top 10 luxury watch brands by transaction value. Bloomberg/Style magazine.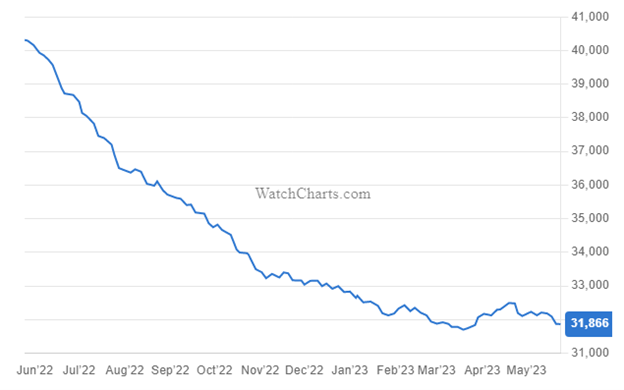 Below a relative graph, showing Watches of Switzerland (U.S. & UK based) vs Richemont (FX adjusted). Hope for Chinese revenge spending seems priced in my mind.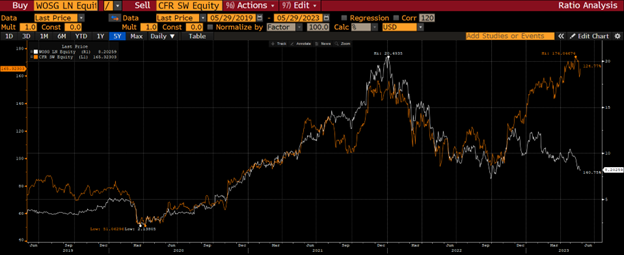 The below relative chart shows Richemont vs Kering. Gucci "traditionally" strong in Asia, but underperforming. What is this saying?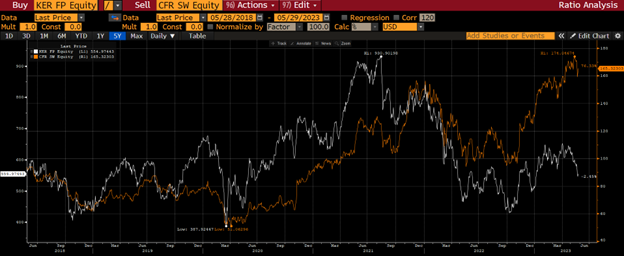 The developed market consumer: There are certain signs that consumers in developed markets are starting to spend less on luxury. Below credit card spending on luxury goods in the U.S. From a recent cnbc article: Luxury companies might be noticing a spending slowdown among the 80% of their customers who are "nearly affluent," said Pedraza of the Luxury Institute. But he said those consumers typically account for about 30% of sales. Instead, he said luxury brands often count on just 20% of its clientele − the ultra-wealthy and very wealthy -- for the majority of their sales. And since that cadre is far more inflation and recession-resistant, luxury companies tend to experience a slowdown last, he said.  – My view is that luxury companies need those "nearly affluent" customers for future growth – and currently this category faces drastic reductions of disposable income. The wealth effect of falling house prices, portfolios, etc. might also play a role here.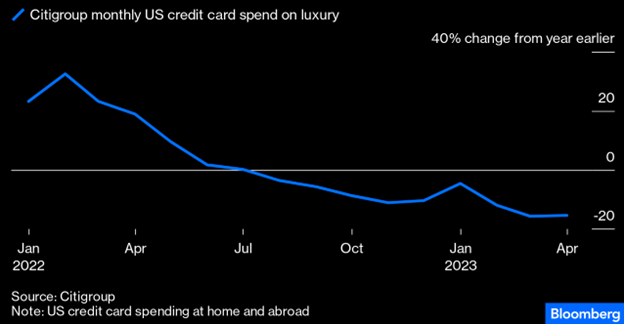 Growth: A great example is this part from a FT article. Sharon Wong had decided she had earned a little indulgence as she browsed at Louis Vuitton in La Samaritaine department store, one of Paris's marquee luxury shopping destinations. "It's expensive, but I've been thinking about it for a few months," the thirtysomething marketing manager from London said as she examined models of the Petit Sac Plat, a small rectangular bag which costs about €1,500. "I save a bit, I think about them as investments. The top names will always have value, especially the styles with history." At about €1,500 each, the Petit Sac Plat bags are considered part of Louis Vuitton's affordable offering, designed to appeal to aspirational buyers such as Sharon Wong. And it is consumers like her, not the ultra wealthy, who have spurred the industry's growth and turned Louis Vuitton into the world's first luxury brand with €20bn in annual revenues.
Valuation: The MSCI Europe Apparel & Luxury Index is trading at nearly twice the price of the European benchmark, on a price-to-earnings basis, and well above its own 10-year average. BBG – priced for perfection?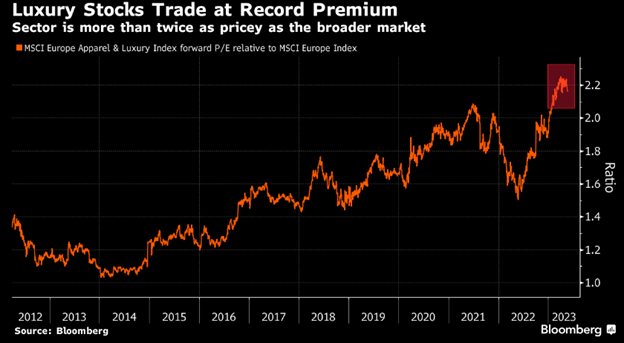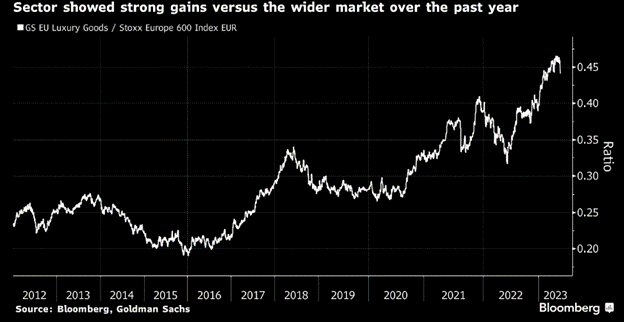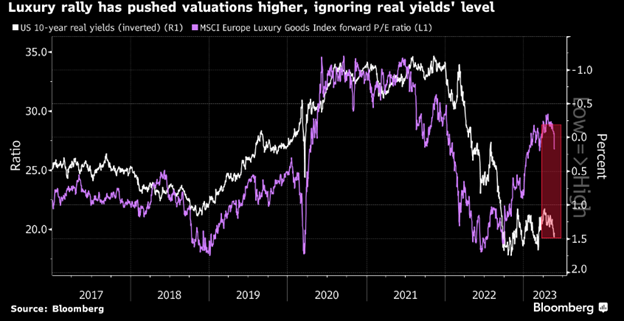 While I get the long-term structural growth story of luxury, the sector seems priced for perfection. A U.S. slowdown is on its way, China's recovery is so far below expectations. The sector needs the aspirational consumer to buy those mass market luxury items and that is exactly where the risk lies. A slowdown on spending by exactly these customers is where the downside risk for the sector comes from. This is the cyclical part for this sector that is seen as defensive and almost bullet-proof.