This section of our website is for Financial Advisers
Welcome to the Adviser section of Investec.com. This page and the others in this section are only appropriate for Financial Advisers and are not suitable for individual investors. If you are an individual, or private investor, please visit our Private Client Wealth Management section.

By proceeding via the button below, you confirm that you have read and agreed to the terms and conditions and are not a US person.
When you partner with Investec Wealth & Investment (UK), helping you and your clients in any way we can is our first priority. That's why our focus as a business has always been on creating products and services designed around your needs and those of your clients, not ours.
During our 25 years' experience working with advisers, we've built thousands of trusted relationships, earned a reputation for outstanding service, and brought to market innovative and market-leading solutions.
As a result, we are consistently recognised by advisers as one of the easiest and most supportive firms to work with.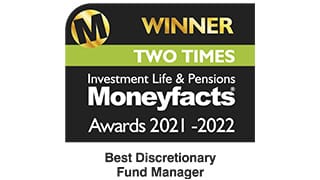 Best Discretionary Fund Manager

We are delighted to have been awarded Best Discretionary Fund Manager at both the 2021 and 2022 Investment Life & Pensions Moneyfacts awards. Discover our other awards. 
How we help you achieve more
Making life easier
We make it easy for you to invest in our full range of products and services, set up your clients and manage their portfolios. In fact, everything we do is designed to help you achieve more for your business by giving you more time to spend on financial planning, winning new clients or developing opportunities with your existing clients. 
Putting you in control
Using our dedicated digital platforms for advisers you can submit, sign and track your clients' applications online, administer your clients' existing and maturing products, and access up-to-date Investec Wealth & Investment (UK) portfolio valuation and performance information* for all of your clients at your fingertips. 
Adding value
Whether it is access to regular CPD training sessions and events run by our in-house team of research experts, or keeping you informed on the latest news, opinion and analysis of markets, our aim is to bring you resources that help you stay ahead of your competitors.   
*Prices are subject to a minimum 15-minute delay or based on the last available closing price, depending on the financial instrument.
Ready to partner with us?
Simply complete this form and our team will get in touch.
Due diligence
Download our standard DDQ, or create a bespoke report to meet your requirements.
Research and insights
Access a range of dedicated resources, sector insights, thought-provoking content, and educational tools.
24/7 access
Our digital platform, Investec Online, offers you full control of your clients investments and settings.
The latest insights and expertise for advisers
Award-winning solutions for financial advisers
Investec Wealth & Investment (UK) is a trading name of Investec Wealth & Investment Limited which is a subsidiary of Rathbones Group Plc. Investec Wealth & Investment Limited is authorised and regulated by the Financial Conduct Authority and is registered in England. Registered No. 2122340. Registered Office: 30 Gresham Street. London. EC2V 7QN.