Bournemouth Symphony Orchestra (BSO) is back for a second series of its highly successful, livestreamed concerts, which run weekly until 24 March 2021. As many people have turned to the arts for purpose and pleasure in this difficult past year, we're extremely proud to continue our long-standing support of the BSO as it overcomes the challenges facing the live music industry.
A socially distanced return to live performance
The BSO was silenced for the longest period in its 127-year history in the first national lockdown last year but made a triumphant and ground-breaking return to live music with its first series of livestreamed concerts in the autumn.

To make this possible, the team had to create a specially extended stage that allowed for a socially distanced orchestra layout, working tirelessly to ensure the safety of their musicians, guest artists and the head office team.

2,000 lucky spectators were able to watch the concerts live in the concert hall at the BSO's home base, Lighthouse in Poole, over the course of the Autumn Series, thanks to a limited capacity and socially distanced audience.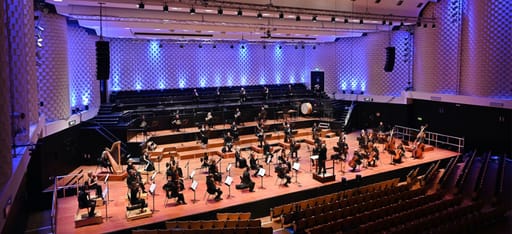 Bournemouth Symphony Orchestra continues its livestreamed series from Lighthouse, Poole ©Mark Allan  
Entertainment and escapism for isolated listeners
As well as the limited capacity live audience, the orchestra sold almost 16,000 digital tickets for its livestreamed performances, which provided much-needed entertainment and escapism to those listening in lockdown.

BSO Chief Executive Dougie Scarfe commented, "The level of support shown for the Orchestra during its inaugural livestream series was astonishing. These symphonic performances have had a huge impact on audiences at home in the South West, and all around the globe – and for the Orchestra, it's been truly special to know that even in lockdown we have performed to more than a full hall online."
A second season following this successful approach
With the support of Investec, the BSO's Spring Series will continue with this digital approach, allowing it to reach an audience of thousands in the South West and beyond with a livestreamed concert every Wednesday evening.
Dougie Scarfe commented, "We can't wait to deliver this second series in partnership with our colleagues at Lighthouse, Poole, and with Series Sponsor Investec we look forward to sharing more live music."
Digital tickets are available at bsolive.com, priced at £9 for a single concert or £100 for a subscription to all 12 concerts. This includes access to a pre-concert talk and on-demand access to the livestream for 30 days after the performance date.
Support from Investec
Investec is proud to have sponsored the BSO for the past eight years. At a time when the arts sector is under enormous pressure, we feel it's more important than ever to continue this support; to help ensure that future generations can enjoy the magic of the Orchestra's live performances, for many, many years to come.
Investec Wealth & Investment (UK) is a trading name of Investec Wealth & Investment Limited which is a subsidiary of Rathbones Group Plc. Investec Wealth & Investment Limited is authorised and regulated by the Financial Conduct Authority and is registered in England. Registered No. 2122340. Registered Office: 30 Gresham Street. London. EC2V 7QN.